Photo Gallery
TVA coal plants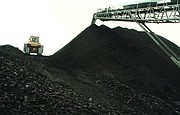 More Info
Coal cutbacksTVA either has shut down 32 of the 59 coal-fired units it once operated:and is considering whether to shut down two more.Shut down* 4 units at John Sevier in Tennessee* 8 units at Widows Creek in Alabama* 10 units at Johnsonville in Tennessee* 3 units at Allen in Memphis* 5 units at the Colbert plant in Alabama* 2 units at Paradise in KentuckyUnder review* 1 unit at Paradise in Kentucky* 1 unit at Bull Run near Oak RidgeStill operating* 2 units at Cumberland near Nashville* 9 units at Kingston in Tennessee* 4 units at Gallatin in Tennessee* 1 unit at Paradise in Kentucky* 9 units at Shawnee in TennesseeSource: Tennessee Valley Authority
While President Donald Trump proposed last week to ease carbon emission standards for power plants to help revive the U.S. coal industry, America's biggest government utility is still looking at paring back its coal use as electricity demand stagnates.
The Tennessee Valley Authority, which has already shut down more than half of the 59 coal-fired plants it once operated, is launching a new study to determine whether it also may close its Paradise and Bull Run coal plants in Kentucky and Tennessee.
"We are projecting a slight decline in our power load next year and I believe this is a permanent trend," TVA President Bill Johnson told TVA directors last week. "With the decline in that demand, and the change in the shape of our demand (with bigger peaks but less constant demand for power), we find ourselves a little bit long in our generation and we have a mismatch between generating assets and power load shape."
Johnson announced last week that TVA staff is beginning a six-month study to assess TVA's entire generating fleet "focusing first on the least efficient, least cost-effective and highest-cost future assets," including Paradise Unit 3 in western Kentucky and the Bull Run Steam Plant near Oak Ridge.
Coal country advocates in Kentucky, who opposed TVA's closing of the oldest two units at Paradise last year, worry that shutting down the last coal unit will damage both the local economy and the resiliency of TVA's power grid in Kentucky. TVA replaced the two units with a combined cycle natural gas plant at Paradise but that plant has only a fraction of the staff that worked at the coal units.
Kentucky State Rep. Melinda Gibbons Prunty, R-Hopkins, urged the TVA board last week not to shut down the last unit at Paradise.
"The closing of unit 3 would be further devastation to an already economically stressed area," Prunty said. "Coal plants are the only generating facilities that have a significant amount of storage capabilities. If there were to be a disruption in the supply of natural gas - especially in the event of a natural disaster - wouldn't it be critical to have coal always ready to use, even if used only minimally on a day to day basis."
Prunty's comments echoed Trump's support last week for coal, which he said is more dependable than renewable sources like wind and solar.
"We love clean, beautiful West Virginia coal," Trump said at a campaign rally last week in Charleston. "You can blow up those windmills, they go down real quick. You can do a lot of things to those solar panels, but you know what you can't hurt? Coal."
TVA Kenneth Allen, a retired executive with Armstrong Coal Co., in Kentucky appointed to the TVA board by President Trump, urged the board to be cautious about closing down more coal plants.
"These assets (at Paradise and Bull Run) have served as part of TVA's generation backbone for decades," Allen said. "I believe the board will need to robust study to review areas such as resiliency and risk to help us make this decision.
End of Paradise?
TVA's Paradise Fossil Plant on the Green River western Kentucky was made famous by folk singer John Prine, who recorded a song in 1971 about the Paradise coal plant and the impact of strip mining for coal in Muhlenberg County, which has suffered serious economic downturn because of the decline of coal mining.
Units 1 and 2 at Paradise went on-line in 1963 and, at the time, were the largest operating units in the world, each with a generation capacity of 704 megawatts. TVA retired units 1 and 2 in April 2017 and replaced the coal units with a new $1 billion natural gas, combined cycle plant.
The third coal-fired unit at Paradise, which became operational in 1970 and is still operating, has a generating capacity of 1,150 megawatts, enough to supply more than 950,000 homes.
The Bull Run Fossil Plant is located on Bull Run Creek near Oak Ridge and is the only single-generator coal-fired power plant in the TVA system.
When the generator went into operation in 1967, it was the largest in the world in the volume of steam produced. The plant has a summer net capability of 881 megawatts and generates approximately 6 billion kilowatt-hours of electricity a year, enough to supply 400,000 homes.
New vs. old generation
TVA has to decide whether to keep investing in its oldest coal plants or turn to new generation technologies.
"Say you're driving a 70-year-old car, what would be required to keep it on the road?" They are rather expensive to maintain," Johnson said. "Some of those large older machines also were not built for flexibility. They were built to run all the time, flat out, so that is where there is a mismatch between our assets and our load demands."
Newer natural gas plants that TVA added to replace its John Sevier, Allen and oldest Paradise units over the past four years are twice as efficient as the older coal units were when they operated, Johnson said.
TVA is already updating its long-range energy plan, known as its integrated resource plan (IRP) because electricity demand across the valley continues to drop and its fleet of coal power plants continues to age.
Trump is eager to preserve America's coal industry and last week the Trump administration unveiled its Affordable Clean Energy rules to replace the stricter Obama-era regulations that were designed to fight global warming by forcing utilities to switch to greener power sources.
When the Obama administration unveiled the Clean Power Plan in 2015, each state was given individual goals to reduce carbon emissions from the power sector, encouraging power utilities to shift from coal in favor of cleaner sources like natural gas, wind, solar and nuclear to help address global warming.
The Clean Power Plant rules never taken effect because they were temporarily blocked by the Supreme Court in 2016 and are now slated for repeal by the White House.
Nonetheless, TVA has shifted more its generation mix to get more than half of its power from carbon-free sources, primarily from its seven nuclear power reactors and its 29 power-generating dams.
TVA has already cut the share of power it derives from coal from more than two thirds of its generation in the 1980s to 27 percent this year. In the next decade, that share is projected to fall to between 20 and 22 percent of TVA's total power generation.
Despite Trump's appeal to revive America's coal industry by using more for power generation, TVA has no plans to build any new coal-fired units and Johnson suggested that the easing of air pollution standards for coal plants probably won't change TVA's future plans.
"The moves we have made in our generation fleet have been driven by economics more than environmental regulation," Johnson said. "Our requirement under the TVA act is to make electricity at the lowest feasible rate so these are always first economic decisions about what is best for our consumer."
Contact staff writer Dave Flessner at dflessner@timesfreepress.com or at 423-757-6340.