Photo Gallery
Heifer Village Grand Opening - June 5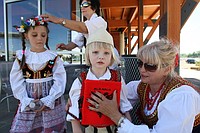 Rachel Rushworth-Hollander was charmed by Harry Potter when she started the book series in middle school, and the adventures of the young wizard never lost their magic as she became an adult.
Guests at her Harry Potter-themed bridal shower were divided into teams for party games by sorting hat.
She and Chris Hollander visited the Wizarding World of Harry Potter during their Orlando, Florida, honeymoon.
And three years ago, she named her firstborn Rowling after J.K.Rowling, author of the Harry Potter series.
Now a high school English and AP literature teacher at Maryville High School in Maryville, Tennessee, she keeps a Harry Potter corner in her classroom.
"It's behind my desk with posters and a couple of paperback copies. I have a Hogwarts banner hanging up, a Platform 9 3/4 (the Hogwarts Express train platform)," she describes along with collectibles students have brought in knowing she is a Potterhead.
"It's a weird fandom thing, but I just appreciate [the book series] for what it did for me growing up as a reader and getting kids into the magical world of reading," she says.
Saturday marks the 20th anniversary of the release of the first Harry Potter book in the United States.
The first book of the series was released in England in June 1997 under the title "Harry Potter and the Philosopher's Stone." On Sept. 1, 1998, Scholastic published the first book in the U.S., renamed "Harry Potter and the Sorcerer's Stone."
The seven-volume series has sold more than 500 million books worldwide in 80 languages since - that's roughly one in every 15 people who own a copy of a Harry Potter book.
Yes, 20 years in, and the wizard still holds the American public under his spell.
"The novelty of Harry Potter books has not worn off at all; kids are still reading them," says Lee Hope, head of children's services for the Chattanooga Public Library.
"We're still replacing much-loved copies with new ones. We try to keep at least eight to 10 copies of each title. I've seen third-graders reading them, and I've seen parents coming in to check them out and read to their kids. A lot of high school and even college kids will check them out to re-read," Hope says.
Rushworth-Hollander, a 2004 graduate of Red Bank High School, says she can't claim to have been an avid reader before she met Harry.
"During summer, Mom and Dad had me pick two books that I had to read. I didn't read the first Harry Potter book when it came out. I read it about a year or so later. By the time I was done with the first one, the second had come out. I had to wait on the rest," she says adding she finished the seven books when she was in college.
Their appeal was "a great story. I loved the characters. I loved that it was in England - that sort of felt fantastic. By the time I got to the third book, I was so connected to the characters and engrossed in that world that I wanted to know what happened."
The Maryville teacher is a good example of the influence of the Potter series had increasing young readers that Hope says she witnessed.
"Harry Potter helped kick off the boom in young-adult reading. The series brought in kids who were not interested in reading that much, but heard wonderful things about Harry Potter and came in for that," says the librarian.
THE HARRY POTTER EFFECT
The power of the Potter series did more than increase the number of young readers. It so drastically changed preconceived notions about the children's publishing industry that it became known as "the Harry Potter effect."
Following are five ways that Harry Potter changed the young-adult genre.
1. Fattened the size of YA books. Harry Potter was the first series that surpassed 300 pages, and later 800 pages, yet young readers weren't deterred by their size. The Booklist Reader found that in 2006, the average middle-grade book was 174.5 pages long, and that average has risen to 290 pages.
Research by the National Endowment for the Arts found that because of the popularity of the Potter series, there was a 37 percent increase in page lengths between 1996 and 2006.
2. Merged literary culture with pop culture. Midnight Potter book parties on release dates and mass-produced paraphernalia were primarily the realm of comic-book characters before the series.
But Harry Potter's rise in popularity coincided with the increased use of the internet, where fans could find other Potterheads just a chat room away. As fans of all ages became more active online, discussions of YA fiction to science fiction became commonplace.
3. The series increased empathy in children. Because Harry Potter maintained a staunch loyalty and friendship to stigmatized groups in the books - for example, Mudbloods, those half-Muggle, half-wizard students scorned by Lord Voldemort - he set an example of kindness.
A 2014 study by the Journal of Applied Social Psychology discovered that reading Harry Potter books helped improve attitudes toward "out-groups," a group with whom one didn't identify.
4. Kicked off the boom in young adult reading. By 2004, in the midst of the Harry Potter phenomenon, sales of children's lit were increasing by 2 percent each year, according to Vox Media. Since then, the children's market has seen a sales increase of 52 percent, while the overall book market has only increased by 33 percent since 2004.
5. Opened the door to more YA series. "The release of Harry Potter really opened a lot of publishers' eyes to the fact there is a huge market for well-crafted young-adult literature," says Kelly Flemings of Barnes & Noble in Hamilton Place.
Flemings says the YA genre has seen a trend in longer series thanks to Harry Potter.
"Before Harry Potter, you might get kids to make it through three books of a trilogy. Now they are hungry for a series," he says.
For example, he points to Lisa McMann's "The Unwanteds" series.
"There were seven books in the first series, and now she is on Book 3 in the second set of seven. Sarah Maas's 'Throne of Glass' series is going to be seven books as well. Cassandra Clare has 'The Mortal Instruments' series. There are three sets of five books in that collection."
Contact Susan Pierce at spierce@timesfreepress.com or 423-757-6284.