Photo Gallery
Wrapping Paper Design Contest Finalists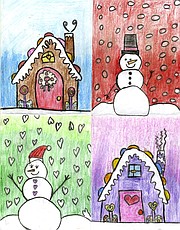 An afternoon art project at Nana's house produced more than just another keepsake for the refrigerator for 7-year-old Anna Shadrick.
Her colorful drawing of peppermints and holly has won the second-grader the 2018 Lin C. Parker Wrapping Paper Design Contest. A tradition at the Times Free Press since 2002, the Wrapping Paper Design Contest was renamed last year in memory of its founder, who died in September 2017.
Anna's original design is included in today's newspaper inserts as a real sheet of wrapping paper that readers may use for their Christmas gifts. On the flip side of the page are five honorable-mention designs from this year's competition, which drew more than 500 entries from students in grades 1-5.