Photo Gallery
Law enforcement beating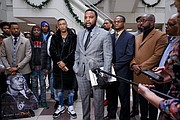 Advocates for a 25-year-old musician who was punched and kicked by law enforcement while handcuffed gathered Thursday to demand justice and urge community members to remain vigilant about it.
Civil rights attorney S. Lee Merritt said Hamilton County Sheriff's Office Detective Blake Kilpatrick should be fired and face criminal charges for "assaulting" Charles Toney Jr. while he was handcuffed during a Dec. 3 arrest for non-violent drug charges. Merritt, who runs a social-justice law practice out of Philadelphia and Texas, called on prosecutors to dismiss Toney's charge of resisting arrest in the incident. And holding a copy of the 25-year-old's medical records, he said any suggestion by Sheriff Jim Hammond that Toney's injuries came from an unrelated accident is "simply a fabrication."
Kicking him while he down !!
Hiding behind that badge!!
He was cuffed already !!
Police brutality is real problem !!
Justice for Chattanooga's @interstatetax pic.twitter.com/3mxRhntDvg

— PG CASTRO (@Castro_423) December 8, 2018
"Earlier today we met with the Sheriff's Office, we met with the DA's office, and we had some simple demands about what happened to Mr. Toney," Merritt said during a news conference at the Hamilton County-Chattanooga Courts Building. "The first was to drop the false allegations against Mr. Toney. It's a common-sense move. What happened was recorded, so we know those are false allegations. Second: They should have already fired this officer. We understand there's an administrative process, an [internal affairs investigation] process. But this officer should not be present in the department, collecting a check."
Spokesman Matt Lea said the sheriff based his earlier comments on information he had at the time: documentation from the jail's medical staff that said Toney didn't have injuries. Lea otherwise declined comment Thursday, saying Hammond's office wanted to wait for the investigation to finish.
District Attorney General Neal Pinkston, who referred the incident to the U.S. Department of Justice and the Federal Bureau of Investigation, won't make any decisions on possible prosecution until he's reviewed the final results, said his spokeswoman, Melydia Clewell.
Merritt added he's conducting a parallel investigation while Kilpatrick remains on desk duty.
Thursday's news conference comes on the heels of an intense week for Toney, who appeared Thursday, with a cast on his broken finger, beside Merritt, his father, local clergy, friends and members of the Concerned Citizens for Justice. According to his records from Parkridge East Hospital, Toney also suffered a broken nose, a few broken ribs and a collapsed lung. Advocates said his story, first reported on NoogaRadio 92.7 FM, represents a common but longstanding issue: Officers getting away with violent arrest techniques that disproportionately harm men and women of color.
"When you have a sheriff that is on record saying, regarding our young people who they call members, that there are three solutions - to arrest them, to run them out of town or to put them in funeral homes - and then you see these incidents happen, the sheriff can't pass the buck," said Kevin Muhammad, of Chattanooga's Nation of Islam, referring to comments Hammond made to the Brainerd Kiwanis Club in 2012.
According to an arrest affidavit and comments Hammond gave earlier this week, officers were doing a warrant roundup and found Toney - who also makes music under the name "Interstate Tax" - outside of a home in East Ridge around 9:30 a.m. As they went to arrest Toney for drug-possession charges upon which a grand jury officially indicted him on Oct. 3, Toney Jr. tossed a marijuana cigar he and a friend were smoking, the arrest affidavit says. At that point, officers tried to arrest him, "gave fist strikes to his back area" and forcefully put his hands behind his back to cuff him.
While handcuffed, Kilpatrick said, Toney kept trying to reach into his pockets depsite being told to stop, and he wrestled Toney to the ground. Though they stood him up after Toney said he couldn't breathe, officers claimed Toney spit at them and charged him with resisting arrest, tampering with evidence and assault. Toney is scheduled to appear in Hamilton County General Sessions Court Tuesday on the charges.
Merritt said Thursday there was more to the story: While Toney and his friend were standing outside, about six law enforcement cruisers pulled up, and officers came out with guns drawn. Toney and his friend raised their hands, Merritt said, and Kilpatrick came over, asked if Toney was "Interstate Tax," said he didn't like his music and began punching him. Merritt said a neighbor began videoing the arrest from that point; that clip since has gone viral on Facebook and Twitter.
Merritt denied his client spit at Kilpatrick and said the arrest shouldn't have happened because Toney's defense attorney had already arranged a time with a prosecutor for Toney to turn himself in. Though the Times Free Press could not confirm that arrangement Thursday, it's not uncommon for warrants on drug or non-violent charges to go unserved for a few months, if not years, in some cases. Attorneys can sometimes make arrangements for their clients to turn themselves in the meantime.
Merritt said he didn't believe Kilpatrick's account.
The Times Free Press previously reported Kilpatrick has been involved in other cases of alleged excessive force: In 2013, an inmate claimed he needed six staples to his head after an encounter; his federal complaint was later thrown out.
Earlier this year, plaintiffs attorneys said Kilpatrick was involved in the 2017 wrongful death shooting of Christopher Dalton Sexton, who was killed by deputies after leading them on a car chase across Hamilton and Sequatchie counties. Though law enforcement said Sexton came out of his car with a gun, the lawsuit alleges that he began moving away from law enforcement. That case remains at a standstill as attorneys work out an estate matter.
Contact staff writer Zack Peterson at zpeterson@timesfreepress.com or 423-757-6347. Follow him on Twitter @zackpeterson918.