Photo Gallery
Fall Creek Falls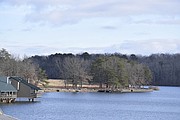 SPENCER, Tenn. - The end of an era came to a close on the Cumberland Plateau as the site of the former inn at Fall Creek Falls State Park now is a clean slate for crews set to begin construction of its replacement in January.
Demolition of the old inn is complete and the first work on a new $29.4 million, 95,000-square foot replacement inn at Tennessee's second-largest state park should begin in a few weeks, according to Tennessee Department of Environment and Conservation spokeswoman Kim Schofinski. TDEC oversees Tennessee's parks.
When state park officials were surveying Fall Creek Falls visitors back in 2013, Tennessee couples from Jacksboro and McMinnville who frequently visit it told the Times Free Press their main complaint was the aging inn, though they loved the setting on the lake.
Renderings