Photo Gallery
Workhound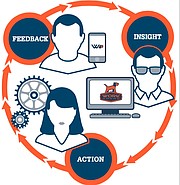 When WorkHound co-founders Max Farrell and Andrew Kirpalani launched their start-up company in Des Moines, Iowa, the idea wasn't necessarily to work only with trucking companies, Farrell said.
Shortly after their idea formed for a feedback software that would allow workers to anonymously post their concerns to employers, it became clear that front-line workers, like truck drivers, could be the people to benefit the most from their product.
In 2018, the average turnover rate at some of the largest truckload carriers in the country is 95 percent, and Farrell said it can cost roughly $8,000 to replace a driver. In manufacturing, it can cost $4,000 to replace a worker and a staggering $35,000 to retrain and hire a worker in specialized health care industries, he said.
"The