Photo Gallery
Haslam reflects on record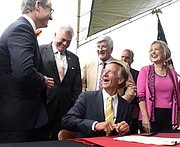 NASHVILLE - As he prepares to leave office next month, Tennessee Republican Gov. Bill Haslam can look back on a record that includes a groundbreaking program offering tuition-free community college scholarships as well as improved student test scores, record job creation, a new road-funding program and more.
But ask him what he thinks his administration's legacy will be after eight years in office and the 60-year-old former Knoxville mayor says that verdict is pretty much out of his hands.
"Other people will decide that," said Haslam, who won national acclaim for his 2014 program called Tennessee Promise, which offers last-dollar aid to recent high school graduates to attend community and technical colleges.
Still,