Photo Gallery
Chattanooga Chamber names small business award winners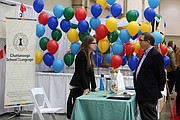 Six years ago, Russell Looper and Justin Wilson moved from Atlanta to Chattanooga to start a new business selling and servicing industrial equipment and automated parts to manufacturers.
They'd worked for a company in Atlanta in a similar business, but they wanted to launch their own company and believed it could better service customers.
Their venture, Manufacturing Repair & Overstock (MRO), on Tuesday received one of the Chattanooga Area Chamber of Commerce's small business of the year awards.
Award winners
The Chattanooga Area Chamber of Commerce presented small business of the year awards Tuesday. Below are winners and finalists:› 1-20 employees: Chattanooga School of Language, winner; Papercut Interactive, Shah Trucking› 21-44 employees: Manufacturing Repair and Overstock, winner; The Bitter Alibi, Variable Technologies› 45-200 employees: Reliance Partners, winner; Meditract, Murmaid Mattress› Nonprofit: Chattanooga Girls Leadership Academy, winner; Big Brothers Big Sisters of Greater Chattanooga, Chattanooga Goodwill Industries
Chattanooga School of Language, which offers instruction in 17 different languages to businesses and the public, and Reliance Partners, an insurance broker to transportation and logistics companies, also received awards from the city's largest business group.
Chattanooga Girls Leadership Academy was named nonprofit of the year.
MRO, which last year opened a 40,000-square-foot facility off Amnicola Highway, now employs about 40 people in Chattanooga with clients ranging from General Motors to Nissan and Anheuser-Busch.
They picked Chattanooga because they had a non-compete clause with the former company - they needed to be 100 miles away - and due to the city's proximity to the major markets of Atlanta, Knoxville, Nashville and Birmingham, the two businessmen said after the Chamber's small business luncheon.
"We love the family atmosphere, the manufacturing potential and the growth of Chattanooga," said Wilson about the company that sells and services equipment with which manufacturers produce their goods.
Looper said Chattanooga also is a "community on the upswing" in terms of small business.
"It's nice to be pushed. It's nice to see what other entrepreneurs can accomplish," he said.
After recording 300 percent revenue growth over the first few years, that figure came in at 16 percent in 2017 over the prior year as comparables get tougher, Looper said.
But, Wilson said MRO is hiring more sales staff in 2018 which should help drive growth.
"If we grew 16 percent again, it would be a tremendous year," he said.
Chattanooga School of Language
For Laurie Stevens, owner of Chattanooga School of Language, starting the company in 2011 fulfilled a passion.
She attended a language school in Costa Rica in Central America and fell in love with language and cultures, she said.
"I knew I had to do that for my profession," Stevens said. "It was life changing."
The Chattanoogan came back to the Scenic City to kick off the business, beginning by offering three languages, Stevens said. That number has greatly expanded as the company grew from 2012 to 2016 by more than 600 percent in student enrollment, she said.
Today, the company contracts with between 20 and 40 teachers depending on the situation, Stevens said. The business partners with public and private schools but also goes on site to businesses such as Volkswagen and Gestamp, teaching both German and Spanish, she said.
Reliance Partners
Reliance Partners was begun nearly nine years ago to the day, said company CEO Andrew Ladebauche.
"It didn't have a name. It started in a cubical within Access America Transport," he said. Access America, a trucking company started in Chattanooga, grew exponentially and is now part of United Parcel Service.
Reliance Partners, itself one of the fastest growing insurance brokers in the country, has increased to 63 employees with customers in 43 states, Ladebauche said.
"We really found a niche in transportation and logistics," he said.
The company's team speaks eight different languages, markets specifically for Hispanic customers and recruits millennials as many people in the insurance industry are retiring.
"Insurance is probably not everyone's most favorite thing to purchase - probably most people can't stand it," Ladebauche quipped. "We want to make Chattanooga proud of the brand we're trying to build."
Christy Gillenwater, the Chamber's CEO, told the 1,300 people at the small business event at the Convention Center that "we are forging our future together."
"There's nothing small about the impact you have," she said, noting that about 93 percent of businesses in Hamilton County have less than 50 workers.
Contact Mike Pare at mpare@timesfreepress.com or 423-757-6318.