Photo Gallery
Remembering Billy Graham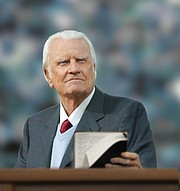 They came to see the famous pastor every night, thousands of them.
They had heard him on the radio and read the newspaper reports about his events, how he and a choir changed lives with simple truths. He was young, only 34 back then. And he was tall, standing 6 feet, 2 inches. And he was passionate.
For about a year, a committee had planned for his arrival. They needed a building that could contain his popularity. The city agreed to spend $200,000 on a brick and steel structure, and a private donor pitched in another $140,000.
Every day, for 26 days in the spring of 1953, about 10,000 people came to the new Warner Field House. There they found the Rev. Billy Graham. He waved his arms, as the reports said he was known to do. He paced. He sped up. He slowed down. He clenched his teeth.
"So many people cover themselves with the cloak of religion and live immoral lives," he told a crowd on April 1, 1953, according to newspaper archives. "They keep a Bible in the house and dust it off every time the preacher comes around. The greatest sin I have found in Chattanooga is among those who have a form of religion, but deny the power thereof."
Leaders react to death of Billy Graham
Leaders expressed admiration and respect for evangelist Billy Graham, who died at his North Carolina home Wednesday morning.U.S. SEN. LAMAR ALEXANDER, R-TENN."Billy Graham was one of the kindest and most authentic men I ever met. His example was as inspiring as his preaching. In 1979, my first year as governor, he invited me to play the piano at the Billy Graham Crusade in Nashville. He took a considerable risk in doing that, but it is an experience I will always remember," Alexander wrote in an emailed statement.U.S. SEN. BOB CORKER, R-TENN."Rev. Billy Graham was an American icon who lived a remarkable life and whose ministry helped change the lives of and give hope to millions of people in our country and around the world. I know Tennesseans join me today in celebrating his extraordinary life," Corker tweeted.U.S. SEN. JOHNNY ISAKSON, R-GA."Saddened to learn of the passing of Billy Graham, but thankful for the life of this leader whose faith and service to the Lord touched an untold number of lives," Isakson tweeted.U.S. SEN. DAVID PERDUE, R-GA. "Reverend Billy Graham was truly 'America's pastor.' His work and dedication to Christ are an inspiration to many and will not soon be forgotten. Bonnie and I join the nation in lifting up the entire Graham family in prayer during this very difficult time," Perdue tweeted.LEE UNIVERSITY PRESIDENT PAUL CONN"We at Lee join the many people around the world who mourn the loss of Dr. Billy Graham. His ministry started right here on the Lee campus, in Medlin Hall, when he was a student at Bob Jones College. He provided the model of Christian witness in society which Lee seeks to follow."PRESIDENT DONALD TRUMP"The GREAT Billy Graham is dead. There was nobody like him! He will be missed by Christians and all religions. A very special man," Trump tweeted.VICE PRESIDENT MIKE PENCE"Billy Graham's ministry for the gospel of Jesus Christ and his matchless voice changed the lives of millions. We mourn his passing but I know with absolute certainty that today he heard those words, 'well done good and faithful servant,'" Pence tweeted.FORMER PRESIDENT JIMMY CARTER"Rosalynn and I are deeply saddened to learn of the death of The Reverend Billy Graham. Tirelessly spreading a message of fellowship and hope, he shaped the spiritual lives of tens of millions of people worldwide. Broad-minded, forgiving, and humble in his treatment of others, he exemplified the life of Jesus Christ by constantly reaching out for opportunities to serve," Carter said in a prepared statement.NORTH CAROLINA GOV. ROY COOPER"Billy Graham was a strong, humble, positive and passionate North Carolina man of faith who made a difference in the lives of so many. Rest with God, Reverend Graham," Cooper said in a statement.U.S. SEN. LINDSEY GRAHAM, R-S.C."One of the greatest messengers of Christ has gone to his heavenly reward. Dr. Graham spread the good news to millions across the world and led a life beyond reproach," Graham tweeted.SOUTH CAROLINA GOV. HENRY McMASTER"Rev. Billy Graham dedicated his life to preaching the Gospel, touching the lives of millions across the world. It is bittersweet to hear of his homegoing this morning, as he will be missed, but we know he is rejoicing with his Savior right now," McMaster tweeted.ANNE GRAHAM LOTZIn an online post titled "Daddy is at Home," Graham's daughter Anne Graham Lotz said she did not think of him as a public figure. "I think of my Daddy. The one who was always a farmer at heart," she wrote. "Who loved his dogs and his cat. Who followed the weather patterns almost as closely as he did world events. Who wore old blue jeans, comfortable sweaters, and a baseball cap. Who loved lukewarm coffee, sweet ice tea, one scoop of ice cream, and a plain hamburger from McDonald's. Who was interested in everything and everyone, from the small to the great."
Graham and his staff then moved on to another crusade in St. Louis. But those in Chattanooga who saw him didn't forget. They passed on stories to their children and grandchildren. They spoke of him as if his mere presence could change you, the way some Catholics talk about the pope. To them, it was as if his words were infused with the weight of a higher power.
___
George Burnham, a reporter for the Chattanooga News-Free Press, was among those tracking Graham here 65 years ago. He would walk among the crowds, looking for human interest stories from those who flocked to see the famous evangelist.
His daughter, Lynne Burnham Hadvizjak, said he felt a connection to Graham's words moved him. The two men were born a year apart, both in rural, Southern communities. He liked Graham's simple gospel messages.
And Graham liked George Burnham. He gave him a red Bible with the inscription "For the best reporting job we've ever had." At the request of a member of Graham's organization, George Burnham followed the crusades, filing daily columns about the people who came to hear the gospel. He followed Graham to New York, to Europe, to Asia. He wrote three books about the tours before he died at age 43 from complications from surgery.
Lynne Burnham Hadvizjak accompanied her father to Graham's crusades at Madison Square Garden. She remembers walking from the hotel to the stadium and seeing people pack the sidewalks out front. She remembers big choirs, then a hush over the arena as Graham spoke. At 11 years old, she was fascinated.
"As long as Billy Graham was saying it, I believed it," she said Wednesday night. "I knew that he wouldn't say anything that wasn't correct. I knew that he talked, he had conversations with God. And I just loved and respected him."
Cullen Davis, 85, of Chattanooga, saw Graham at Madison Square Garden one night. He said Graham's preaching wasn't flashy. But he gave people like Davis what they wanted.
"He was just a regular fellow," Davis said. "He had a very likeable personality and had a message you wanted to hear."
Music director Glenn Draper, 89, of Signal Mountain, met Graham as a high school junior in Roanoke, Va. A committee had just named Draper the vice president of the local Youth for Christ organization, and Graham came to town from Chicago to help them with their first event. Graham, who had not quite reached national acclaim, spoke to Draper briefly. The boy believed the pastor was special.
Fifteen years later, Draper was leading music at Lake Junaluska, N.C., when he met Graham again. Now a star evangelist, the preacher complimented Draper, told him he would be perfect for the crusades if anything ever happened to Graham's music director. Eventually, Draper did work a couple of crusades, including a 2003 trip to Moscow. They sang hymns in Russian in front of 50,000 people.
The two talked privately sometimes, in passing, in hallways. He remembers Graham patting his back, telling him he was doing fine work. Draper considered him a good friend.
___
There is, of course, the matter of what Graham did before his first crusade in Chattanooga. Like other religious leaders in the South, he had preached to segregated audiences, a rope separating white and black parishioners.
"I just determined that that was the time we were going to end it," Graham recalled during a sermon at the Baylor School in 1991. "I remember I went down there and took those ropes down personally. ... And from that moment on, I said, 'I'll never speak to a segregated audience.' And I never have since."
For his biographers, that moment in Chattanooga was one of three key actions that showed Graham fighting for racial justice. In 1951, he called for the Southern Baptist Convention to accept black students at their colleges. In 1957, during his crusade in New York, he invited Martin Luther King Jr. to open one night with a prayer.
In a documentary produced on his website, Graham recalled his family received threats for being too progressive. Still, other critics have said he squandered his power in the South, not pushing for equality enough. After King wrote his "Letter from a Birmingham Jail," Graham told the New York Times that King needed to "put the brakes on a little bit" for a "period of quietness in which moderation prevails."
In 1964, Graham attended the Southern Baptist Convention in Atlanta City, N.J., where a group of pastors voted to weaken their recommendation on race relations. Rather than pledging support for laws guaranteeing rights for black people, the pastors agreed that racial problems should be solved on a local level.
When he spoke at the event, Graham said that racial problems extended well beyond the South, despite some people's impressions. However, discussing the pending civil rights bill, he simply said that 99 percent of pastors who supported it had not read the legislation, according to the Baptist Press.
The Rev. Paul McDaniel, who would go on to lead Chattanooga's Second Missionary Baptist Church for 48 years, was at the event. He came hoping that Graham would use his power to rebuke all racist pastors in the South. He left disappointed.
"He had that allegiance, that commitment to him," McDaniel said. "It gave him a great status in the Southern Baptist congregation. He was their king, in a sense."
Contact staff writer Tyler Jett at 423-757-6476 or tjett@timesfreepress.com. Follow him on Twitter @LetsJett.