Photo Gallery
Students gathered to discuss response to gun violence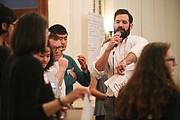 Students from Chattanooga area schools - both public and private - gathered downtown Sunday evening to brainstorm ideas for how to play their part in the national conversation in response to recent school shootings.
The dimly lit room full of students, parents and educators became an echo chamber of ideas for igniting and propelling change in the community and the country.
"Calling senators and congressmen," read the first point on one of many easel pads.
"Supporting candidates who want to make a change - vote!" read the second point.
While most of the students in attendance were under the age of 18 - the legal voting age - they said the purpose of their movement simply is to "raise awareness of the epidemic of school shootings and hold legislators accountable" for formulating a solution rather than taking a political stance and promoting it.
"We realize that the way that people want to go about this are obviously very different, and I'm sure we all have our differing views on this issue," McCallie School senior Allen Liu said. "But, really, the goal right now is to really bring attention and get people talking about gun violence and how we can save people's lives in the future."
The purpose of the meeting, held at 901 Lindsay and hosted by Clay Thomas, pastor of Rivermont Presbyterian Church, was to bring student leaders together so they could organize and coordinate with one another for upcoming events and strategies. During the meeting, students broke up into small groups to brainstorm and then those groups were assigned different areas of responsibility, such as communication and social media, advocacy, coordinating a future march and participation in a national student walkout.
The student walkout will take place from 10 a.m.-12 p.m. on March 14. Students will coordinate a time and will walk out of class for 17 minutes in honor of the 17 people who lost their lives during the Feb. 14 shooting at Marjory Stoneman Douglas High School in Parkland, Fla.
All of these initiatives are student-led, said Nikki Goldbach, a senior at Girls Preparatory School.
"We, the students, started it and the adults have been so gracious and came in and helped us," said Gabby Logsdon, a junior at Sequoyah High School.
Adults who attended the meeting said the students filled them with hope.
"I'm highly encouraged by the intelligence that our high school students show about what is a very complex situation," said Jeff Edwards, a teacher at Baylor School. "They grasp that you don't just go about solving a complex problem with one plan."
Edwards said he thinks it's good the students aren't picking a political stance.
"I think they realize that they're not the lawmakers," he said. "They're not responsible for coming up with the solution. They're responsible for letting the solution-makers understand that they're being held accountable."
Liu said he thinks that right now students have an unprecedented opportunity to join the momentum that has been building across the country after the Feb. 14 shooting.
"I think that, especially now, legislators have open ears, and to have youth leading this movement might cause some people to really want to affect some sensible change in this area," he said.
Rebecca Westbrook Toker, a mother and teacher at The Barn at Lookout Lake, was among the adults at the meeting.
"If we've reached a point where the kids are so frustrated in our ability to lead and protect them, and they are taking charge, the least we can do is help them refine what they want to say and get that message out there," Toker said.
"I hope that our political leaders - the decision-makers - hear their voice," Edwards said. "Because [the students] are the ones that live with this."
Contact staff writer Rosana Hughes at rhughes@timesfreepress.com or 423-757-6327 with tips or story ideas. Follow her on Twitter @HughesRosana.