Photo Gallery
Local organizations aim to combat student hunger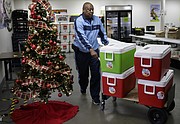 During the holidays, typically times associated with abundance, many find themselves reflecting on the gifts and blessings they have - but many also do without.
Those who do without are often students. Before those students can worry about TNReady scores or grades, many in Tennessee face challenges getting into classrooms ready to learn.
According to a Scholastic report released in December, the second biggest barrier to learning that Tennessee children face is hunger.
Eighty-nine percent of teachers in Tennessee report having students in their classrooms who are coming to school hungry. Nationally, 75 percent of teachers report the same.
Hunger is sometimes the most tangible issue of equity, which includes living in poverty or homelessness, family crises, lack of language skills, need for health care, mental health services or undiagnosed learning disabilities.