Photo Gallery
Dozens of Chattanooga homes sitting on toxic site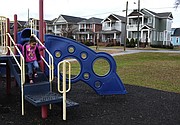 James Wood sat on the porch of his East 17th Street home on one of the first warm days in weeks.
Rain had been trickling down from the dulling shingles on his roof all morning, but it was warm, and when it's warm, Wood usually can be found sitting on the covered porch of his daisy yellow, one-story home in Jefferson Heights.
A new puppy ran around the small yard, chained and contained by a white picket fence, accentuating the railing and pillars on the porch. The paint is beginning to fade, and the sidewalk leading to his long, narrow home shows signs of years of use. The home is old. Wood is 62 years old and has lived in it his entire life.
Last year, a group with the Environmental Protection Agency walked up the aging sidewalk to the white porch. It's the first time that's happened in his life, Wood said. They asked to test the soil.
He didn't get much information, he said, but he was told they were testing for lead contamination and he would get a letter letting him know more.
He wondered, why now? After all those years, why was he just finding out about the problem?
He believes he only has to look next door to find the answer.
His house sits in the shadow of a sprawling new home, complete with a modern design, fresh paint and a neat, manicured lawn. The sidewalk leading to the home is freshly paved, and a sprawling upstairs balcony overlooks his home.
"They should have tested years ago," he said. "We had kids out here playing. Now that there are these houses, they come and start testing it. That's not fair."
It has been months since that day, and he hasn't heard a word from the EPA. He doesn't believe he ever received that letter, and if he did, he never saw it.
Wood had been down the street earlier that morning talking to brothers Ozie and Larry Means. The brothers live in a home that has been in the family since the early 1950s. It's a long, narrow white home that looks similar to Wood's. It has stood for decades, undergoing extensive expansion and renovation, and is one of the remaining homes from the old neighborhood. The three men looked around at the rest of the sprawling neighborhood. Where one aging house once stood, two modern homes have taken its place. The historically black community they once knew is almost gone. Few of the original homes remain and even fewer of the people.
"This area has been gentrified, and to be honest, no one seems to care," Larry Means said. "It was a black neighborhood. When other people started moving in, [the EPA] comes to clean it up. That's just the way it is."
The EPA sent people to their home that day as well, Larry Means said. The difference? The brothers heard back. They were told their property was contaminated with lead, but nothing was done about it.
The area, known by the EPA as the Southside Chattanooga Lead Site, was once home to industrial operations. Toxic material was used as fill and topsoil on the neighborhood's lawns.
Unsafe levels of lead were found on about 68 residential properties in the designated area, according to a release from the EPA. The Times Free Press reached out to the agency, and an agency spokesman said he would work to provide answers to a list of questions. As of press time, there had been no response.
The toxic site contains properties in Alton Park, Cowart Place, Jefferson Heights, Richmond and Southside Gardens. The EPA has not publicly released which properties have been impacted despite several requests from the Times Free Press to do so.
The brothers received a letter informing them the Southside Chattanooga Lead Site was being proposed as a Superfund Site for the National Priority List - a list of the most toxic places in the country. Sites are added to the list when contamination threatens human health and the environment, according to the release. The men said they are worried about their health.
To fix the problem, the topsoil must be replaced. However, not everyone living on contaminated properties is eligible to have the lead removed. The brothers' family home is not one that will be fixed. Neither is Wood's or some of their neighbors'. The EPA is only removing lead from properties where children may be present, according to the EPA release.
"I think about it all the time, but there's not really anything I can do about it," Ozie Means said. "They knew it was contaminated but didn't do anything about it."
Another neighbor, Rodney Simpson, lives behind the brothers. He stopped by that warm afternoon to say "hello" to Wood and the Means brothers.
The EPA also told him his yard is contaminated, he said.
"They found lead, but said since there were no kids they weren't going to do anything," Simpson said.
While no children live at the property, Simpson has a grandson who comes over. He also has a medical condition he believes could react poorly to lead contamination.
One of his hobbies has been growing his own vegetables, something he now knows he has been doing in a lead-filled yard. The men are worried but don't think there's much they can do.
"No one wants to be contaminated," Ozie Means said. "Yeah, I want them to fix it, but the only thing we can do is accept what they say."
Contact staff writer Mark Pace at mpace@timesfreepress.com or 423-757-6361. Follow him on Twitter @themarkpace and on Facebook @ChattanoogaOutdoors.