Photo Gallery
Suspect eludes capture in Marion County manhunt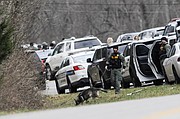 UPDATE: Whitwell elementary, middle and high schools are closed Wednesday because of the robbery suspect search.
___
Authorities in Marion County, Tenn., called off for the evening an ongoing manhunt on Tuesday after a robbery suspect on the loose near Whitwell eluded capture for a second day.
Suspect DeWayne Halfacre has been added to the Tennessee Bureau of Investigation's Top 10 Most Wanted list and is thought to be armed and dangerous.
"We've done everything I know to do and just haven't found him yet," Marion County Sheriff Ronnie "Bo" Burnett said Tuesday night.
Sheriff Bo Burnette says they're calling the search off for tonight, but they'll have extra patrol cars on the road tonight and they'll be on the lookout for the suspect who they believe is still armed. pic.twitter.com/nlBIbfT6Nn

— emmett gienapp (@emmettgienapp) January 24, 2018
Second half of that vid pic.twitter.com/9yGw8ofY4L

— emmett gienapp (@emmettgienapp) January 24, 2018
Timothy Howell, 51, of Madison, Tenn., was taken into custody on Monday while Halfacre, the man police said is his partner, remained at large, prompting the massive manhunt in the area between Whitwell and Powells Crossroads in eastern Marion County.
The road was shut down most of the day as Marion County officers, SWAT teams, TBI and ATF agents and officers from Chattanooga and neighboring counties combed the surrounding area for Halfacre, using police tracking dogs on the ground and searchers in the air.
Tennessee Highway Patrol helicopters spent much of the afternoon Tuesday helping with the search, and a law enforcement helicopter from Georgia equipped with better search technology joined the search later.
Authorities estimated the perimeter they set up to net Halfacre was approximately 10 square miles and throughout the day members of various SWAT teams could be seen stomping in and out of the woods with body armor and rifles.
"We've had several calls in this area about suspicious people and we've answered those and we've just run out of options," Burnett said. "We decided that we've had everybody out here about all day and had a lot of assistance out of Hamilton County and Chattanooga city and other agencies, so we decided to call it off," Burnett said.
"We've done a thorough search. I feel real good. I was wanting a better result, of course anybody would, but I still feel comfortable that we'll locate him here in this area."
Burnett said the two men are also suspects in robbery incidents in Ringgold, Ga., and Rutherford County, Tenn., that happened Monday.
The two-day ordeal began Monday in Marion County when the two men attempted to break into Andy's Market in South Pittsburg but the burglar alarm went off, Burnett said. The initial investigation there led to a vehicle description that was issued to authorities in the area, Burnett said.
A Whitwell officer spotted the vehicle about 4 a.m. CDT and tried to stop it but the suspects sped away until they ended up on a dead-end road and crashed. One of the two, Howell, was taken into custody quickly, but Halfacre has been at large ever since.
A part-time officer who was on his way back from a prisoner transport late Tuesday morning heard a dispatcher relaying information about a man spotted near a church in Whitwell. The part-time officer was nearby and soon spotted the man he believed was the suspect headed toward the home of an elderly woman, Burnett said.
"He was afraid that he was going to break in on her, so he went up there and confronted him [the suspect] and the guy pulled a firearm on him and at some point they had a tussle and the guy got possession of his patrol car," Burnett said.
"About that time the Whitwell officers pulled up and pursued him toward [Powells] Crossroads and at some point a tire blew out and he crashed and he got out and ran up here on the side of a hill," the sheriff said.
Until Halfacre is found, Burnett said residents should exercise extreme caution and contact the authorities if they spot any suspicious activity or anyone fitting Halfacre's description.
"This guy right now, he's armed, he's dangerous. If somebody knocks on your door, don't go to your door, just call 911," he said.
Contact staff writer Emmett Gienapp at 423-757-6731 or egienapp@timesfreepress.com. Follow him on Twitter @emmettgienapp.
Contact staff writer Ben Benton at bbenton@timesfreepress.com or 423-757-6569. Follow him on Twitter @BenBenton or at www.facebook.com/benbenton1.