Photo Gallery
Suspect eludes capture in Marion County manhunt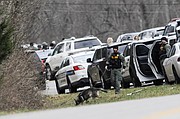 JUST IN: Wanted Top 10 fugitive Dewayne Halfacre has been captured without incident.

More details ASAP! Thanks for helping us to spread the word! pic.twitter.com/K7fIRDRGMO

— TBI (@TBInvestigation) January 26, 2018
A five-day-long manhunt in Marion County, Tenn., that involved personnel from 17 law enforcement agencies ended early Friday afternoon with the capture of Dewayne Half- acre, who was taken into custody without further incident.
Halfacre was on the lam from police for a week after allegedly robbing a store in Almaville, Tenn., on Jan 19. He was spotted in Marion County but somehow managed to elude authorities for days despite stealing and crashing a deputy's car.
Then, on Monday, Halfacre and his alleged partner-in-crime, Timothy Howell, attempted to break into Andy's Market in South Pittsburg and set off a burglar alarm, authorities said.
The initial investigation led to a vehicle description that was issued to authorities in the area.
A Whitwell officer spotted the vehicle at about 4 a.m. CDT and tried to stop it but the suspects sped away until they crashed on a dead-end road. Howell was taken into custody, but Halfacre escaped. Schools in the area were placed on lockdown as authorities combed the area, but Halfacre wasn't seen until the following day.
On Tuesday morning, a part-time officer who was on his way back from a prisoner transport heard a dispatcher relaying information about a man spotted near a church in Whitwell. The officer was nearby and soon spotted the man he believed was the suspect headed toward the home of an elderly woman.
He confronted the man, but Halfacre pulled a firearm on the officer, fought with him and stole his car, which he then crashed on State Highway 283 between Whitwell and Powells Crossroads. Halfacre ran into the woods and a small army of law enforcement personnel, including agents with the FBI, ATF and officers from several surrounding counties, responded to the scene.
The road was shut down for most of the day while helicopters looked for Halfacre from the air and SWAT teams with body armor and rifles stomped through the woods, but the search was called off after nightfall.
Authorities scaled back the search to just local law enforcement agencies on Wednesday and Thursday, but officers saw neither hide nor hair of the suspect until Friday morning when he was finally caught.
Marion County Sheriff Ronnie "Bo" Burnett said during a Friday afternoon news conference at Powells Crossroads city hall that he's glad the ordeal is at an end and the community can return to normal routines.
"He was arrested around 12 o'clock today at a vacant house on Highway 283 about 3 miles away from the area we're at now," Burnett said.
"The incident started again this morning around 4 o'clock - we had a church broken into. Officers responded, we brought dogs in to track him, brought assistance from the THP helicopter. We brought in TBI and other agencies, they established a third-party contact and by using that information we were able to get his location.
"Multiple officers went to this vacant house and he did come out and turn himself in without incident."
Burnett said he couldn't provide any additional details about the "third-party contact" used to bring Halfacre in, saying that information fell under the Tennessee Bureau of Investigation's jurisdiction. He did say Halfacre gave a brief, general statement after he was taken into custody and told authorities he was "starving to death."
"He's been in the woods, he's been in this area. In 35 years it's probably the one case I'll remember forever that it was just hard to catch him. I heard him make the statement that he was quick on his feet, so he was just able to stay above all the officers, the tracking dogs," Burnett said.
"I guess he was just wore out and tired himself and was willing to give himself up. I'm just real thankful that was done without anyone getting hurt."
Halfacre is now being held in the Marion County Jail. While it is unclear what jail time he might ultimately face, he was wanted on a variety of charges including aggravated robbery and aggravated assault, according to the TBI.
Contact staff writer Emmett Gienapp at egienapp@timesfreepress.com or 423-757-6731. Follow him on Twitter @emmettgienapp.