Photo Gallery
Competitive paddling returning to Upper Ocoee River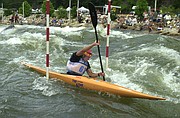 Competitive whitewater paddling will return to the historic Upper Ocoee River this summer for the first time since 2001.
The section of what is now the most popular whitewater river in the U.S. was redesigned in the lead-up to the 1996 Olympics to host the whitewater slalom competition. The redesign allowed for a narrower and deeper waterway ideal for competition. After the Olympics, the Upper Ocoee hosted annual competitions for five years. However, events were canceled after 9/11 because of logistical concerns and traveling problems.
For paddlers, it is past time to bring competition back to the river.
"Paddlers are pumped because there's nothing really in the Southeast right now like this," event public relations director Casey Robbins said. "A lot of people have to go out west for this type of event. They're so stoked about this. Paddlers are just thrilled to see competition being brought back to the Ocoee."
A startup nonprofit, Ocoee River Basin Foundation, will host a three-day whitewater event Aug. 24-26 led by paddlers Jen Maxwell and Jeremy Adkins. The event, called the Ocoee River Championships, includes multi-class competitions in slalom racing, freestyle and downriver. There will also be a general entry raft race, boater cross race, a stand-up paddleboard event and squirt boat competitions.
Proceeds will go toward the foundation, which will pour money back into the area. The goal of foundation members is to protect and revitalize the Ocoee River Basin. They'll use earnings from this year's event to add locking stations at the Middle Ocoee put-in/Upper Ocoee takeout and the Middle Ocoee private takeout. They'll also build a changing station for private boaters at the Middle Ocoee private boat takeout.
Paddling is a major economic boon for Polk and Bradley counties and the surrounding area. A 2012 economic study by the University of Tennessee estimated that rafting on the Ocoee River had a $43.5 million-a-year economic impact in the 30-county area, supporting 622 jobs. Area residents and paddlers are hopeful that number will continue to grow with the competition.
"I think it will be a great economic driver," Polk County Chamber of Commerce director Adrian Lambert said. "It is a competition river, so it will be utilized again. That is wonderful. That is going to be good for economic growth."
Adkins and Maxwell have been working on the event for nearly two years, Robbins said. It's a welcomed return for those in the paddling community.
"I think the more visibility we get for kayaking on the Ocoee is really good for the region," Tennessee Valley Canoe Club communications chairwoman Dian Lawhon said.
She said the club holds its own competition in the fall on the middle section of the river, but is excited to see competition returning to the Upper Ocoee.
"This is new and exciting for whitewater paddlers," Lawhon said. "We think a lot of our folks will be participating."
Contact staff writer Mark Pace at mpace@timesfreepress.com or 423-757-6659. Follow him on Twitter @themarkpace and on Facebook at ChattanoogaOutdoorsTFP.