Photo Gallery
Chattanooga developing strategic plan for public art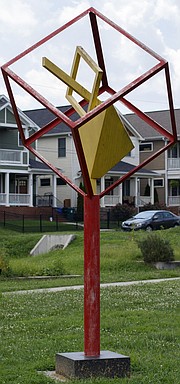 If you go
Public Art Chattanooga will hold two focus group sessions in July in addition to the community input session. The first, centered around social change leaders, will be Wednesday from 8:30 to 10 a.m. at Causeway, 16 Patten Parkway. The second focus group for urban design professionals will be Thursday from noon to 1:30 p.m. at Miller Plaza in the Waterhouse Pavilion.
This week Chattanooga's public art program is launching its first phase of community engagement to develop a strategic plan that will guide the future of public art in the city.
With the input from community organizations and individuals, the plan aims to shape a public art framework and identify specific sites, areas of focus and project themes for the next 10 years.
The first community input session will take place Thursday from 5:30 to 7:30 p.m. at The Spot venue.
Ellen Simak, Public Art Commission chairwoman, said she hopes the information gained from the input sessions will help the city "produce quality art that the citizens want to see."
Two public art consultants, Gail Goldman and Barbara Goldstein, are helping facilitate the input sessions and interviewing individuals and leaders of community organizations to develop the strategic plan.
They hope to understand how Chattanooga perceives itself by asking questions, such as what people love about living and working in the city, how residents want people to feel when they visit and what they want visitors to take away with them.
"We're not asking people to design art or pick art," she said. "We're asking them for the qualities that they really value."
Artists then will develop ideas for how to capture those qualities.
Katelyn Kirnie, director of Public Art Chattanooga, said the meeting will help educate the community about what is possible through public art, and she hopes it will start a conversation about what the public hopes to see more of and where.
"Public art is a great way to start a conversation," Kirnie said. "There are some greater social issues that art can begin to address, but those are big steps that we want to know if the community is interested in before we [go] into that direction."
It's a multiyear planning process, Kirnie said. So what's suggested this week won't be implemented until much later.
Once the community's vision begins to form, it will go to the Public Art Commission and local organizations for implementation. In general, that process involves identifying the site and objective of the project - something that will be achieved through the strategic planning process.
Then with that information, a public call to artists will be made, and those artists will submit their ideas for art. Then a panel of residents will work with the city to determine what art piece will work best in their community.
"For me, the most powerful thing about public art is it can access a visual sense of community of diverse people," Kirnie said. "You may be drawn to this space you've never been to before and you might share an experience with someone you've never met before."
Contact Rosana Hughes at rhughes@timesfreepress.com or 423-757-6327.