Photo Gallery
Daily Photos 09/10/2008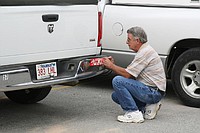 Vice President Mike Pence visited the Chattanooga area Saturday to tout President Donald Trump's tax policies before attending political events for two Republicans in tight races in the Southeast.
The former Indiana governor called the 2017 tax cuts the biggest in a generation and a generator of American jobs in front of a raucous crowd. His wide-ranging, 33-minute speech at Lee University addressed immigration, the economy, Supreme Court nominations, environmental rollbacks and chastised the "liberal left" before narrowing his message to tax cuts.
"We cut taxes for working families" Pence said. "We think the average working family in Tennessee will save about $2,000. We cut taxes for businesses large and small so businesses here in Tennessee can compete and win against businesses anywhere in the world."
U.S.