Photo Gallery
Students, senior citizens learning from one another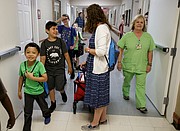 Taylor Hurst draws the shape of a heart with a black marker in the center of a sheet of paper.
As Calen Singgo takes a small, round robot - called an Ozobot - and places it at the bottom of the heart, he turns to Bobbie Blackshear and tells her to watch, which she does as the robot traces the marker line, following the shape of the heart.
Two of the group members, who are programming the small robots to trace shapes and then recreate them on electronic tablets, are rising fifth-graders at Red Bank Elementary. Blackshear is an elderly resident of the Red Bank Life Care Center.
Taylor and Calen have been visiting the center a few times a month during the school year, interacting with and learning alongside the rehabilitation and long-term care facility's residents.
Their teacher, Beth Wilson, is the mastermind behind the program. And, thanks to a national Fund for Teachers grant, she will travel to Europe this summer to learn about intergenerational centers and bring back strategies for Red Bank's very own "iGen" program.
Wilson has been bringing her fourth-grade class to the Life Care Center, barely half a mile from the elementary school, several times a month during the school year. Next year, her now-fifth-graders will spend one day each week in their own classroom at the facility.
"The kids love it," Wilson said. "The thing is, when they have assignments and I tell them they are going to share it [there], they get it done because they know it's not just for me or them, but they are sharing it with other people."
The students focus on interactive activities they can perform with the Life Care residents, which can include programming robots, creating maps or conducting research for a history project together, but they also have lunch with the residents and do normal school-day activities such as taking reading tests.
In the fall, when they have their own classroom, the students will be able to completely emulate a regular school day, Wilson said.
Wilson, who had been taking her students to Manorhouse, another assisted living facility, to interact with elderly residents, was inspired to do so after her own grandmother was in a nursing home.
"My grandma, she was 105 [years old] when she died, and I didn't get to see her all the time," Wilson said. "This is something I've always had in the back of my mind."
She hopes the experience teaches students compassion and empathy, some of the social-emotional learning that is harder to define but often occurs inside classrooms. She also likes that it exposes children to a wide range of people, including ones with medical issues like needing wheelchairs or oxygen tanks.
After a local television news station aired a story on Wilson's class trips to Manorhouse, Kathy Goforth, area business development director of Life Care Centers of America's Eastern Division, approached her about bringing the program to her facility.
"This is something really unique," Goforth said. "The kids are wonderful with the residents. This is great for them, to have young people coming in and interacting with them. It is really eye-opening for our residents, because we do our best to continue to stimulate their minds and give them a fulfilled life."
Blackshear, who is herself a retired educator, has been at the center for three months. She said the children's visits are some of her favorite times.
"I think it's fun," she said. "Fourth grade, it's such a good age. I always love meeting with the children."
Sarah Swann, another resident, also said she enjoyed playing and doing activities with the students.
"I love it. We get to visit the kids and see them doing different things," she said.
The kids also enjoy it, often delighting in showing the residents how to use some of their classroom tools or presenting work they completed at school to them.
"I like the fact that we get to teach them things. It's exciting," said Aslan Goines, one of Wilson's fourth-grade students. His classmate and friend, Calen, recognized the difficulties or unique aspects of interacting across generations.
"My favorite thing is basically just interacting with them," Calen said. "Seeing what we can do to for them to have fun in their older times. Sometimes it can be awkward though."
When asked what could be awkward, Calen giggled and shyly said, "The awkward silences."
Intergenerational centers and learning facilities have risen in popularity in recent years. In some instances, preschool or child care facilities are housed together with nursing homes or assisted living facilities. Experts say such facilities offer unique opportunities for continued learning and improved quality of life for the elderly, as well as for young people and students to engage with a diverse range of types of people.
Matt Kaplan, a professor of intergenerational programs and aging at Pennsylvania State University, said the experience can be really beneficial for both groups if they truly are interacting and building relationships on a deep level.
"There are ways in which the experience can really benefit the students," Kaplan said, such as when educators go above and beyond to incorporate both parties in guiding activities and the curriculum.
"What is rare is when you have a school that weaves curriculum into all aspects of a retirement community," Kaplan said. "That is how they get it to become sustainable."
Wilson and the Life Care staff already are thinking of ways to truly integrate learning. The center has a garden, which the activities director Tillie Grant and Wilson hope to allow the children to utilize in the fall. They also raised chicken eggs, something about which many of the residents were able to share insights with the students.
For the students, Grant said the residents sometimes serve as surrogate grandparents.
"Some of their grandparents don't live here, so it's an opportunity to interact with them. It's an opportunity that they can teach the children about things they know," Grant said.
For the residents, she said, "it's a reminder of home."
In the fall, Wilson plans on focusing on science and social studies on Fridays, when the students are at the center, to allow for more interactive, collaborative learning. Her vision is one of students researching with and learning from the residents and even their own experiences.
"The kids have a lot more people they can ask questions to, like in social studies, they have firsthand historical accounts right there," Wilson said. "I'm thinking of focusing on science and social studies standards, so students and residents will be researching and presenting together, truly collaborating across generations."
Wilson also hopes to bring back strategies for incorporating outside activities and play, such as adventure playgrounds, on the center's grounds from her trip this summer. Wilson will travel Europe for two weeks - she is one of 16 local educators who received Fund for Teachers grants administered through the Public Education Foundation to travel this summer.
The program itself is also thanks to a $10,000 grant Wilson received through the foundation's Teacherpreneur program. The Teacherpreneur incubator helps support and launch teachers' unique ideas. Wilson said the program, which allowed her to pursue the opportunity with the Life Care Centers, helped her "get her passion back" for education.
"What we do is so important to teachers," said Kate Skonberg, Public Education Foundation's teacher engagement coordinator. "We help [teachers] see their potential as educators and look at what it's done. This is so unique."
Currently, Wilson has about $4,000 left of her grant to help pay for transporting her students from Red Bank Elementary to the center every Friday, which can cost as much as $180 per trip, but she hopes to find funding to allow the students to visit an additional day every week of the school year.
Wilson also is moving up from fourth grade to fifth grade, and some parents are requesting their students be placed in her class, knowing they will get this opportunity.
"With their liveliness, they brighten up the day," said Life Care resident Julia Graham. "They are good kids, they are wonderful."
Contact staff writer Meghan Mangrum at mmangrum@timesfreepress.com or 423-757-6592. Follow her on Twitter @memangrum.