Photo Gallery
VW will assemble third vehicle at Chattanooga factory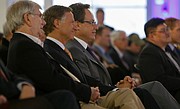 Here, Volkswagen is saying we're not done.
Saying a five-seat version of the Atlas SUV fits in one of the hottest-selling parts of the U.S. market, Volkswagen pledged Monday to spend $340 million to build a third vehicle in Chattanooga.
"It's exactly what we need to continue our growth momentum," said Hinrich J. Woebcken, Volkswagen Group of America's president and chief executive, at the Chattanooga plant.
Production is to start in the last quarter of 2019, he said about the vehicle based off the seven-seat Atlas. The new SUV will have four doors, like the Atlas, though just two rows of seats instead of three.
No name for the new SUV was disclosed, nor the price. A concept of the vehicle will be unveiled next week at the New York International Auto Show as just a rendering of the SUV was shown at the plant.
By the numbers
› $340 million: Investment in new Chattanooga SUV› $2.1 billion: Total Volkswagen investment in Chattanooga› 22,000: Direct and spin-off jobs generated by Volkswagen, suppliers and others
VW, which now employs nearly 3,500 people in Chattanooga, could hire more workers depending on sales volumes of the new SUV and the other vehicles assembled at the plant, according to the company.
Gov. Bill Haslam cited the new money VW plans to spend, which brings the German automaker's investment to more than $2.1 billion related to its Chattanooga factory over a decade or so.
"When VW said they were committed to Chattanooga, they meant it," he said.
Chattanooga Mayor Andy Berke said the automotive sector in the city right now is "a big path" to many people achieving a middle-class standard of living.
Since VW announced it was coming to Chattanooga, estimates are that direct jobs at VW along with supplier and other employment has created upwards of 22,000 posts, he said.
"Here, Volkswagen is saying we're not done," Berke told a large roomful of VW employees who turned out for the SUV announcement.
Hamilton County Mayor Jim Coppinger said he thinks the new SUV looks "sporty" and will sell well in the U.S.
"I'm really energized and excited about the future," he said, adding he's hopeful that the Chattanooga plant can land future electric vehicle production, as well.
The addition of the new SUV comes as sales of the Passat midsize sedan, also made in Chattanooga, are falling as buyers turn more to snatching up sport utility vehicles and trucks off dealer lots.
For example, Passat sales in the U.S. in the first two months of the year are 5,470, down 54.4 percent from the same period last year, according to VW.
But, with the Atlas and a redesigned Tiguan SUV, which is made in Mexico, SUVs accounted for 54 percent of all VW brand sales in the U.S. in January and February. Volkswagen of America sales overall were up 5.7 percent for the first two months of the year, figures show.
Woebcken said there's additional space in the SUV segment to grow even more VW sales.
He said the Atlas SUV that went on sale last spring "symbolizes a turnaround for the brand in the U.S."
"The Atlas is exactly the kind of vehicle American families are looking for," he said. "It's fun to drive, fun to be in."
Haslam said there are no state incentives to bring production of the new SUV to Chattanooga. He said the earlier incentive package that brought Atlas assembly included a potential offshoot.
"I couldn't be more pleased that's what they did," he said.
Chattanooga's Volkswagen plant has received more than $800 million in federal, state and local incentives in the past decade, making it the most richly awarded business ever in Tennessee and one of the most subsidized among U.S. automakers.
U.S. Sen. Bob Corker, R-Tenn., a former Chattanooga mayor who helped negotiate the deal to land Volkswagen in Chattanooga a decade ago, said Monday that he is "thrilled to see Volkswagen realizing its full potential" with its ongoing investments in the their U.S. assembly plant in Chattanooga.
""Following a collective effort by so many in our community and state to bring a major auto manufacturer to Enterprise South, one of the most meaningful days in my public service career occurred nearly 10 years ago when I received the call that Volkswagen had chosen Chattanooga," Corker said. "And over the years, we have worked hand in hand with Volkswagen leadership in Germany and our state officials to ensure the company would continue to thrive in our city."
Charles Wood, the Chattanooga Area Chamber of Commerce's vice president of economic development, said the addition of a third vehicle produced at the Enterprise South industrial park plant could over time bring more jobs to companies in the area that supply parts to VW.
"It depends on the volume," he said.
Contact staff writer Mike Pare at mpare@timesfreepress.com or 423-757-6318.