Photo Gallery
McDaniel honored for public service, civil rights work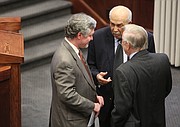 The Tennessee Human Rights Commission on Wednesday honored the Rev. Paul McDaniel, retired pastor of Second Missionary Baptist Church and a veteran of decades of civil rights activism, with its Jocelyn D. Wurzburg Civil Rights Legacy Award.
The presentation took place in the chambers of the Hamilton County Commission, where McDaniel served as a county commissioner for 20 years before retiring in 1998.
Speaking in a chamber crowded with Human Rights Commission members, brother pastors and friends and supporters, McDaniel spoke with humility after being presented the award by current rights commission members Robin Derryberry and Gary Behler.
"Thanks to all for recognizing me, whether I deserve such honor or not," said McDaniel, who counted service on the Human Rights Commission among his numerous civic activities. "I appreciated being associated with those who have contributed beyond the call of duty to serve for the well-being and welfare of the citizens of Tennessee."
Wurzburg was a two-time Human Rights Commission member whose work and research led to the 1978 Tennessee Human Rights Act, which remade the commission from an advisory to an enforcement organization, event organizers said.
Wurzburg was the first recipient of the award, in 2013. The second, in 2014, was Chattanooga Councilwoman Carol Berz, who attended Wednesday's ceremony and congratulated McDaniel.
The award recognizes someone "whose life work embodies the ideals and principles of inclusion, equity, equality access and diversity," according to the commission. Recipients must be consistently committed to eliminating discrimination, promote inclusiveness and equity, and offer "visionary and insightful leadership to confront and resolve human rights issues."
McDaniel has been a spiritual and community leader for decades.
After Tennessee's constitutional convention in 1978 that adopted the mayor-and-commission form of government, McDaniel's attempt to run for a commission seat was stymied by a state law that said clergy members couldn't be elected to office.
McDaniel fought all the way to the U.S. Supreme Court and won a ruling allowing him to run for a seat on that first Hamilton County Commission. He stayed until 1998, serving five times as chairman and four as vice chairman and winning respect and affection for his calm, measured demeanor on the dais.
McDaniel said he had served with Wurzburg on the Human Rights Commission.
"I had personal experience with her commitment and dedication. She used her abilities and gave of her time for the well-being of all the citizens of this state. I was challenged by her and I am certainly honored to receive this award with her name on it," he said.
Before McDaniel made the traditional trip along the dais for handshakes with each commissioner and the mayor, Commissioner Warren Mackey paid his own tribute.
"Here is an extraordinary man," Mackey said. "He lives by the principles that he teaches and he preaches, and one of those is service. ... [He is] a man who has been humble, a man who is without scandal, a man who has left a huge imprint on this community ... and been a model for us."
Contact staff writer Judy Walton at jwalton@timesfreepress.com or 423-757-6416.