Thousands of students and their supporters marching on Chattanooga, Tennessee against gun violence right now #MarchForOurLives #marchforourlives_cha pic.twitter.com/CEPFwVJwdi

— Doug Strickland (@StricklandPhoto) March 24, 2018
Photo Gallery
March for our lives photo gallery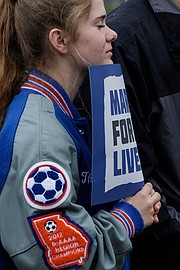 At least a thousand young people and adults took to the streets in Chattanooga Saturday, joining the hundreds of thousands marching nationwide as part of the March for Our Lives movement, a demand for so-called "common sense" gun control and an end to gun violence.
The movement, sparked by the survivors of the Valentine's Day shooting that killed 17 at a high school in Parkland, Fla., is led locally by the group Chattanooga Students Leading Change.
The group, made up of students from both public and private schools, organized the student walkouts to honor the Parkland victims on March 14 and is currently exploring ways to lobby local, state and federal elected officials on a number of items. The group is supported by Chattanooga Moms for Social Justice, Moms Demand Action, local clergy and churches, educators and other community activists.
"There's been a lot of remembrance in the past month, but we have to start asking ourselves, why do we choose to keep remembering?" said Allen Liu, a senior at the McCallie School and one of the leaders of Chattanooga Students Leading Change. "Here is the thing, remembrance is hollow if we only look into the past ... thoughts and prayers were not due justice to the 30,000 Americans who lose their lives to gun violence every single year."
Before protesters marched from Coolidge Park, across the historic Walnut Street Bridge, to the Hamilton County Courthouse and back, student leaders spoke about their beliefs, an all-school choir performed and the organizers even led a powerful "die-in," in which participants lay down on the ground to represent the people killed by gun violence.
"The victims of gun violence in our schools and in our communities make headlines, but are soon overshadowed by the next big news event,"said Julia Becker, a freshman at Chattanooga Center for Creative Arts. "Today we are here to remember those whose lives have been lost."
Becker, alongside Graham Shults, a sophomore at Chatanooga Center for Creative Arts, read off a list of familiar names - Columbine, Sandy Hook, Virginia Tech, Orlando, Las Vegas, Parkland - locations of mass shootings or violence in schools. As they read, members of the audience lay down in the damp grass. They also read off 14 names of people under the age of 21 who have been victims of gun violence in Chattanooga in the past year.
"We are committed to raising awareness in our community, advocating for better gun control and red flag laws and accountability from our legislators to vote for us, the people, instead of the money the NRA pours into their campaign every year," Shults said.
The audience was notably made up of more adults than students, but Liu said that was encouraging.
"We need folks in both corners," Liu said.
Schulz emphasized that students were not trying to take over the efforts adult advocates have been working toward for years.
"We never wanted to steal what is yours, we just wanted to take back what should be ours ... If politicians are not working for our safety and our future, then for what?" she asked. "We cannot be ignored anymore ... we are here today to march for our lives."
Clay Thomas, pastor at Rivermont Presbyterian Church, is one of the original facilitators of the student group - stepping in to guide or help them.
"In 2013, after Sandy Hook, Congress had the opportunity to ban assault rifles ... what would had happened had they banned assault rifles?" Thomas said. "No Orlando, no Las Vegas, no Chattanooga 5, an assault rifle does not belong in civilian hands."
Thomas, who has advocated for gun control for years, said he was energized by the day.
"I could not be prouder of Chattanooga students and the parents, teachers, grandparents who came out to support and encourage them. I hope this will inspire people to join the movement and also create space for people who have not supported gun reform in the past."
Some marchers traveled quite a distance to join in Saturday's events.
Maggie Griffin and her husband, Jim, of Delano, Tenn. braved the rainy and cold weather to march alongside Chattanoogans. Maggie Griffin is most concerned about current proposed legislation that would allow teachers and staff to carry guns on school campuses.
"As a retired teacher for both Georgia and Tennessee, I'm very concerned about the idea of guns in schools," Griffin said. "They don't belong in anyone's hands."
As for the youths leading the activism, Griffin said they were inspiring.
"I love it. The children shall lead us," she added.
Chattanooga students have several initiatives underway to continue their efforts.
Liu and several other students met with staff members from the office of U.S. Sen. Bob Corker, R-Tenn., on Friday, and shared their own policy platform, calling for a ban on assault rifles, closing loopholes on purchasing firearms, funding gun violence research and creating red flag laws, which would allow judges in specific circumstances to issue restraining orders to remove access to guns from people suspected of being capable of gun violence. The students also vehemently oppose arming teachers.
The students requested a meeting with Gov. Bill Haslam on April 2 and plan to travel to Washington, D.C., later next month to meet with Corker.
Erin Goddard, local leader of the Chattanooga chapter of Moms Demand Action, stands alongside the student activists and called other adults to do the same.
"We are mothers and fathers, educators and neighbors, voters, and we are here to say that we are no longer accepting this as our normal," she said. "We are here and we are fighting back ... If you are an adult and you are inspired by these young people, then join us."
Though there were not very obvious appearances of counter-protesters, a few marchers reported that they were heckled by some bikers on the Walnut Street Bridge. Law enforcement was out in force - officers from the Chattanooga Police Department's Special Operations Response Team were present in the park and along the march's route.
One young man, Grady Hayden, 21, a student at Southern Adventist University, stood quietly outside the Hamilton County Courthouse wearing a yellow shirt that read 'Don't Tread on Me.' The self-proclaimed Libertarian was there to ask people what freedoms they were willing to lose, he said.
"I'm here to express my little bit," Hayden said. "Consider what you are willing to give up and consider the long-term consequences of the legislation you demand."
Hayden is pro-gun and a supporter of the Second Amendment, and he thinks many ideas proposed for restricting gun ownership are unrealistic. He is not in favor of banning assault rifles or restricting gun ownership in general.
Raised in Montana, Hayden said it wasn't uncommon for students to have guns on racks in the back of their cars in the parking lot at school, and that he and his peers were raised to respect guns.
"I think a lot of the issues is how people perceive the weapon culturally," Hayden said.
Another college student was also inspired to come out, despite supporting herself on crutches. Jordan Kwiatkowski, an anthropology major at the University of Tennessee at Chattanooga, marched the whole way alongside community members.
"Honestly, I've never really come out for something like this before," she said. "I finally have solid views on something."
Kwiatkowski said as a member of a generation that has grown up with widespread media coverage of school shootings, it's been easier to know about what's going on, form beliefs and act on them.
"It's starting younger, kids are starting to stand up and have a voice," she said. "Giving youth a voice is something that has always been frowned upon by politicians and older people, and kids aren't taking it."
Contact staff writer Meghan Mangrum at mmangrum@timesfreepress.com or 423-757-6592. Follow her on Twitter @memangrum.
Tweets by memangrum