Photo Gallery
Appetite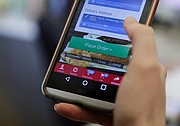 More Info
Order InUberEATS$4.99 delivery fee, plus gratuityDelivers from over 70 restaurants in Chattanooga and outlying areas.Enter promotion code CHATTANOOGAEATS to receive a $5 discount on the first two orders.Available in the Google Play store for Android and Apple store for iPhones.For more information, visit ubereats.com.WAITR$5 flat delivery fee, plus gratuityDelivers from over 70 restaurants in Chattanooga, Red Bank, east Brainerd, Brainerd and Hixson.Available in the Google Play store for Android and Apple store for iPhones.For more information, visit waitrapp.com.My Town 2 Go$3.99-$6.99 delivery fee, plus gratuityDelivers from over 50 restaurants in Chattanooga and the outlying areas Ooltewah, Red Bank, Signal Mountain, Hixson, Soddy Daisy, Harrison, & Middle Valley.First-time customers can get their first order free with code 1STMT2GCHATT.Available in the Google Play store for Android and Apple store for iPhones.For more information, visit mytown2go.com.GrubHubDelivery fee is determined by the restaurant, plus gratuityServes Chattanooga and some outlying areas, like Hixson.Available in the Google Play store for Android and Apple store for iPhones.For more information, visit grubhub.com.Dinner DeliveredDelivery fees begin at $4.99, plus gratuity, but can climb to around $15 the farther away the restaurant is to your location.Delivers from 175 restaurants in Chattanooga and outlying areas, including Soddy Daisy, Hixson, Signal and Lookout mountains, Harrison and Ooltewah. They also serve 50 restaurants in the Cleveland area and 40 more in north Georgia.Customers get $5 off with code EDGE2018.Available in the Google Play store for Android and Apple store for iPhones.For more information, visit dinnerdeliveredonline.org.BringMeThatDelivery fee depends on the restaurant.Available in the Apple store for iPhones only.For more information, visit bringmethat.comChowNowPick-up only available in the area.Available in the Apple store for iPhones.For more information, visit eat.chownow.com.
When Mike Adams began researching food delivery services to help bring in new customers to his downtown restaurant, he felt inundated with all the options.
The chef and owner of the Blue Orleans Seafood restaurant off Market Street probably feels the same as customers do when trying to decide between all their delivery options in Chattanooga now. And it's no wonder more services are popping up in the food-centric and growing metropolitan area. According to a 2017 Lux Research analysis, consumers are willing to pay an average of 11 percent more for the convenience of restaurant take-out, online grocery delivery and other services.
While Chattanooga grocers offer delivery and pick-up options, the city is now home to at least seven third-party restaurant delivery services, including UberEATS, Dinner Delivered, WAITR, Grubhub, My Town 2 Go, ChowNow and BringMeThat on top of the in-house delivery services already offered by some eateries in town.
"It works out well for both the customer and restaurant because we are able to get our food into people's hands who have maybe never tried it before," Adams says.
The large array of phone apps available for delivery gives restaurants and customers more options and breeds some healthy competition in the market. Adams has been using Dinner Delivered for the past two years and recently decided to start using WAITR, too.
Adams said he liked WAITR because they were Louisiana-based, a place "near and dear to his heart," and there were no upfront costs for the equipment used to carry out the deliveries. The restaurant just has to pay a percentage of the sales on orders until the iPad and software they were provided by WAITR is paid off, he said.
As WAITR is still new to the area, Adams said most of his delivery revenue still comes from Dinner Delivered and accounts for about 10-15 percent of his total sales. As with most restaurants sales, there are great weeks and not-so-great weeks.
My experience with restaurant deliveries
As a consumer and reporter, my main question wasn't for the restaurant owners using these apps, though. It was for the customers actually paying the extra cost for convenience, which can more than double the price of the food. I also wondered if there are enough customers in town to sustain all of these new delivery options. Local WAITR representative Ben Holt said the company's target market is 25- to 40-year-olds with disposable income, and more specifically, 29-year-old women with some extra funds.
As someone who falls within this target demographic, I decided to try out several of the third-party restaurant delivery apps in town over a three-week span to see the pros and cons. I had a few ground rules though, which included: I would only use the phone apps I could get on both an iPhone and Android and the meal had to cost $12 or under because I would never pay more than that for a work-day lunch or quick dinner. The apps I tried were WAITR, UberEATS, My Town 2 Go, Dinner Delivered and GrubHub.
PROS:
1. Obviously, convenience. I found that, on average, each delivery app charged me about $5 for the delivery portion, and then I paid 20 percent gratuity on top of that. It's important to note that most delivery drivers don't get paid from that delivery fee but they are paid from the gratuity. Holt with WAITR said his company provides drivers $10 an hour if they do not earn at least that in tips. GrubHub charged me no delivery fee - just a 20 percent tip - and the highest delivery fee I paid was $5 through WAITR. Holt said they have a flat $5 fee though when some delivery services charge more based on the distance, like Dinner Delivered. GrubHub's website states the delivery fee is determined by the restaurant you order from. Dinner Delivered spokesman Stephen Hays said their drivers earn 60 percent of the delivery fee plus any gratuity.
2. Options. One afternoon I opened up one app and discovered I didn't like the options in the immediate vicinity, so I opened up another. Having all the apps on my phone helped me choose which one had the restaurant I wanted. UberEATS and WAITR started out serving more than 70 restaurants in the area. My Town 2 Go representative Jayson Cline said they deliver from more than 50 places and are adding new restaurants every week. Dinner Delivered delivers from more than 175 local restaurants.
3. Quick response. When I first ordered my food, all the apps told me it would take about 45-55 minutes during the busy lunch and dinner hours. I found that not to be true for a majority though, and I received my food in half that time. I made sure to order only hot meals, and found that all of them were still warm when I received them.
4. Promotions. Although the prices can get high, some of the apps offer pretty good promotions. Chattanooga residents can enter the promotion code CHATTANOOGAEATS in the UberEATS app to receive a $5 discount on their first two orders. My Town 2 Go customers can get their first order free with code 1STMT2GCHATT. Checking Facebook pages and website of these companies is a good idea before ordering to see if there are any active discounts.
5. Group orders. Holt said they charge one delivery fee even for multiple orders, so if the office is having a big work lunch and nobody can duck out to grab it, then a third-party delivery option could be a good idea. I noticed GrubHub even provides the option to "split the check" with someone.
CONS:
1. Cost. Sometimes you are going to pay twice as much as the cost of the food. With the WAITR app, I ordered $9 worth of tacos on a Saturday evening after a long bike ride and ended up paying $18 with tax, a $5 delivery fee and 20 percent gratuity. I did get a free Southside Social koozie with my order, though.
2. It's probably cheaper to use the restaurant's delivery service and not a third-party app. One afternoon I chose My Town 2 Go to order a meal from Panera. I paid $11.28 for the meal, $3.99 for delivery (one of the cheapest delivery fees offered), 45 cents for a "web service fee" and 20 percent gratuity. The total came out to just over $19 for lunch. I quickly went online to the Panera website and calculated what the same meal would have cost ordering directly from them and getting it delivered. I found that it would have cost me about $4 less.
3. Some are available for pick-up only. Despite being "food delivery" apps or services, some only provide pick-up services in certain areas. St. Elmo is a little removed from downtown, so I didn't have as many options at home as I would have at work, in the North Shore area or on Gunbarrel Road.
Overall, I was impressed with the level of service I received from each delivery service. The food arrived quickly, it was hot and the drivers were friendly. I wouldn't do this every week, but it's a viable option for groups of friends or coworkers to consider or to remember on the nights when there is no food in the fridge.