Photo Gallery
Here's how a $3,000 trailer costs $100,000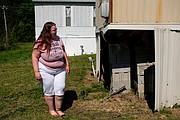 They played us for fools.
ROSSVILLE, Ga. - The 1982 Horton Homes trailer was good enough, Kaylynn Sanchez-Miguel thought. A couple of holes marked the walls, and it wasn't located in the best part of town. But she wasn't in a position to be picky.
"We needed a place ASAP," she said.
A couple of days earlier, in May 2017, a security guard in Fairlane Oaks Park told Sanchez-Miguel and her husband, David, they needed to move within a week. Some of her daughter's friends had been staying with them. They were teenage boys, and they were trouble.
The boys broke into neighbors' cars and stole whatever they could grab. Sanchez- Miguel said she kicked them out. But the owner wanted her and David out, too.
She called around. Ricky Tipton, the manager of Stoney Pointe Mobile Home Park and Blue Ridge Estates, called her back within a day. She and David looked at seven manufactured homes in the two parks located down Schmitt Road from each other. They picked the one on Lot 34 in Blue Ridge Estates because it was the cheapest, requiring only a $750 down payment.
When they signed a contract, Sanchez-Miguel said the son of the park's owner explained they were entering into a rent-to-own agreement.
The couple would pay monthly rent for six years. At the end of the lease, they would own the home. Sanchez-Miguel didn't read the paperwork closely.
Eight other current or former tenants of Stoney Pointe and Blue Ridge Estates remember similar conversations with Tipton or the parks' owner, Tom Lackey, when they moved in. But their contracts didn't match their memories.
Here's what Sanchez-Miguel's contract says: She will pay $165 a month to rent the manufactured home from First American Assets, which Lackey owns. She will pay another $240 a month to rent a lot from Blue Ridge Estates, which Lackey also owns. She will pay for any repairs in the 36-year-old trailer. She will buy homeowners' insurance. She will not try to record a copy of her contract in a Walker County court.
But Sanchez-Miguel's contract does not say that any part of the monthly rent will apply to the purchase of the home.
Instead, she will have three chances to buy the trailer. She can pay $7,508 in June 2019, $5,006 in June 2021 or $1,862 in June 2023.
If you factor in the rent she will pay leading up to those purchase dates, the price of the mobile home increases: $17,228 in 2019, $24,446 in 2021 and $31,002 in 2023.
The value of the home, according to the Walker County Tax Assessor's office? $2,450.
"They played us for fools," Sanchez-Miguel said last week after reviewing the details of the contract.
On a good week, her husband makes $600 putting siding on homes. Sanchez-Miguel doesn't have any income, though she's applying for disability benefits due to her borderline personality disorder and post-traumatic stress disorder from past abusive relationships.
Cynthia Gibson, an attorney with Georgia Legal Services Program, said tenants are often vulnerable in seller-financed contracts like these. Many of them are poor and have few housing options. Though they think they are becoming homeowners, they can barely afford to pay the monthly rent. No outside agency reviews the contracts between landlords and tenants, and the landlords don't always clearly explain how much the tenants will pay.
"These contracts are intended to take advantage of people who have difficulty renting from other avenues," Gibson said.
Lackey did not respond to emailed questions about the contracts. When a reporter called his cellphone twice, somebody answered and immediately hung up both times. An email to Stoney Pointe's listed address went unreturned. So did a voicemail to the park's listed phone number.
Last week, the Times Free Press reviewed 10 contracts provided by current renters at Stoney Pointe and Blue Ridge Estates, including Sanchez-Miguel. The documents showed Lackey charges tens of thousands of dollars more than what the trailers are worth, when you factor in the monthly rent payments.
The lengths of the contracts ranged from four years to longer than 15 years. In each one, Lackey provides three "exercise dates," when the tenants can elect to purchase the trailer for a price they agreed upon at the beginning of the lease. The longer the contract, the more years between each potential exercise date.
On average, according to the property appraiser's office, the value of the 10 trailers that the Times Free Press analyzed is about $7,800 each. On the first exercise date, when you include the rent payments required to reach that point, Lackey offers the homes for an average of $33,000.
On the second date, he offers them for an average of $48,600. On the third date, $58,800.
The most dramatic example in the 10 contracts showed a renter with a lease running longer than 15 years. The mobile home itself is valued at about $3,500. But if the tenant paid his $450 monthly rent and purchased the home on the last exercise date, he would have invested $100,000.
The tenant requested anonymity, fearing that Lackey will evict him.
Heather Way, a University of Texas law professor who has studied seller-financed contracts and reviewed one of Lackey's leases, said the deal leaves tenants vulnerable. If renters want any chance to purchase the home on one of the exercise dates, they have to make a down payment up front.
These down payments are as high as $2,000. The money will be applied toward the purchase of the home. But Lackey does not refund the payment if a renter can't actually make the purchase. If a tenant needs to move, the money went toward nothing.
The lease also states that tenants cannot buy the home if they are in default of the contract. Way said this means they could lose the home for being one month late in rent or failing to buy home insurance.
On top of all that, the purchase does not include any actual land. The tenant will only get the manufactured home, which is a depreciating asset, like a car.
"It has the potential to be very exploitative," Way said of Lackey's lease. "There are a lot of provisions that are problematic and can be harmful to tenants."
Sarah Bolling Mancini, an attorney with Atlanta Legal Aid Society, said an article in the contract that requires tenants to cover the cost of all repairs is illegal.
"Putting this burden onto a tenant is unlawful, unfair, and deceptive," she wrote in an email, "and clearly in violation of Georgia law."
In Lot 82 of Stoney Pointe, Janelle Smith said she's having problems maintaining her trailer. The kitchen floor is soft from water damage. Electrical wires and a breaker sit exposed in a corner of the bedroom. The bathtub leaks into her son's room. The roof leaks down the hallway wall. Mold formed in the ceiling.
There are two holes in the living room wall. She filled one with pillow stuffing and covered it with masking tape. Rats run through the other.
"There is no smell like rate urine," she said. "You can never get that smell out of my home."
When they moved in, she said her boyfriend found roaches running inside a kitchen wall. Also when they moved in, like Sanchez-Miguel, they thought their monthly rent went toward the purchase of their home. Their down payment was $1,250.
"It was going to be wonderful, fine, fancy," she said. "We were getting a new home."
Since January 2016, according to an invoice Smith gave the Times Free Press, she and her boyfriend have paid Lackey $8,900. This includes water bills that range from $50-$110 a month. This also includes $281 the county charged Lackey for the times he brought dispossessory cases against Smith and her boyfriend for falling behind on rent.
(Through April, according to the invoice, they were behind about $1,200, though Smith said they withheld payment at the time because they heard Lackey hadn't covered county property taxes for three years.)
Including monthly rent, according to her contract, Smith and her boyfriend would have had to pay Lackey about $22,000 to buy the trailer this past January, their first exercise date. They didn't. Their next exercise date is January 2020. By that point, they would pay him $31,500, including rent.
Or they could wait until January 2023, when their total payments would reach $42,800.
County records show the trailer is appraised at $8,000. She didn't understand all of the math.
"You're speaking a foreign language to me," she said last week, as she reviewed the terms of her contract. "You might as well be speaking doctor terms."
Contact staff writer Tyler Jett at 423-757-6476 or tjett@timesfreepress.com. Follow him on Twitter @LetsJett.