Photo Gallery
Music Profile: Chris Cobb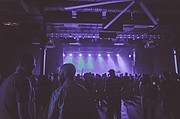 Chris Cobb grew up in a house where music was always playing.
"My dad was a big music guy," says Cobb, who has grown up to be a big music guy himself. He co-owns Marathon Music Works, a Nashville-based company that recently opened a concert and event space in Chattanooga called The Signal. "It was on - and loud - in the house and in the car," Cobb says, thinking back to his father's musical influence.
Cobb said his dad started dragging him to shows in grade school. In high school, he started going to shows that weren't picked for him, but he still enjoyed bands like Nine Inch Nails in concert with his father. Living in central Illinois, Cobb would drive to shows in Chicago or St. Louis.
He also worked, some, at becoming a musician himself. His mother's family was from Nashville, where he visited a lot while growing up. The culture rubbed off, says Cobb, who started playing in bands in eighth grade.
Eventually he ended up at Belmont University, a liberal arts school in Nashville with a close connection to the city's music industry. Cobb studied music business and quickly learned, through internship experiences, the ins and out of promoting.
In the fall of his freshman year, he began to work with a group that was trying to create and promote a Nashville event similar to South by Southwest, an Austin, Texas, music festival that takes over the city each spring and has become a hallmark in the industry.
"I wasn't even old enough to go in most places," he says, recalling the experience. "They sent me around to distribute and come back and reconcile all the wrist bands from clubs in town. I met all the club folks, and that was really great. I went into every venue in the city."
College also taught him that his talent was not in performing. "In my peer group at Belmont were great musicians," he says.
So he figured if he couldn't join them, he would promote them.
"I just so happened to have an in at all these clubs," Cobb says. "I helped friends' bands get gigs. I accidentally became a promoter. I have always enjoyed throwing a good party. So somehow this party-throwing side and friends in bands and all those roads crossed at the same time."
A few years later, in 2001, when he was booking bigger venues for bigger bands, he began thinking about doing more work outside of Nashville, and found himself in Chattanooga with a friend, knocking on the door of former Market Street music venue Rhythm and Brews.
"This dude named Mike opened the door, and he invited us in and talked to us and was, like, the coolest, most welcoming human you could ever meet," Cobb recounts. "That led to me doing shows in Chattanooga."
Not long after Cobb began promoting shows in Chattanooga and building relationships in the local music scene, he was offered a job at an iconic music venue in Nashville called Exit/In, where he worked for several years producing concerts and events and helping open a second warehouse style venue called City Hall.
He juggled his Exit/In job with his work promoting around the region until 2007, when the company that owned Exit/In and City Hall closed down and sold Exit/In to new owners. Four years later, Cobb opened Marathon Music Works with his wife and Josh Billue, to have a duel focus on producing events and shows.
The business started off with just five employees but quickly grew. Last month, Cobb says Marathon Music Works broke 100 employees on payroll.
The Nashville music scene also grew. Cobb says he and Billue began talking about opening venues outside of Nashville five years ago. The city had undergone a lot of change, thanks to population growth and the development spurred by it. The business was taking off and growing, but the home market was getting so competitive and saturated.
"And it has only gotten worse," Cobb says.
After getting a share of ownership in Exit/In in 2012, he worked to expand that venue and then took over the property next to Exit/In, where they created a bar/restaurant called Hurry Back. At the same time, they looked for out-of-market opportunities.
Some risks didn't pay off.
The Signal
The venue, which opened in February and is located on Chestnut Street, has a standing room capacity of 1,300 and is the fourth venue Cobb and Billue have opened under the umbrella of Marathon Music Works, which also includes The Truman in Kansas City. The name The Signal was chosen after the partners ran a contest calling for ideas.The space, styled like an industrial warehouse with unique features including multi-story seating and a VIP balcony, is already proving to be popular, says Cobb. Several shows have sold out since the venue opened.
"We took our licks," says Cobb.
Eventually, however, opportunity presented itself, and one of those opportunities happened to be in Chattanooga, where Cobb had built relationships as a freelance promoter. The growing market made him and his partner think that the it was time to bring their brand east to the Scenic City.
Rhythm and Brews, where Cobb had worked with longtime manager Mike Dougher, closed in 2015. Then Track 29, another Chattanooga venue, closed.
"Chattanooga wasn't a consideration because there wasn't a need. There was the Revelry Room and Track 29 and the Tivoli and the [Memorial] auditorium," Cobb says. "But then all the sudden there was a need, and we were like, 'What the hell. We might as well take a look.'
"We went from 'let's take a look' to opening The Signal."
One of The Signal's first locally based events was Road to Nightfall, an annual competition which gives local bands a chance for a slot during the coming year's free-to-the-public Nightfall concert series held downtown.
"I am looking forward to judging that for the third year in a row," he says of the showcase, which wrapped up in March. "I cannot overstate my love for Chattanooga and the friend group that I have been so fortunate to be welcomed into."
Cobb's vision for The Signal is pretty straightforward.
"We want to operate a consistent, clean, friendly, cool place where people want to go; all sorts of different kinds of people," he says.