Photo Gallery
Rise of the Rest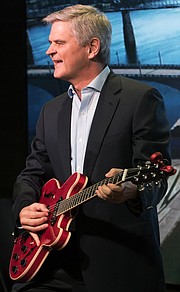 FreightWaves chief executive Craig Fuller may have logistics in his genes, given that his father, Max, is one of the founders of Chattanooga-based trucking giant US Xpress.
On Thursday, FreightWaves received a $100,000 boost when it won out over seven other startups in a pitch competition in Chattanooga put on by AOL founder Steve Case's Rise of the Rest seed fund tour.
Rise of the Rest finalists
› Aegle Gear› Branch Technology› CPR Wrap› Curie Co.› FreightWaves› InfinityCo› SkyNano› WorkHound
The CEO of FreightWaves, which uses data and technology to "de-risk" the freight market for companies, said he plans to hire up to 50 more people this year for his growing Chattanooga business.
"What we're doing is revolutionary," said Fuller about the business that aims to give near-time insights into the freight markets, using charts, heat and geo maps, and commentary by FreightWaves experts.
Case, whose Rise of the Rest road trip is aimed at helping startups launch businesses outside of the East and West coasts, said FreightWaves represents the future of Chattanooga.
"It builds on a legacy in Chattanooga of logistics," he said.
Chattanooga Mayor Andy Berke, who crafted the idea of downtown's Innovation District early in his tenure, said the Scenic City is a place of creators with products seen across the world.
"Chattanooga wants the jobs of the future," Berke said. "We're seeing a lot happen when you invest locally."
Marcus Shaw, who heads the Chattanooga business accelerator The Company Lab, asked who would have thought the city could attract investors from across the country to validate what it's doing.
"What we're doing here is allowing people to live out their dreams of entrepreneurship," he said.
The pitch competition was held at the Waterhouse Pavilion on Miller Plaza. The eight startups were each given about four minutes to tell about their businesses and why they should receive the $100,000 investment. Case was included on a Rise of the Rest panel of judges that made the decision.
Earlier in the day, Case told of how he had started AOL in 1985 when only 3 percent of the population was online, and that was only for an average of one hour a week.
"When we tried to raise money, no one wanted to believe," he said. "They thought it was a fad."
Case said that looking ahead, the city is in the hands of its entrepreneurs and rallying the community to support them.
Kristina Montague, managing partner of the women-led, women-focused JumpFund, said it's exciting to see the momentum around entrepreneurship in Chattanooga.
But, she said, the Jump Fund is still the only one of its kind in the Southeast.
"We want to see more access to capital for all entrepreneurs," Montague said.
Contact Mike Pare at mpare@timesfreepress.com or 423-757-6318. Follow him on Twitter @MikePareTFP.