Photo Gallery
Jubilee gets young students excited about STEM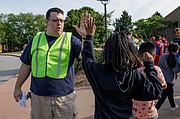 Bouncing between booths Wednesday morning with her best friends, 9-year-old Victoria Williams wore a shirt that seemed only fitting for a day of learning and fun at Chattanooga State Community College.
"Everyone loves a smart girl," it read.
The third-grader from Harrison Elementary School and her friends are among the more than 3,000 Hamilton County second- through fifth-graders who will attend STEM School Chattanooga's fourth annual STEM Jubilee this week. Inside and outside of the college's gym, there were more than 80 booths set up Wednesday to teach the students about STEM topics ranging from gravitational erosion to potential and kinetic energy. STEM stands for science, technology, engineering and mathematics.
Organized each year by the magnet high school, the event has become the single-largest, school-based STEM event in Chattanooga. Its goal is to "plant a seed" of excitement for STEM and to expose students to it at a young age, said the high school's principal, Tony Donen.
"A lot of them [students] have heard or seen about STEM but haven't experienced it," said Donen, who was standing inside the gym as hundreds of students weaved around him, running from one booth to the next.
"All of the booths are designed to really get their hands dirty," he added. "I want them to leave here and think, 'Wow, STEM is cool.'"
There is also a good reason to prepare them now. According to the Tennessee STEM Innovation Network, economic models and forecasts show that by 2024, STEM jobs in Tennessee will grow by 16 percent, and up to 18 percent in computing. Non-STEM jobs are expected to experience only 10 percent growth. Median earnings in Tennessee STEM jobs are also $32 an hour, compared to about $16 an hour for all other jobs, the organization reports.
First Tennessee Bank provided support for the Jubilee, and its market president, Jeff Jackson, said his own son attends STEM School Chattanooga. The high school received a $2,500 donation from First Tennessee on Wednesday morning to keep its outreach efforts going.
Just outside the gym, Williams and one of her friends, 9-year-old Kylie Booth, surrounded a sand box aimed at teaching them about topography and geomorphological mapping. As they ran their hands through the sand, images projected on the tiny grains changed from volcanic lava to ice. The STEM school sophomores manning the booth explained the projector and Xbox Kinect above the students' heads were using software to change the scenery every time they touched and moved the sand around.
Williams said her favorite booth was outside where she could dig out "fossils" from Play-Doh with a fork. Booth enjoyed the "bubble snake" booth, which consists of a water bottle covered with a sock that students could blow air through to teach them about water molecules and surface tension.
Many of the activities set up Wednesday were created by sophomores at the magnet school and were adaptations of lesson plans they had previously taught in Hamilton County elementary schools, according to Will Crutchfield, a senior volunteering at the event who will go on to study neuroscience at Reed College in Portland, Oregon, this fall.
Inside the gym, 15-year-old Deacon Murphy, a sophomore at the STEM school, was cleaning up balloons that had exploded on the floor. Murphy's booth, "Blowing up the Death Star," was Star Wars-themed and taught students the differences between physical and chemical changes by using a potent chemical, Limonene, to pop the balloons.
His booth was so popular among kids that they ran out of "Death Stars" by late morning.
"I think it's great we have the opportunity to teach kids like this," Murphy said. "It has been fun."
Contact staff writer Allison Shirk at ashirk@timesfreepress.com, @Allison_Shirk or 423-757-6651.