Photo Gallery
Growth Experience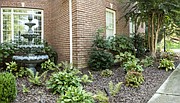 At their former home, located in a planned community in the East Brainerd area, Steve and Heather Wright didn't have to think much about their minimal landscaping. That changed in August when they moved their family of four to the Mountain Shadows neighborhood.
Part of what attracted them to their new home were its many flowering trees, abundant greenery and trees lining three sides of the 1-acre property, says Heather. "When we first looked in March and everything was starting to bloom, the landscape was breathtaking," she says.
The landscape is filled with hydrangea bushes that burst with globe-like blossoms in spring and summer, as well as hostas that lend a blanket of colorful foliage and texture. There are blooming trees scattered throughout the front and back yards, including seven crepe myrtles, as well as a river birch, with its unique bark and leaves that fall year-round. Steve says it reminds him of the birch trees in Minnesota, where his family has a home. Heather is originally from Buffalo, New York, and Steve hails from Northeast Ohio. Both have family in the area, and came to Chattanooga to be closer to them.
The couple already had many friends in the Mountain Shadows neighborhood, and met the home's previous owners, Bryan and Faith Cutshall, through mutual friends. When the Cutshalls decided they wanted to buy a house on the lake, the Wrights snapped up their former home before it hit the market.
The beautiful landscaping was designed by Michael Brown of Lush Chattanooga for the previous owners, and while that was what drew the Wrights to the stately four-bedroom, four-bath home, they weren't sure what kind or how much maintenance their lush surroundings required. An attorney busy running his own practice and a teacher at Westview Elementary, Steve and Heather have done some weeding since moving in, and brought in their lawn professional, Eric Neikirk, from their former property to mow each week, but otherwise didn't know where to begin.
While to the uninitiated the fall and winter months may seem like the ideal time to take a break from yard work, there are a few things homeowners should be taking care of to ensure their landscape looks good all year long. Here, Brown offers the lowdown on what you need to be doing outside over the next few months.
1. Make a plan. Fall and winter are the best time of year to speak with a professional designer concerning your property. Winter is the best time to design for your spring and summer installation and construction efforts. This allows for proper planning, and gives you time to line up the right contractors and budget for plants and materials.
2. Clean up and cut back. November is a great time for property cleanups. It is the best time to cut, divide and transplant your perennials, which tend to turn brown and lose their blooms as the temperature gets cooler. Dividing and transplanting is recommended in order to create continuity throughout your landscape. Leaf removal also starts to pick up in the month of November.
3. Get your fall garden going. In Chattanooga, the end of October and beginning of November are when you'll want to plant your bulbs, along with your fall crops like beets, broccoli, Brussels sprouts, cabbage, carrots, cauliflower, celery/celeriac, collards, chicories, fennel, greens, kale, kohlrabi, leeks, lettuce, onions, parsnips, peas, radish, rutabaga, spinach, Swiss chard and turnips.
4. Adjust your watering. November is the time to dial back your watering. Typically, the frost has yet to set in around Chattanooga, but the only things you should be watering November-February are winter vegetables and herbs in the garden. That also makes November a great time to winterize your irrigation system if you have one. Hire an irrigation or landscaping company to blow excess water out of your irrigation heads and lines; otherwise, you could end up with leaks or cracks.
5. Hold off on planting trees until 2019. Brown recommends that anyone wanting to purchase and plant new trees wait till the first of the year, in January and February, when the trees are definitely dormant. Planting during the dormant stage ensures the tree is not harmed in the process, and also gives it plenty of time to acclimate to the ground before spring arrives. Come spring, it should roll right into its new growth.