Photo Gallery
Trump's Twitter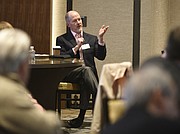 President Donald Trump's highly scrutinized Twitter use is innovative and will alter the way future leaders communicate with the electorate, two political experts told a crowd at a post-election panel Friday.
While the panelists, hosted by the Miller and Martin law firm, didn't support the president's divisive rhetoric and tone, its members compared the president's direct communication with the way previous presidents used radio and television in earlier decades shortly after their inception.
"The next president is going to have to be on Twitter, is going to have to be on social media," panelist Mary Kate Cary said. "I don't see how you put that genie back in the bottle."
Cary