Photo Gallery
Hamilton County school board retreat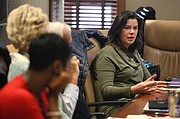 More Info
The Hamilton County Board of Education> Rhonda Thurman, District 1> Kathy Lennon, District 2> Joe Smith, District 3> Tiffanie Robinson, District 4, vice-chairman> Karitsa Mosley Jones, District 5> Jenny Hill, District 6> Joe Wingate, District 7, chairman> Tucker McClendon, District 8> Steve Highlander, District 9
The Hamilton County school board and Superintendent Bryan Johnson met for their annual retreat Thursday and Friday to discuss the direction and goals of the district and the board's role in governing it.
Led by new Chairman Joe Wingate, along with new board members Jenny Hill and Tucker McClendon, the board focused on issues such as transportation, facilities, student performance and board communications.
Here are four takeaways from the board's two-day discussion.
1. The board wants streamlined communication with the superintendent.
In part due to a recent debate over how and when the board is notified about big decisions that are placed on the agenda, such as the recent vote on whether to approve a four-year, $1 million contract with Teach for America, the board is working on an unofficial communication plan for the board and Johnson.
In the past, the board has received some flack from the community for not being informed or updated on decisions, but board members also have cited complaints about things being added to the board's agenda at the last minute.
Board member Joe Smith said that local media outlets sometimes drive public opinion by initiating stories about topics before the board has voted on or discussed it.
The board also plans on holding a work session prior to the regular monthly board meeting to discuss the following week's agenda and other issues such as policies that might arise, starting in January.
2. Transportation will continue to be a big issue next year.
In the coming months, the district will be reviewing its transportation management policies, as well as seeking a vendor to perform a complete assessment of its current transportation services.
A consultant has already been brought in and given the board several recommendations including: providing professional; development and training on policies and laws, implementing an incident reporting system, updating district policies, conducting require background checks on applicable drivers and implementing safety drills, said Ken Bradshaw, chief of operations for the district.
The board will also be voting to approve a request for proposal for a new bus contract in the coming months.
"We know this is a very contentious topic. In November, we want to bring a draft of the RFP and bring it to the board and let y'all digest it. The board has to make a decision on this, we want to give you the information to make the best decision on this," Johnson said.
Many of the topics currently up in the air include what students will continue to be transported, such as students attending schools outside their zone at magnet schools or Future Ready Institutes, the use of independent contract drivers, in-house transportation services and consolidated routes.
3. Certain student populations are continuing to under-perform.
Shannon Moody, the new director of accountability and research for the district, briefed board members on student performance and accountability metrics at the retreat.
Though the district has seen improvements in some areas, such as an increase in reward schools as recognized by TVAAS scores and higher proficiency rates in areas such as English and reading, subgroups within the district continue to under-perform.
"The big takeaway from current district success rates," Moody said, "is that our subgroups are still under-performing compared to all students."
Subgroups, as defined by state accountability measures in accordance with federal law, include black and Hispanic students, economically-disadvantaged students and English language learners.
Success among these groups, which make up growing portions of the student body, will continue to be a focus along with overall success in the coming year.
4. Students might have greater enrollment options in the future.
Along with transportation, facilities will also be conducting audits in the coming months, both on deferred maintenance and growth and capacity. In some areas, schools are overcrowded, such as East Ridge, East Brainerd and the city's urban core, but there is room to grow in other schools.
With the success of Rivermont Elementary, which has been operating under an open-enrollment system for the past year, Johnson told the board his team planned to present a list of schools to the board in December to also consider for open-enrollment.
"One thing we want to think about and one thing we've talked about is open enrollment," Johnson said.
The district had more than 3,000 hardship transfer requests last year, and with some buildings not being fully utilized, Johnson asked his board, "When we look at hardship, why are we forcing parents to go through hardship if the school is under capacity?"
Regardless if additional elementary or middle schools implement open-enrollment policies, with the Future Ready Institutes, most high schools have opened enrollment options.
The board did not discuss how such options would further affect transportation though.
That discussion might be tabled until the spring when transportation options come before the board.
Contact staff writer Meghan Mangrum at mmangrum@timesfreepress.com or 423-757-6592. Follow her on Twitter @memangrum.