Photo Gallery
Growth forecast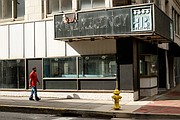 For the first time in 10 years, I am struggling with lease up.
Chattanooga's image is important business, and big money has been spent selling the Scenic City as a hot market to investors and business owners.
In the past three years, $1 billion dollars of private investment has flooded downtown.
The frenzied pace of development. The creation and national promotion of an Innovation District. The construction of a new $10.6 million Miller Park. Downtown remains central to the recited success story.
But a short walk down one of the city center's main arteries might make one wonder if a bubble has burst.
Signs advertising buildings for sale or lease pepper downtown. Right now, 15.6