Photo Gallery
Advanced energy sector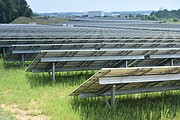 In the 20th century, the Tennessee Valley Authority helped harness the power of the Tennessee River and Oak Ridge National Laboratory propelled America's "atoms for peace" program by helping give birth to nuclear power.
As new forms of energy gain favor in the 21st century, Tennessee remains a powerful force in developing and building new means of energy production and use, ranging from solar and wind power to electric cars and energy-efficient buildings and appliances, according to a new study of the advanced energy business in Tennessee.
By the numbers
* 358,360 employees, up 10.3 percent in the past three years* 18,170 businesses, up 4.8 percent in the past three years* $39.7 billion contribution to Tennessee GDP* $56,665 is average wage for advanced energy jobs, or nearly 35 percent higher than the statewide average of $44,317.Source: 2016 figures compiled for the Tennessee Advanced Energy Business Council by the Howard Baker Jr. Center for Public Policy at the University of Tennessee.
Although energy consumption is slowing and jobs in traditional energy utilities are declining with new efficiency measures, those losses are more than offset by the growth in other energy sectors. Indeed, an economic study by the University of Tennessee found that advanced energy industry jobs are growing faster than Tennessee's overall economy and have created nearly 360,000 jobs, most of which pay above-average salaries.
UT researchers estimate that around the globe advanced energy is a $1.4 trillion industry, including any technology that makes energy or transportation cleaner, safer, more secure and more efficient. That's almost twice the size of the global airline industry and nearly equal to worldwide apparel revenue.
In Tennessee, advanced energy includes solar, wind and new nuclear and gas technologies along with electric and plug-in hybrid vehicles, lightweight composites in the automotive industry, natural-gas fueled trucks, bioenergy, pollution-control equipment, smart grids, combined heat and power, high-performance buildings, more efficient industrial technologies, and power reliability.
With new energy and materials research at the Oak Ridge National Lab, growing electric vehicle production from Nissan in Smyrna and Volkswagen in Chattanooga, and increased solar energy investment by Wacker Chemical in Charleston and Shoals Technologies in Portland, advanced energy jobs and investment should continue to grow in the Volunteer State.
"We're technology neutral in how we view advanced energy, but it is obviously a growing and critical part of Tennessee's economy and we expect it to continue to grow," said Matt Kisber, president and CEO of Silicon Ranch Corp., a solar power installation company, and president of the Tennessee Advanced Energy Business Council. "This is a trend going on across the country in which large companies and utilities are responding to the desires of their consumers by finding ways to incorporate advanced energy into their generation mix. Here in Tennessee, businesses, universities and Oak Ridge National Lab have a lot going on within the state."
The UT study of advanced energy found that the industry supports 18,170 businesses in Tennessee and pumped $39.7 billion into the state's economy in 2016. Workers in the state's advanced energy sector earn an average annual wage of $59,665, or nearly 35 percent more than the state's overall average of $44,317 a year.
In metropolitan Chattanooga, researchers counted 31,142 jobs in advance energy in 2016, up 10.6 percent from three years earlier. Collectively, advance energy jobs had an annual payroll of nearly $1.5 billion in 2016, or 44.7 percent more than three years earlier.
"Advanced energy cements Tennessee's position as the number one location in the Southeast for high-quality jobs," Kisber said. "We're seeing a major transition in power generation toward natural gas, solar and wind, which have accounted for nearly all of the new electric generation added to the grid in recent years. We're also seeing a strong move to electrify more transportation. Tennessee is a major player in all of these trends."
Volkswagen, which located its only U.S. assembly plant in Chattanooga a decade ago, is considering production of an electric powered vehicle in the future in Chattanooga.
Electric vehicles could help reverse, or at least stablize, the decline in electricity consumption as consumers move to more energy efficient homes, businesses, machines and appliances. Self-generated power from solar panels, wind mills and bioenergy also could limit power demand from utilities like TVA, which has already cut its workforce from more than 50,000 workers in the early 1980s to about 10,000 employees today.
But Kisber, a a former economic development commissioner under former Gov. Phil Bredesen, said the growth of solar installers, home insulators and new transportation equipment producers and suppliers, among other new industries, should more than offset those job losses.
Kisber now heads Silicon Ranch Corp. in Nashville, which owns, operates or has developed more than 100 commercial solar farms across the United States in 14 states. Shell oil company is becoming the largest shareholder in Silicon Ranch with an investment that could top $217 million.
The largest single private investment ever in Southeast Tennessee came from another advance energy company, Wacker Chemical, the German-based polysilicon producer that built a $2.5 billion plant in Charleston, Tennessee to supply key components for solar panels.
But since announcing its decision to locate on the Hiwassee River in northern Bradley County, Wacker and other solar component makers have been hit with import duties from China of nearly 60 percent. Last year, Wacker also had to suspend polysilicon production after a piston failure ignited a plant fire.
Mary Beth Hudson, plant manager for the Wacker facility in Charleston, said polysilicon production resumed in April on a limited basis. She expects to be back to full production in the fourth quarter.
Despite the shutdown, Wacker kept its nearly 700-employee staff employed after the fire as the part of the plant was rebuilt.
"We never laid anybody off and we've remained committed to this facility," Hudson said.
Wacker is also spending $150 million to turn a byproduct of its polysilicon production into progenic silica for use in a variety of over-the-counter products.
Wacker was attracted to Tennessee by TVA's relatively cheap and reliable electric power, the availability of chlorine produced next door to Wacker's new plant by the Olin Corp., and the training offered by Chattanooga State Community College at the Wacker Institute, Hudson said.
Wacker built its first U.S. facility in Charleston to supply polysilicon to China, where the vast majority of solar panels are made. The U.S. plant was seen at the time as a way to serve China without having to forfeit or risk losing intellectual properties related to Wacker's products and how they are made which they expected from a plant located in the People's Republic of China.
But since construction began at the Wacker plant, trade disputes with China have led to a nearly 60 percent duty on polysilicon, effectively shutting off the Chinese market for imported polysilicon from the United States.
In response, Wacker has tried to make its Chattanooga plant serve the solar component markets around the globe, and Wacker has used its German plants to supply the growing Chinese market.
Despite the trade barriers and production startup problems at the Charleston plant, Hudson said she anticipates solar and wind energy to continue to gain favor. In Germany, where Wacker is based and where Hudson was on a business trip last week, solar panels supply about 7 percent of the nation's power and wind turbines power about 15 percent of Germany's power consumption.
"Using solar is becoming cost competitive with other generation and it offers a lot of advantages that should lead to increasing solar installations and expansion of our industry in the future," Hudson said.
Contact Dave Flessner at dflessner@timesfreepress.com or at 757-6340.