Photo Gallery
Miller Park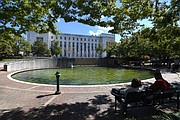 In something like a dress rehearsal before Friday's grand debut, the main players in the reinvention of Miller Park proudly showed off the results Thursday.
The rock outcrops on the northeast corner, with limestone sides and sandstone caps that echo the geology of the Tennessee Valley.
The lofty performance space called the EPB Community Stage, whose entire glass side slides up like a giant garage door facing the 25,500-square-foot green.
The "power pedestals" perched near some of the slatted metal benches along the park's borders, where users can access USB ports through NoogaNet, the city's public Wi-Fi network.
Even the water fountain, which includes a water-bottle filler for humans and a doggie-level basin for their canine pals.
"What