Photo Gallery
Miller Park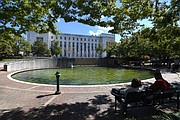 In something like a dress rehearsal before Friday's grand debut, the main players in the reinvention of Miller Park proudly showed off the results Thursday.
The rock outcrops on the northeast corner, with limestone sides and sandstone caps that echo the geology of the Tennessee Valley.
The lofty performance space called the EPB Community Stage, whose entire glass side slides up like a giant garage door facing the 25,500-square-foot green.
The "power pedestals" perched near some of the slatted metal benches along the park's borders, where users can access USB ports through NoogaNet, the city's public Wi-Fi network.
Even the water fountain, which includes a water-bottle filler for humans and a doggie-level basin for their canine pals.
"What kind of a park would it be without a doggie water fountain?" joked Chattanooga Mayor Andy Berke, who led a media tour along with City Councilman Ervine Oglesby Jr., Jed Marston of EPB, Scott Wilson of BlueCross-BlueShield of Tennessee, and Kim White with River City Co., the downtown development organization.
Speaking before the tour, Berke praised those partners and others whose planning and support enabled the 14-month, $10.3 million makeover that included rebuilding M.L. King Boulevard between Georgia Avenue and Market Street.
"Parks are places to celebrate, sing, dance, watch movies and enjoy each other's company," Berke said.
The other officials were enthusiastic, with Oglesby calling the park "the epicenter of our community" and White naming it "an important gateway for our city."
Indeed, while city staff and media members explored the park Thursday afternoon - trying to stay out of the way of workmen putting finishing touches on the pavilion and the rock outcrops - Berke dodged away briefly to greet a gaggle of Chamber of Commerce visitors from the Springfield, Missouri, who were walking down Market Street.
Some have expressed concern that the park won't be welcoming for all. City council members voted this week to adopt the same hours and usage rules for the park as other city parks. In discussions, they debated whether residents in the nearby Patten Towers will be as comfortable using the new park as they were with the old.
"That's their front yard," Councilwoman Carol Berz said, questioning how police will handle it when they find people there after the 11 p.m. closing hour.
Berke said Thursday that those rules might be tweaked, depending on usage. And he noted the council this week passed rules making it easier and less costly for nonprofits that wish to book the space for an event.
"Miller Park is supposed to be for everybody," he said.
Contact staff writer Judy Walton at jwalton@timesfreepress.com or 423-757-6416.
OPENING FESTIVITIES
Here's the schedule for what's on tap Friday after the ribbon-cutting:11:30 a.m. Carlos Colon & His Tropical Swing Band12:45 p.m. Hip Hop Cha2-6 p.m. Play in the Park2 p.m. Big Clue Blocks with Art 1202:45 p.m. Storytime with Chattanooga Public Library and Biblioburro mobile library3 p.m. Soccer with Operation Get Active4 p.m. Color Your City with 800 Collective artists Josiah Golson and Mary Ann Twitty4 p.m. Sidewalk Stages with SoundCorps6-8 p.m. Miller Plaza Market6:10 p.m. East Lake Expression Engine6:15 p.m. Hive Theory7:15 p.m. Ogya World Music Band8:30 p.m. Mayor Andy Berke remarks and introduction of headliners8:30-10 p.m. The Power Players featuring Voices of The Creative Underground, Willie Kitchens, Amber Carrington and moreFor more information: www.facebook.com/events/1820962667959492.