Photo Gallery
Lookouts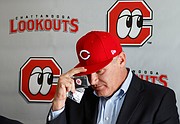 If you're talking about a ballpark project, it's way too premature.
A top Chattanooga Lookouts' official said Tuesday there's no interest in leaving the city and that the team is following efforts by owners of a South Broad foundry site to find a master developer.
Jason Freier, the Lookouts' operating partner, said that to have substantive discussions on a possible new minor league baseball stadium, bringing on such a developer for the 141-acre foundry tract is critical.
"We'll be glad to have that discussion and see if we fit in once they have a master developer," said Freier in remarks to the Times Free Press editorial board.
The chairman and chief executive officer of minor league operator Hardball Capital also said the Lookouts' ownership group likes the Chattanooga market, noting that his biggest partner in the team is East Ridge native John Woods.
"We're not going anywhere. Period. There's zero ambiguity on this point," said Freier, adding that "we see a lot of speculation out there."
During the summer, the owners of the former Wheland Foundry/U.S. Pipe tract off South Broad Street sought proposals from master developers of the huge undeveloped parcel.
Mike Mallen, one of the tract's owners, said Tuesday the search effort is ongoing.
"We're still in the vetting process," he said.
Mallen said he didn't know when a master developer may be selected.
"We're focused, continue to be focused," he said. "We want it to be a legacy site, an iconic gateway site."
This winter, a new South Broad District plan suggested a multi-use sports and entertainment facility for the foundry parcel.
The plan foresaw an array of new housing along with commercial and retail space, upgraded parks, streets, sidewalks and other infrastructure, including the new minor league ballpark and entertainment site to serve as a catalyst for development in the area.
Freier said redeveloping the foundry property is "a big complicated project" of which a possible ballpark would only take eight acres.
"Whether there's a ballpark or not, there will be a whole mix of uses, there's infrastructure. None of that comes cheaply," he said. "Before you have any understanding of what happens on the site, you need to have a master developer come in."
Freier also said he doesn't have a plan of what a future stadium in Chattanooga would look like.
"If you're talking about a ballpark project, it's way too premature," he said. "That's why we haven't hired an architect."
But, Freier added, his company has been involved in building new minor league stadiums in Fort Wayne, Indiana, and Columbia, South Carolina, and advised on a couple of others.
He said the existing AT&T Field near Chattanooga's riverfront where the Lookouts have played for nearly 20 years was not designed to last and has its challenges, such as how it's oriented toward the sun.
"I also know the ballpark now functions fine from our perspective," he said. "It isn't everything we want it to be."
He said AT&T Field has limited use after the baseball season is over. In Fort Wayne, that stadium is used about every day of the year hosting other sports, concerts and events, Freier said.
Also, he said, about $300 million in new development has gone up within two blocks of that ballpark, which he termed a "multi-purpose facility."
In Columbia, Freier said, that site is in use about 300 days a year.
If a new facility is constructed in Chattanooga, he believes that same amount of use can be replicated, he said.
Freier said there hasn't been detailed discussions of how a stadium and improving the area around it might be funded, such as the potential use of tax-increment financing (TIF).
He said there were public-private partnerships in Fort Wayne and Columbia, though each one differed from the other.
"We haven't talked to anyone about a TIF," Freier said, though it may make sense for the property owners.
Contact Mike Pare at mpare@timesfreepress.com or 423-757-6318. Follow him on Twitter @MikePareTFP.