Photo Gallery
Elder's Ace Hardware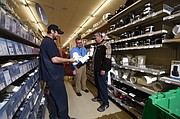 Our job is to help the customer, not sell the customer anything.
Don Bickford remembers the first time he saw Tom Glenn. It was at a March 2014 orientation for new employees hired by Elder's Ace Hardware. Glenn was running late as Bickford sat to the far right of the horseshoe-shaped table.
Bickford had worked for both Lowe's and Home Depot in the four years since he retired at age 49 from the Chattanooga Police Department after a 25-year career. A perk of his retirement was growing a beard.
The president of the company arrived and moved straight to the open end of the horseshoe with eyes straight ahead.
Elder's Ace Hardware at a glance
Founded: 1969First store: Highway 58 opened in 1969Newest store: Trenton, Georgia opened in 2019Ownership: Family-ownedPresident: Tom GlennStaff: About 500 employeesLocations: 22Rank: One of Ace's 10 largest retailersInventory: 25,000-30,000 items per storeScrews/bolts per store: 19,000Signature Products: Stihl, Big Green Egg, Benjamin Moore Paint, Traeger grills, YETI, Costa sunglassesGallons of paint sold annually: 35,000Hot sales item: Propane
"I was new to the company and didn't really know who Mr.