Photo Gallery
Elder's Ace Hardware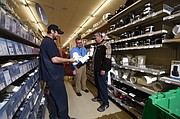 Our job is to help the customer, not sell the customer anything.
Don Bickford remembers the first time he saw Tom Glenn. It was at a March 2014 orientation for new employees hired by Elder's Ace Hardware. Glenn was running late as Bickford sat to the far right of the horseshoe-shaped table.
Bickford had worked for both Lowe's and Home Depot in the four years since he retired at age 49 from the Chattanooga Police Department after a 25-year career. A perk of his retirement was growing a beard.
The president of the company arrived and moved straight to the open end of the horseshoe with eyes straight ahead.
Elder's Ace Hardware at a glance
Founded: 1969First store: Highway 58 opened in 1969Newest store: Trenton, Georgia opened in 2019Ownership: Family-ownedPresident: Tom GlennStaff: About 500 employeesLocations: 22Rank: One of Ace's 10 largest retailersInventory: 25,000-30,000 items per storeScrews/bolts per store: 19,000Signature Products: Stihl, Big Green Egg, Benjamin Moore Paint, Traeger grills, YETI, Costa sunglassesGallons of paint sold annually: 35,000Hot sales item: Propane
"I was new to the company and didn't really know who Mr. Glenn was," says Bickford. "He gets up front and is talking about how they run a tight ship. He's talking about employees looking nice, being clean cut and shaven, and then he turns to the right and sees me. I think he was kind of taken aback. I had a name plate, and he looks at it and says, 'If you were hired with a beard, like Don, then I guess the manager had some reason to hire you.'"
Bickford greets an elderly woman entering the Ooltewah Elder's Ace Hardware, asks how he can help and keys the right button on the walkie-talkie.
"Customer needs help on aisle 30 with a mailbox."
The next customer is looking for a piece of pipe he can use as a crow bar. "All the way to the back of the store and to your left," Bickford says.
A customer needs a battery charger for a car. "Aisle 26 on the right," says Bickford.
An elderly lady inquires about a space heater. "Aisle 2 on the left." He keys his headset and says, "Customer heading to 30 for a mailbox and 26 for a space heater." In the course of 30 minutes, Bickford directs a dozen customers to the right place.
Bickford is the coordinator on this morning in Ooltewah and his sole function is to greet every customer and direct them, if needed, to the correct aisle in the store. The position is symbolic of the culture of customer service created by the Glenn family in their stores over the past 50 years.
Glenn says the success of the franchise is primarily based on the work employees like Bickford do inside the stores. Four of Glenn's seven top managers began working for Ace when they were teenagers. The culture established by Elder Glenn, who died in 2014, runs deeper than the palates of grass seed ready for spring to come.
Glenn, the current chair of the Chattanooga Area Chamber of Commerce, chuckles at the mention of Bickford's beard, pulls out his phone and starts scrolling through pictures.
"We have about 500 employees and I have all their pictures on my phone," says Glenn, laughing now as he displays Bickford's bearded picture. "I have their pictures and hire dates so whenever I visit a store, I can scroll through and look at everybody because I want to call them by name. That is something my Dad taught me. Now, he didn't teach me how to do it on a phone like this, but he taught me."
Bickford never intended to stop working when he retired from the police department, and it has nothing to do with the limited size of a law enforcement officer's pension. He has had numerous chances to re-enter law enforcement as in the security field but never considered it for a moment, he says.
"I loved being a police officer, but I knew I was done with that when I retired," says Bickford, who worked at both Lowe's and Home Depot. "I wanted to work with my hands and do something to help people."
One of the thousands of needy men who come to a hardware store seeking answers approaches Bickford wanting to know how to unstop a "bathtub drain from hell" that has consumed a dozen bottles of drain cleaner and a snake-like probe trying to fix the problem.
Bickford suggests hot water and vinegar, followed in 10 minutes by using a plunger on the drain. All the materials are those commonly available in a household. On the man's next trip, he tells Bickford of finally finding success in solving the drain issue. The man was needy no more, and Bickford didn't sell him a thing.
"That pleases me beyond belief," says Glenn. "It hasn't been all that long ago that we had an epiphany, and that was that the word 'sell' has no place here. One of the few philosophies we have around here is that we drill it into our employees' heads that their job is to help the customer, not sell the customer anything.
"We have told our employees for 50 years that 'if you help our customers, the dollars will take care of themselves. You don't worry about the dollars. You just help that customer.' If we are helping, the focus is on the customer. If we are selling, the focus is on us. The day the dollars don't take care of themselves, I tell them we'll adjust and figure something out."
The dollars are not an issue in 2019 as Glenn will add two new stores. After three meetings and a few emails, Glenn bought the Ace Hardware in Trenton. The company will open its seventh store in Knoxville and 22nd in the franchise this year. Glenn has no precise growth plan; instead, he says "a store a year" sounds about right.
Glenn speaks well of the big box stores that entered the Chattanooga market with Home Depot in 1981. "We don't criticize competitors, period," he says. Yet, it's clear Glenn realizes a direct comparison between the two plays to his favor. The values of Elder's Ace Hardware are straight-forward and free of flowery words - Honor God, Build Relationships, Stay "Small" While Growing, Be Local, Do Our Best – cannot be said about Lowe's or Home Depot.
"We have to win when it comes to our relationships with customers," says Glenn, who says whatever the company does to celebrate its 50th anniversary will be focused on its employees.
"Good morning. What can I do to help you? That would be the second to last aisle and then to your right," says Bickford as he wins another one for Glenn.
For many, it's the smell of fresh popcorn that signals the arrival of a customer at one of Elder's Ace Hardware locations. Glenn isn't sure why the company started serving popcorn in its stores years ago, "probably just heard it at a trade show and thought we would give it a try," he says. But, he knows that it costs the company around $50,000 a year, knows there are no metrics to measure the company's return on that investment and knows the popcorn machine is not going anywhere.
"We do make pretty good popcorn," says Glenn. "I can't tell you how much it pleases me when I visit a story and I see a parent and a child come in and go straight to the popcorn machine."
And, directions to the popcorn machine are not something Bickford needs to worry about as he moves customers around the store in the heart of Ooltewah.
"Yes sir, folks know exactly where it is," Bickford says.