Photo Gallery
Bridge railing collapse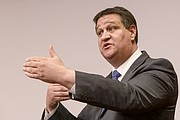 A partial collapse of an Interstate 75 bridge Monday morning in Chattanooga was likely caused by an illegally oversized load that hit the bridge, cutting through steel cables that supported the concrete railing, according to the Tennessee Department of Transportation.
The five steel reinforcing strands were cut through in a manner that was consistent with being hit by a load, according to TDOT engineers. The strands weren't rusted and nuts on the bridge were in good shape, also leading officials to believe the strands were hit by an oversized vehicle.
Officials are not legally allowed to use the traffic cameras aimed at the roadway for investigative purposes and the video is not recorded. So there is no video evidence, or eyewitness account, to confirm the theory.