Photo Gallery
Climate change?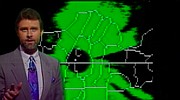 Paul Barys stood in front of a TV camera. Behind him, a green screen tracked ominous weather patterns.
Five-day weather forecasts were largely unpredictable at the time, but the lean, bearded meteorologist knew something major was about to happen.
It was 1993, and he'd been in the city for just eight years. His bosses were giving him the leeway afforded a veteran of nearly a decade, but he hadn't fully built the trust and credibility a 30-year career would later bring.
But he stood there that night about to make a bold claim - one that, if he was wrong, could cost him that trust and derail his career.
"It's going to be the worst storm in the history of Chattanooga," he told viewers that March night.
His