Photo Gallery
Early learners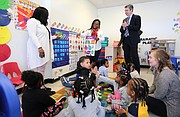 Cynthia Evans leads a group of visitors from room to room at Champion Christian Learning Academy, poking her head into rooms with children from four years old to babies under one year old, pointing out teachers and teaching assistants, cooing at toddlers and picking up little ones who raise their arms skyward.
"Let's stop in the 3-year-old room," Evans, the director of the facility, says to the group that includes Chattanooga Mayor Andy Berke. "This is my favorite part of the day, coming in here."
CHILDCARE FACILITIES EXPANDING THEIR SEATS
21st Century Child Development: 18 seatsA Mother's Love: 90 seatsChambliss Center for Children: 248 total seatsChampion Christian Learning Academy: 28 new seatsFirst Little Friends Learning Home Center: 24 new seatsGMS Childcare Home: 12 new seatsHome Away From Home: 12 new seatsLittle Miss Mag Early Learning Center: 18 new seatsLoving Childcare Center: 49 new seatsNorthside Learning Center: 25 seatsPneuma Christian Academy: 41 seatsPurpose Point Early Childhood Learning Academy: 99 seatsRising Stars Childcare: 89 seatsSignal Centers: 18 seatsSunshine House Learning Academy: 7 new seatsTender Care Learning Center: 24 new seatsYMCA of Metropolitan Chattanooga: 144 seats* Either already established new seats, or promised seats
The crowd pauses as the classroom's teachers lead the group of knee-high toddlers in their daily positive affirmation.
"I