Photo Gallery
Early learners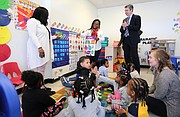 Cynthia Evans leads a group of visitors from room to room at Champion Christian Learning Academy, poking her head into rooms with children from four years old to babies under one year old, pointing out teachers and teaching assistants, cooing at toddlers and picking up little ones who raise their arms skyward.
"Let's stop in the 3-year-old room," Evans, the director of the facility, says to the group that includes Chattanooga Mayor Andy Berke. "This is my favorite part of the day, coming in here."
CHILDCARE FACILITIES EXPANDING THEIR SEATS
21st Century Child Development: 18 seatsA Mother's Love: 90 seatsChambliss Center for Children: 248 total seatsChampion Christian Learning Academy: 28 new seatsFirst Little Friends Learning Home Center: 24 new seatsGMS Childcare Home: 12 new seatsHome Away From Home: 12 new seatsLittle Miss Mag Early Learning Center: 18 new seatsLoving Childcare Center: 49 new seatsNorthside Learning Center: 25 seatsPneuma Christian Academy: 41 seatsPurpose Point Early Childhood Learning Academy: 99 seatsRising Stars Childcare: 89 seatsSignal Centers: 18 seatsSunshine House Learning Academy: 7 new seatsTender Care Learning Center: 24 new seatsYMCA of Metropolitan Chattanooga: 144 seats* Either already established new seats, or promised seats
The crowd pauses as the classroom's teachers lead the group of knee-high toddlers in their daily positive affirmation.
"I believe in myself. I am amazing. I will be positive, do my best, help others and never give up," the 3-year-olds recite.
Evans beams with pride.
Barely a year ago, Evans had a dream - a dream of helping prepare Chattanooga's earliest learners for a lifetime of success.
With the help of city and community efforts, these classrooms - these children - are the culmination of that dream.
Improving access, quality of opportunities
Champion Christian Learning Academy is one of about 200 childcare providers in Hamilton County. The facility now serves 68 students, but it's one of 17 facilities that has either added or committed to adding more high-quality early learning seats.
Tennessee uses a three-star quality rating system for child care centers, with three stars representing higher quality standards and one star representing the minimum standards. As of August 2018, only about 85 of those 200 providers had a three-star rating, records show.
Every year, about 3,800 children start kindergarten in Hamilton County Schools - but only about 42 percent of those children are ready and prepared for success.
In 2018, during his annual State of the City address, Berke launched his "1,000 Seats" initiative, aiming to add and improve the quality of existing seats.
"We know a lot of kids start out at school behind," Berke said. "It's hard to win a 200-yard race if you start out behind. Education is a moral responsibility we have to our kids. It's the right thing to do."
On Wednesday, the city announced that in the year since Berke set the goal, 365 high-quality seats had been added. That night, at a city celebration, the city announced commitments to another 600 seats.
Many of the new high-quality seats have been added at existing childcare facilities such as Champion Christian, whether that means improving the programs' quality rating or actually increasing the number of seats at a facility.
Evans' facility will open a whole new wing for 28 more students this fall. She knows what it looks like when children are ill-prepared.
For more than a decade, Evans worked in Hamilton County Schools, mostly as an elementary reading interventionist. She would work in small groups with students who were struggling to read and were falling further and further behind.
"I really noticed that kids were not getting a steady foundation," she said. "Now when kids go to kindergarten they have expectations to perform, to know letters, to read, to understand school. Sometimes parents are not knowledgeable about what their expectations are. That's how Champion Christian was birthed."
In just over a year, Evans maxed out her current space with 13 teachers and 68 kids - one of them her own. She's since received a $7,000 grant through the city's Growing Small Business grant program to help expand her programs, one of the ways the Office of Early Learning in partnership with the Department of Economic and Community Development is trying to strengthen childcare facilities.
Research shows that, as the demands for kindergartners have increased, so has the need for education to start early.
But children aren't prepared for academic success only when they have access to safe, educational early learning opportunities, says Angela Hayes, of the city of Chattanooga's Office of Early Learning. Those children are are able to build foundations in not just literacy and academic areas, but socially and emotionally, as well.
"It really gives them the foundation to prepare them to come to kindergarten prepared for learning," Hayes said.
But the challenges of increasing the number of children who have access to pre-K and early learning opportunities are multifaceted, says Hayes and the Office of Early Learning's Director Ariel Ford.
Ensuring families are knowledge about the importance of early learning; increasing access to facilities that are nearby, safe and open while parents are at work are parts of the problem, Hayes and Ford said. So is recruiting well-trained, high-quality staff, retaining those employees as they obtain credentials and degrees and compensating them appropriately.
Workforce development has been a key component to the city's progress this year.
In its 2018-19 budget, the city allocated $800,000 more to the city's Office of Early Learning to help provide workforce development and professional training opportunities for childcare providers and educators.
In January, Hayes and Ford launched a network for directors, who gather monthly to network, discuss challenges and receive training together.
"It's almost like they were waiting for something like this," Hayes said. "They are excited about the networking opportunities when they come together with other directors. It also validates them and that what they do makes a difference and is recognized and is worthy of their time and effort."
The city is also working with other community organizations such as Chattanooga 2.0 and its early learning coalition, Early Matters.
In 2016, Chattanooga 2.0 set a goal of boosting the percentage of students entering kindergarten ready for school from 40 percent to 80 percent by 2025. The organization has launched programs such as Chattanooga Basics and Camp K, a pilot kindergarten-readiness summer program.
Philanthropic organizations and local foundations have helped fund many of these initiatives, as well as given building grants and other funding to facilities for increasing capacity and providing training for educators, such as a partnership between the Chambliss Center for Children and Tech Goes Home that launched a course for childcare workers that prepares them to eventually take another course through Chattanooga State Community College to earn their "Child Development Associate credential.
Many of the 600 committed seats are funded by philanthropic dollars, Hayes said.
The city is also working with the Child Care wages$ Initiative, a North Carolina-based program to assist childcare workers with compensation benefits if they are in school or earning degrees.
That will help directors like Evans tackle that hardest piece.
"Staffing is the biggest challenge," she said. "Not because people don't want to work, but because of fair wages. I spend a lot of time training my teachers because I was in the classroom, too, and understand what they're going through."
Despite the city's progress, there is still work to be done, officials say.
"There is more to do," Berke said. "This is critical for [Chattanooga] when you think about what's important to the city. Early learning is one of those most important pieces."
For Evans, that work looks like hiring more teachers, renting needed space and transforming rooms into bright, comfortable classrooms that will in turn transform lives.
"We really had a passion, that's why we opened this daycare in 2017," she said. "I'm so glad that the mayor and the city think it's so important."
Contact staff writer Meghan Mangrum at mmangrum@timesfreepress.com or 423-757-6592. Follow her on Twitter @memangrum.