Photo Gallery
Public Education Foundation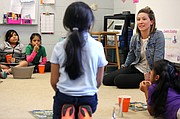 Catherine Casselman knelt in the center of a beige rug in her brightly colored classroom at East Side Elementary.
School had already let out for the day, but about 10 second-graders sat around her with juice boxes, popcorn and books in their laps.
"When Cassie goes to Tar Beach, it feels special," Casselman told the children, referring to a character in the book, "Tar Beach" by Faith Ringgold.
"Where is somewhere you go or somewhere that feels special to you?" she asked.
Little hands shot into the air.
One by one, Casselman called on each patiently waiting student.
Disney World. My cousin's house where we have a sign that says "No Girls Allowed." Spending time with my grandma. My school library, they said.
Casselman teaches at an urban Hamilton County school that has a student population consisting mostly of economically disadvantaged students of color. And though this is her first year teaching, she is not inexperienced. She was part of Project Inspire, spending a year as a resident in the teaching program run by Chattanooga's Public Education Foundation, also known as PEF.
The program aims to help train new teachers and prepare them to teach in some of Hamilton County's hardest-to-staff schools. It's just one of the many efforts in which PEF has participated over the years as it works to improve local education.
This spring, PEF is celebrating its 30th anniversary, and President Dan Challener said it's the programs like Project Inspire that can change lives - and the community.
"This is the most important work we do in Hamilton County - strengthening public schools, the work that the teachers across this county do and the principals. Our future absolutely depends on having the best public schools, and if we don't get there, we'll never be the community we want to be."
PEF OVER THE YEARS
1985: The Public Education Foundation of Chattanooga and its board of directors is formed. Robert J. "Bo" Sudderth Jr. serves as the first board chairman.1989: PEF becomes the largest funding group in Tennessee focused on giving money to local schools.1992: PEF commits to give $1.2 million over the next three years to the city and county school systems.1994: Twenty-eight school libraries are refurbished with the help of a DeWitt Wallace Reader's Digest Fund grant.1995: Residents vote to merge the City of Chattanooga school district with the Hamilton County Department of Education.1997: Sudderth steps down and Ruth S. Holmberg, former publisher of the Chattanooga Times, becomes board chairwoman.1998: Leadership Fellows, a year-long program to train future school leaders, is launched. The program has trained more than 500 educators.2001: PEF partners with the school district and the Benwood Foundation to launch the Benwood Initiative in hopes of improving nine of the county's lowest-performing schools.2002: The Carnegie Corporation of New York invests $8 million to improve the district's high schools and increase graduation rates.2004: PEF opens the Ruth S. Holmberg Center for Excellence in Leadership and Education.2006: The Middle Schools for a New Society program launches with the help of the Lyndhurst Foundation and NEA Foundation to improve math and literacy scores in the areas 20 middle schools2007: Ruth Holmberg steps down as chairwoman and is replaced by James L. Hill2009: PEF merges with the College Access Center. It provides college advisers to every high school with the help of the Community Foundation of Greater Chattanooga.2009: The Benwood Initiative ends.2010: The Principal Leadership Academy is launched as partnership between PEF, the Chattanooga Area Chamber of Commerce, the University of Tennessee at Chattanooga and Hamilton County Schools.2011: Project Inspire is launched.2012: PEF becomes a Fund for Teachers site and begins awarding grants to teachers for summer learning experiences.2012: PEF launches the STEM Hub to provide training opportunities for teachers across 16 counties in the region.2013: The leadership Pipeline is established which provides experienced mentors for new principals for their first two years.2014: The Teacherpreneur Incubator is launched. PEF celebrates 25th anniversary.2015: The summer internship program for high school students, STEP-UP Chattanooga!, is launched.2015: Chattanooga 2.0 is launched by four founding partners, the Benwood Foundation, the Chattanooga Chamber of Commerce, Hamilton County Schools and PEF.2017: Volkswagen Chattanooga announces its commitment to launch 16 digital fabrication labs in Hamilton County schools.2018: Camp College celebrates 20 years and graduates its 1,000th high school student.2019: Project Inspire graduates its 100th teacher resident. PEF celebrates its 30th anniversary.Source: Times Free Press archives and PEF records
Great schools require great leaders
PEF officially launched in 1988 with an initial $1 million private donation and the goal to "create outstanding schools by applying resources to broad ideas," according to the organization's mission statement at the time. Robert "Bo" Sudderth Jr., former president and CEO of America National Bank, was the foundation's first chair.
There are dozens of public education foundations across the country, typically qualifying as private nonprofits that exist to support schools in their communities. In Chattanooga, PEF's founders wanted a way to help channel private funds to teachers and students to improve the quality of education in the city and county.
With support of both Hamilton County and the city of Chattanooga's superintendents in its first five years, PEF formed a network to support local principals, provided mini-grants to teachers to buy supplies and fund special projects, even refurbished the libraries of 28 schools with the help of a grant from the DeWitt Wallace Reader's Digest Fund.
By 1989, the foundation became "the largest funding group in Tennessee designed to funnel private dollars into public schools," according to Times Free Press archives. And by 1992, the foundation had committed to giving nearly $1.4 million to school programs.
In 1998, after the city and county school systems merged, then Superintendent Jesse Register asked PEF to help train school leaders - a mission that would become one of the main pillars of the foundation's work over the following decades.
Today, the foundation channels funds to more than a dozen programs thanks to approximately $5 million in grants and contributions annually.
It has almost two dozen staff members and, as of 2014, has more than $10 million invested for its future.
PEF has worked alongside several superintendents and trained dozens of principals through its Principal Leadership Academy. It is one of four founding members of the city's hallmark education initiative Chattanooga 2.0 and partners with some of Chattanooga's large corporations and most well-known foundations.
"This community has decided this is a worthy investment for 30 years. It's made an impact in the lives of kids, and I think we're all proud that it helps teachers. At the end of the day, they do the work that changes the lives of kids, Challener said.
PEF's Leadership Fellows program, in it's 20th year, has trained hundreds of educators and more than half of the district's current principals have been graduated from the foundation's Principal Leadership Academy.
"It is now a community resource, a community asset," Challener said, adding that nearly 600 educators have participated in the program. "When you talk with them, it's a powerful experience."
PEF's programs - which are typically free for teachers, students and schools through grants and donations - are partnerships, though, and Challener said that is important.
"All of our work is a partnership. Everything is co-constructed with Hamilton County Schools in reacting to [the district's] needs," he said.
Training and developing school leaders is foundational to the organization's work and the success of area public schools, PEF staff say.
Research shows that strong teachers and effective principals have the largest impact on a child's learning, so PEF is focused on improving and supporting people in its efforts to improve education in Hamilton County.
Community partners and businesses acknowledge that PEF's devotion to the people who do the work every day in the classroom has helped cement it as a pillar in Chattanooga's education community.
"I think the main reason they have garnered the respect and appreciation of this community over the decades is the fact they have always made students the primary focus of their work, whether that is with direct programming or through the support of educators," said Jared Bigham, former executive director of Chattanooga 2.0, an initiative started by the Benwood Foundation, the Chattanooga Area Chamber of Commerce, the school district and the PEF. "Without a doubt, the work of PEF has been legacy work."
Once teacher leaders have been cultivated, PEF has proven that it can continue to connect and support them, whether through programs like STEM or policy fellowships, grants for summer travel for professional development or the opportunity to pitch innovative ideas at its annual Teacherpreneur event.
Elaine Harper, principal at Red Bank High School, participated in PEF's Leadership Fellows program before joining the Principal Leadership Academy in 2005.
Now Harper has Project Inspire teacher residents and graduates like Casselman in her building. The school is home to one of 16 Volkswagen eLabs created through a partnership with Volkswagen in 2017 and many of her teachers have taken advantage of other PEF programming.
"It kind of touches all areas of my careers from my own leadership growth to the opportunities for my school, my teachers, and my students. There is no area of my career that hasn't been touched by PEF," Harper said. "There is no area that is more important. It is really the synergy, all of them working together, that makes a big difference."
When it comes to leadership, it is obvious that Challener and his colleagues are committed to it. This year's anniversaries also includes Challener's 20th year at the foundation.
But Challener said it isn't about him.
Again and again, Challener will return to the people in the classroom - the leaders, the teachers and the students - like Casselman and her second-graders.
PEF'S BOARD OF DIRECTORS
Officers and Executive Committee> John F. Germ, president and CEO, Campbell & Associates, Inc.> Roger Dickson, partner, Miller & Martin> Lisa Iglesias, executive vice president and general counsel, Unum Group> H. Grant Law, Jr., community volunteer> Fannie Hewlett, retired provost and vice president for academic affairs, Chattanooga State Community CollegeBoard Members> Yancy Freeman, UTC vice chancellor of enrollment management and student success> Ron Harr, community volunteer> Ashlie Henderson, community volunteer> Nicole Koesling, senior vice president of human resources, Volkswagen Chattanooga> Alan L. Lebovitz, senior vice president-asset management, CBL & Associates Properties Inc.> Sammy Lowdermilk, program coordinator, Tech Goes Home Chattanooga> Jacob Preston, EVERFI Inc.> Robert H. Siskin, president, R.H. Siskin and Associates> Marie Webb, vice president of human resources, EPB> Sue Anne Wells, owner, Mustang Leadership Partners LLCBoard Members Emeritus> Jim Hill, PEF Board Chair Emeritus, community volunteer> Mary Jo Clark, vice president, Tennessee PTA Executive Board, Hamilton County Council of PTAs> Jane W. Harbaugh, retired associate provost for undergraduate and special programs, UTC
Developing teachers, empowering professionals
Casselman didn't originally plan to be a teacher.
With degrees in history and women and gender studies from Sewanee: The University of the South, she wanted to do "social justice-type" work.
"Teaching kind of presented itself as my avenue for that," she said. But she didn't have any training as a teacher or experience in the classroom.
So she started to look into teacher training programs like Teach for America. That's when she came across Project Inspire.
Launched in 2011, the teacher residency program, which research shows can be more effective than traditional educator preparation programs at universities, places a resident in the classroom of an experienced teacher for a full school year where they learn alongside them. During that time, residents earn a master's degree in education at Lee University and prepare to lead classrooms of their own.
"With Project Inspire, you get a stellar teacher who has had one full year in the classroom with a master teacher and master's degree," said Edna Varner, a member of PEF's senior leadership team. "Because the kids deserve a great teacher."
Casselman credits her success to her preparation through the program. The confidence and support, through both tangible resources and personal relationships with mentors and other educators, have allowed her take on more responsibilities even though the narrative of teachers today often is one of teachers struggling to keep up.
"I'm very thankful for [Project Inspire]. I don't think there's another avenue I could have taken that would have been so helpful," Casselman said of her journey into the classroom. "I can confidently say my head is above water after my first year of teaching thanks to the Public Education Foundation."
Chris Seanard, the VW eLab specialist at Dalewood Middle School, echoed Casselman. He had almost given up on teaching when he moved to Chattanooga. Having first taught in Vermont, Seanard said he felt like Hamilton County teachers didn't have the same supports, funding and opportunities. But then he found PEF.
"PEF does such a good job because they've created this network of teacher leaders and teacher supporters and they are good at so many different things so they have the flexibility to bounce between multiple projects and multiple things," Seanard said.
Now he works with students in the school's VWeLab, working on electric and solar-powered cars, creating products for a student-run business called the Dalewood Developers and coming up with real-world projects for his students. He said that support from PEF and his principal, Arielle Garcia Hayes - who is also a graduate of the Principal Leadership Academy - allowed him to get excited about education again.
Transforming public education
The foundation's work does not only focus on helping develop strong teachers and leaders.
Ten years ago, it began working with high school students to get them ready for and into colleges.
The foundation helped fund college advisers in local schools, that are now part of Hamilton County Schools' annual budget and merged with the former College Access Center.
Since then, the foundation has encouraged more than 1,000 students to go to college by exposing them to college campuses and supporting them through application and scholarship processes through its Camp College program.
It has worked with 400 high school students to develop interview skills and land paid summer internships at local companies through STEP-UP Chattanooga.
It has sent girls to universities across the country to take advantage of extended learning opportunities and explore their passions as Passport Scholars.
It has helped Daphne Penn graduate from The Howard School and make it to Harvard University, where she is pursuing her doctorate degree.
And there are so many more like Penn, said Stacy Lightfoot, vice president of college and career success at PEF.
"Daphne is one story, but there is more than 1,000 students who have had the trajectory of their lives changed," she said. "I'm definitely excited about where we're going but also how the work has changed and has been transformed over the last decade."
And the work will continue.
Foundation staff don't imagine a day that Chattanooga won't need the organization and community partners don't either.
"We are always challenged with limited resources and we could always use more resources, so it's really helpful to have organizations, in particular like PEF, that [are] dedicated to supporting educators and students," said Hamilton County Schools Superintendent Bryan Johnson. "I see it as a partner that we hope to continue to have successful partnerships with."
The foundation continues to work with the Chattanooga Area Chamber of Commerce, local universities and local businesses like BlueCross BlueShield, Unum, Volkswagen and dozens of others to forge partnerships that align with Johnson's goals to provide students with a better education and prepare them for college or the workforce.
Since the convening of Chattanooga 2.0, local businesses have begun to recognize the importance of investing in local education.
As of 2016, 65% of Hamilton County School graduates failed to earn any training, certificate or degree after high school, making them unqualified for a majority of the county's livable-wage jobs and spurring local businesses to act in order to ensure they'll have a qualified workforce in the future.
"We know that if we can impact the trajectory of tomorrow's workforce, and the students and how we get to them now, that changes the impact we have in Chattanooga and in Tennessee and ultimately, in the world," said Miles Huff, community relations specialist at Unum, one of PEF's largest sponsors.
"It's the right thing to do," he said.
Unum has funded teacher training opportunities, provided mentors to principals in the Principal Leadership Academy, and the company's executive vice president, Lisa Iglesias, serves on PEF's board of directors' executive committee.
Local businesses are also invested in the multiple facets of PEF's work - BlueCross BlueShield of Tennessee has been a significant contributor to the STEP-UP program, investing more than $500,000 in the program over the past two years.
"BlueCross has a mission to serve, and education plays a big role in a community's overall health," said Roy Vaughn, senior vice president. We're proud to see how PEF is fueling brighter futures for local students, and our foundation's financial support of STEP-UP is one of many ways BlueCross shows our commitment to local education."
PEF will continue to respond to the needs of the community, staff say.
Life happens, Lightfoot said. And education is always changing - so are the students.
"You have to continuously respond to the challenges within the schools, outside of the schools, the changing landscape of business and economics and I think we continually keep up with those trends to respond," she said. "There aren't going to be perfect schools, but there can be perfect people put into those places that can adapt to those changes and to those trends. And I think that's where we come in."
And for the dozens of educators and students who have benefited from PEF's paramount work over the past three decades, there is the belief it will continue to transform lives.
"They really push us to innovate, they push leaders to innovate, they push teachers to innovate, they, give our students opportunities outside of school and outside of Chattanooga " Harper said. "They help us rise to the next level. I would not be the leader I am without the Public Education Fountain, and I don't think Hamilton County would be the district it is without PEF."
Contact staff writer Meghan Mangrum at mmangrum@timesfreepress.com or 423-757-6592. Follow her on Twitter @memangrum.