Photo Gallery
Brainerd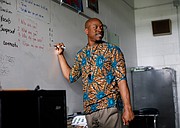 Brainerd boasts some of the most affordable housing in Chattanooga, and its historic homes are located close to downtown. Though, Brainerd has its own small business district with a handful of restaurants and retail.
We sat down with Tyrus Ward, a teacher and head football coach for Brainerd High School, to find out why he chooses to call the community home.
Brainerd in 3 words:
"A melting pot"- Tyrus Ward
Q: What is the draw of the Brainerd area?
A: Brainerd is such a great central location that feeds into anywhere you want to go in Chattanooga. The community is great and the neighbors are nice. Brainerd High School is also making great strides to not only be great again in the area, but across the state.
Q: What are some of the assets the "37411" provides?
A: Brainerd Road is home to so many great businesses. You have quick access to everything here. I think the area is a gold mine and there are hidden gems. If the right people can help, Brainerd could not only get back to the way it used to be, but perhaps surpass it, even.
Q: What is the vibe of Brainerd like?
A: It's such a diverse area. You have so many people that live in the Brainerd community. It would be cool to see the research and statistics on all the different types of people, cultures, families and homes in the area. We have kids in our neighborhood who go everywhere for school, from Notre Dame to McCallie, Ooltewah, Tyner, Baylor and our school. I don't think there is another community that serves as many schools as our area does.
Q: What type of opportunities are there?
A: I think Brainerd is a great location to do your life work. One of the things that stood out when I went to school at Brainerd is there were so many amazing educators. I feel like principal Christopher James is doing a great job of getting those elements back into the school. With the growth of the school back into something great, I think we can make strides in all walks of life around town.
3 OF HIS FAVORITE THINGS ABOUT BRAINERD
1. Central location
2. Friendly neighbors
3. Vision of high school
BY THE NUMBERS
WHO WE ARE
Median household income: $40,576
Population: 16,804
Median age: 40.4
African-American: 53.7%
White: 35.8%
Hispanic: 6.6%
Two or more races: 3.2%
Asian: 0.4%
Native American: 0.2%
*2017 estimates. Since Brainerd is unincorporated, information is for entire 37411 ZIP code, which extends beyond Brainerd.
Source: 2017 American Community Seminar
WHERE WE LIVE
Median sales price: $124,000 in 2018; $116,500 in 2017
New listings: 347 in 2018; 360 in 2017
Sales closed: 268 in 2018; 280 in 2017
Source: Greater Chattanooga Association of Realtors annual report
OUR SCHOOLS
With the exception of Spring Creek Elementary, Brainerd students are zoned for schools within the district's Opportunity Zone, which provides more staff, targeted support and a heightened urgency for improvement in the system's struggling schools.
Barger Academy of Fine Arts (K-5)
Enrollment: 446
Proficiency (TVAAS): 1/5 overall, 3/5 in language arts, 1/5 in math, 3/5 in science
Spring Creek Elementary (preK-5)
Enrollment: 683
Proficiency (TVAAS): 1/5 overall, 1/5 in language arts, 3/5 in math, 3/5 in science
Woodmore Elementary (preK-5)
Enrollment: 271
Proficiency (TVAAS): 2/5 overall, 3/5 in language arts, 2/5 in math, 2/5 in science
Dalewood Middle
Enrollment: 350
Proficiency (TVAAS): 3/5 overall, 2/5 in language arts, 3/5 in math, 5/5 in science
Brainerd High
Enrollment: 617
Proficiency (TVAAS): 1/5 overall, 1/5 in language arts, 1/5 in math, 1/5 in science
Average ACT score: 14.6 composite
» In 2018, the school district introduced Future Ready Institutes, partnering with the local business community to offer career-themed education through small, targeted learning communities within each high school. BHS is home to the Institute of Law, First Responders and Forensic Science, the Institute of Aviation and the Institute of Entrepreneurship (culinary arts, cosmetology and entrepreneurship & business marketing). In the 2018-19 school year, the school also gained digital fabrication equipment as part of the Volkswagen eLabs initiative, bringing automated manufacturing equipment, programmable microcomputers, renewable energy kits, 3-D printers, robotics, laser cutters and other technologies that students can use for learning and problem-solving.
Source: 2018 State Report Card
*The Tennessee Value-Added Assessment System scale runs from 1-5, with 1 denoting the least effective schools/districts and least amount of progress toward the Standard for Academic Growth.
____
Boyd Buchanan School (preK-12)
Private Christian school with a student population of over 1,000.
WHAT WE DO FOR FUN
Brainerd Golf Course
It's one of the city's oldest golf courses and features lots of rolling acreage and large trees. The 18-hole course has a full-service pro shop and snack bar, and leagues and lessons are available for all ages and abilities. Tee times available up to 48 hours in advance seven days a week. 5303 Old Mission Road. Call 423-855-2692.
Tacoa Park
Two-acre park featuring a walking trail, playground and pavilion. The park is getting $60,000 in new playground equipment, pavilion upgrades and other improvements as the first project in a new neighborhood improvement initiative that Chattanooga Mayor Andy Berke unveiled in February 2019. 5205 Tacoa Circle.
Brainerd Park
Surrounding the Brainerd Recreation Center, this park offers 11 tennis courts and open fields. 1010 N. Moore Road.
Eastgate Senior Center
Operated by the city of Chattanooga, it provides free educational and recreational resources for local seniors, including billiards, table tennis, board games and puzzles, knitting, arts and crafts, walking club, fitness equipment and Wii Sports games. It also houses a library and computer lab. 5600 Brainerd Road. Call 423-855-9444.
The BX (Brainerd Crossroads)
A 54,000-square-foot, family-friendly fitness and recreation facility operated by Brainerd Baptist Church, offering the public a low-cost fitness center, meeting spaces, gaming, ministry groups and even a cafe. 4011 Austin St. Call 423-643-4978.
Clarence T. Jones Observatory
This astronomical observatory was opened in 1938 and is now owned and operated by University of Tennessee at Chattanooga. The observatory was listed on the National Register of Historic Places in December 2009. Home to a 20.5-inch telescope, the public can visit on certain nights for lessons and viewing. 10 S. Tuxedo Ave. Call 423-425-4518.
Wilcox Golf Range Center
One of very few golf driving ranges in Chattanooga. 4247 Shallowford Road. Call 423-622-0426.
LOCAL FLAVOR
Krispy Kreme
Have a sweet tooth? Brainerd is home to the only Krispy Kreme in Chattanooga, and the doughnuts are the best in the city, according to Chattanooga Times Free Press readers, who bestowed the accolade with the 2018 Best of the Best Awards. Try to swing by while the "hot" sign is on. 5609 Brainerd Road. Call 423-894-0243.
Marsha's Backstreet Cafe
Home to a very popular chicken salad melt, this home-style restaurant is a favorite of many. Customers rave about the friendly service as well, making it a must-visit spot to grab lunch. 5032 Brainerd Road. Call 423-485-7911.
Sweet Basil Thai Cuisine & Sushi Bar
Food is prepared with authentic ingredients like lemongrass, galangal and Thai basil, helping to earn it a finalist spot in the 2018 Best of the Best readers choice awards for Best Thai Restaurant. The menu features more than 40 selections of soups, appetizers, salads and noodles. 5845 Brainerd Road. Call 423-485-8836.
Ankar's Hoagies
The wide variety features flavors from the Mediterranean and Middle East, as well as classic American sandwiches. No matter what you get, it is practically guaranteed to be tasty - Chattanooga Times Free Press readers voted Ankar's Best Sandwich Shop in the 2018 Best of the Best awards and named it a finalist for Best Carryout. 5966 Brainerd Road. Call 423-899-3074.
Rib and Loin
Serving up delicious barbecue since 1989, these pitmasters know what they're doing, as evidenced by the multiple accolades the restaurant racked up in the 2018 Best of the Best readers choice awards alone: winner of Best BBQ and finalist for Best Caterer and Best Ribs. 5946 Brainerd Road. Call 423-499-6465.
Bud's Sports Bar
Offering casual dining, everything from hot dogs to prime ribs, the longtime bar is known for its live music and karaoke. There's always something happening, no matter which night of the week. 5751 Brainerd Road. Call 423-499-9878.
The Flaming Rooster
Like a kick to your chicken? This is the place to visit. Be careful with your spice choices, though. Even the "medium"has a strong heat. Fill up on fried chicken, catfish and especially wings. They have a hot wings challenge. 3202 Brainerd Road. Call 423-805-5357.
DETAILS
LOCAL LIBRARY
Eastgate Library
5705 Marlin Road; 423-643-7770
Monday, Thursday: 9 a.m. to 8 p.m.
Tuesday, Wednesday, Friday, Saturday: 9 a.m. to 6 p.m.
Sunday: 1-5 p.m.
FARM FRESH
Brainerd Farmers Market
When: Every Saturday beginning at 10 a.m. Where: Grace Episcopal Church, 20 Belvoir Ave.
The market is open year-round, but during the winter season, it transitions from two hours down to a one-hour market. You can find seasonal produce and fruits, as well as local meats. Breads, pastries, soaps and lotions, plants, baskets, textiles and other handicrafts are also sold.
GET HEALTHY
Held annually in August, the Minority Health Fair, hosted by the Southeast Tennessee Health Consortium, offers mammograms, prostate exams, blood pressure readings, dental exams and more - free of charge - at Eastgate Town Center. Visit sethc.org/MHF.
CITY SERVICES
Brainerd doesn't have its own municipal government and is instead governed by the city of Chattanooga.
The Chattanooga City Council meets every Tuesday at 6 p.m. in the Council Building behind city hall, located at 1000 Lindsay St. The meeting is live-streamed, as are the preceding agenda session and department reports, which start at 3 p.m. View meetings at ustream.tv/channel/chattanooga-council-meeting. View agenda sessions at ustream.tv/channel/city-council-committee-meeting.
Recycling: The city offers free curbside recycling and provides containers for the single-stream service. Save for glass, most household items are accepted. Call 311 to see if your address lies within the pickup area.