Photo Gallery
Chattanooga shootings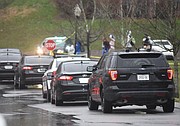 Year-to-date people shot
2019: 322018: 292017: 512016: 502015: 392014: 41

As police continue the search for the suspect in Monday's fatal shooting, friends and family of the victim are grieving the city's fifth gun-related homicide of the year.

So far, Chattanooga has seen 32 people shot - three more than it did by this time last year; the number of homicides is the same at five.

While this year's overall shooting numbers are slightly higher, police say they will continue to use their "three-pillar approach" to combat violent crime through community policing, technology and "focused deterrence," police spokeswoman Elisa Myzal said. Focused deterrence targets the few groups and individuals police say are driving violence while offering support to those looking for a way out.

They say their efforts have shown progress so far.

Last year, the city saw a drastic decrease in shooting victims - including criminal and justified but excluding accidental - from 147 in 2017 to 120 in 2018.

The overall homicide rate also dropped from 34 to 24, including justified killings.

But some community members remain pessimistic that the changes will hold.

At crime scenes, neighbors watch as investigators work. They know the few main players in the city's violence - only a small percentage of the population is engaged in violent activity, police have said.

Many have said they do indeed trust the police, but they're worried about retaliation for speaking up.

"People ain't stupid," one woman, who did not wish to identify herself, said at the scene of a recent homicide. "They know what's going on, where information comes from."
By the numbers
28: Number of shootings this year - including criminal and justified but excluding accidental 32: Number of shooting victims 4: Number of female shooting victims; one died 29: Average age of victims

And, just as police have also pointed out, as the seasons change and days grow warmer and longer, shootings become more prevalent.

Antwon Lee was gunned down in a Grove Street apartment building near Westside Park just after 11:30 a.m. on Monday.

The suspect fled the scene before police arrived.

Social media became a mourning place for those who knew Lee.

"Yeah It Hurt When You Lose The One You Love & You Gotta Put Em On A T-Shirt," one woman posted on Facebook. "R.I.P To All The Ones That's Gone No More Late Night Phone Calls All We Got Is Photos."

He was just the latest in a string of gun deaths in a year that had a slow start.

The city was initially on a downswing during the first two months of 2019 with only 14 people shot, down from 19 in the same period in 2018; 22 in 2017; 20 in 2016; 17 in 2015; and 18 in 2014.

Nearly four weeks went by without a shooting. Then, over the course of three weeks, 12 people were shot.

It's not clear if any of the shootings are connected or if police have any suspects, as the investigations are still ongoing and police don't discuss ongoing investigations.

That's because release of additional information could compromise the ongoing investigation or result in further harm to the victim, Myzal said.

As for causes, in general, they can range from domestic situations to gang activity, robberies or drug-related incidents, she added. But a lot of times, a cause is unknown until the very end - if at all.

But weather and time of year can be a factor in an uptick in violence. More hours of daylight and warmer, drier weather leads to more people being outside and interacting with each other, which can lead to a greater opportunity for conflict.

Of the cases in which gang involvement is known, only 11 incidents are tied to gang members, according to police data. Those 11 incidents account for 15 victims.

While the number of shooting victims this year is higher than it was in 2018, both years are lower than they have been between 2014 and 2017.
THREE WEEKS OF SHOOTINGS
In a three-week period between this March and April, 12 people were shot. It was a dramatic escalation in violence from the slow start to the year, compared to previous years. A 22-year-old man arrived at a local hospital with a gunshot wound on March 16. He told police he was walking in the 600 block of Tunnel Boulevard when he heard gunshots and started running before realizing he'd been hit. The next shooting took place three days later on March 19. Three days went by before a third happened on March 22. Two people were injured in that shooting, and it closed the C&S Market corner store on Dodson Avenue for several hours. Three more days passed by before five people were shot, one of whom - Perry Thomas - died, between March 25 and 26. Thomas, 24, was killed on the 26th. He was allegedly one of three men trying to rob another man. A 10th person was shot on March 29. And another on March 31. Then on April 1, a shooting left a 33-year-old man injured. Ten days went by before another shooting happened. Five shootings - one fatal - have taken place since April 11, one of which was an officer-involved shooting that left a man injured after he initially fired at officers in the 2000 block of Cleveland Avenue, witnesses told police.

But police are hesitant to call the lower numbers a trend.

"That's because if numbers go up or down one year compared to the next, doesn't mean there's a trend," Myzal said. "One year may just be an anomaly."

To determine a trend, investigators would need to look at the circumstances of each individual case to determine whether it's an isolated case or part of something larger, she said. And since many of this year's incidents are still under investigation, it's not yet possible to determine that.

Police do say the drop in numbers is a result of the department coming together to work effectively among themselves and with other agencies.

"This is a puzzle that we're putting together, and every little element that we have is a piece of the puzzle that will make the big picture," homicide unit supervisor Sgt. Victor Miller said. "It's the gun team, it's the homicide unit, it's patrol, it's the community, it's victim services it's everybody working together to make this a complete puzzle."

A large part of that puzzle is following up on all shots fired calls within 48 hours, something that started in mid-2018 after the rollout of a specialized gun unit.

Any evidence collected at the scene is recorded for future reference. They also track shell casings from previous incidents, further connecting the strands to the city's web of gun violence.

The unit keeps in constant communication with the department's violent crimes bureau.

"Typically, what we see is 'shots fired,' maybe a house shot up, car shot up, and then maybe a shooting," May said. "I mean, you see the progression. So when we go back, we're like, 'Oh! That's why.' You know, you start seeing that back-and-forth."

By keeping track of those incidents, as well as what's posted to social media, police are fine-tuning their ability to track the violence and, in some cases, stop would-be shooters.

"A lot of this stuff, we can [stop]," May said.

When investigators see issues start approaching a boiling point, the department and the city try to get ahead of it by sending people who work as interceptors to have a conversation with those involved in the back-and-forth.

"If we see it building that way, we know who to talk to, we can do that," May said.

Because of the gun unit, the Chattanooga Police Department is recognized as one of the leading agencies in the country addressing gun crime, police Chief David Roddy has said before.

"It's been a perfect storm here," Sgt. Greg Wilhelm said. "It's been really great to see all this stuff coming together like that."

Contact staff writer Rosana Hughes at rhughes@timesfreepress.com or 423-757-6327 with tips or story ideas. Follow her on Twitter @Hughes Rosana.