Photo Gallery
Hixson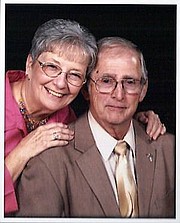 We're very, very happy here. Everything's close.
Paula Bean, 71, and husband Doyal, 76, have hopscotched from North Chattanooga to Red Bank to Hixson during their 50 years of marriage, finally settling in 2000 in Hixson's Cloverdale neighborhood off Hixson Pike to enjoy their retirement.
So far, so good.
Their weeks are filled with activities at their church, Middle Cross Baptist, day trips with its seniors group, meetings of their neighborhood association, and the daily ritual of dining out.
"We eat out usually one meal a day, usually lunch," Paula says. "Older people tend to do their big meal at lunch."
Mimi's Deli, Ichiban Japanese Steakhouse and Captain D's, all less than a mile away on Hixson Pike, are frequent stops, she says. But Hixson has more fast-food and fast-casual chains than the meat-and-three places Doyal prefers, so they often travel to downtown Chattanooga, Soddy-Daisy, Middle Valley, Ooltewah or Fort Oglethorpe, Georgia, for their favorite restaurants with home-style fare.
Thanks to their involvement with the Cloverdale Neighborhood Association, they know there are 230 houses in their community, and they are acquainted with many of their neighbors.
"I know more about [my] neighborhood now than I did when we lived in Red Bank," says Paula, "and we lived in that house nearly 25 years."
She says her arthritis necessitated the move from their Red Bank split-level, but they didn't know at the time they'd wind up within a 10-mile radius of their old neighborhoods. They did know they wanted to avoid the busier pace of Brainerd and East Brainerd.
"We didn't want to fight the traffic," Paula says. "We'd watch the traffic updates [on TV news] and say to each other, 'I wouldn't do that every day if they gave me a free house.'"
The one traffic tangle they've encountered, difficulty leaving the neighborhood during high traffic volume, was addressed by the city with the installation of a traffic light.
The Cloverdale neighborhood is filled with mostly one-story, brick-and-siding homes, circa 1960s. The yards are well-kept and the trees are mature.
Paula says the area is a little too hilly for her and Doyal to walk, and there are no sidewalks. For exercise, they stroll the Tennessee Riverwalk a few miles away. During bad weather, they make their laps inside Northgate Mall, which sits just across the cloverleaf interchange that connects the Hixson area's two main thoroughfares, Hixson Pike and Highway 153.
The mall's massive footprint and its related properties keep the Northgate area at the center of Hixson's commerce, though newer developments, such as Oak Park Town Center, anchored by a Walmart Supercenter, and Towne Center North, anchored by Target, have shifted much of the retail traffic to Highway 153.
But the Beans don't mind a little bit of driving, especially with so many options nearby.
"We're very, very happy here," Paula says. "Everything's close."
LOCAL FLAVOR
Hixson holds a lot of retail and restaurants - including many eatreries deemed the "Best of the Best" by Chattanooga Times Free Press readers in the so-named annual poll.
Best Sandwich Shop
Ankar's
5018 Hixson Pike; 423-876-7158
Best Barbecue
Rib and Loin
5435 Highway 153; 423-877-7675
Best Pizza
Lupi's
5506 Hixson Pike; 423-847-3700
Best Mexican
Amigo
5450 Highway 153; 423-875-8049
Best Chinese
Formosa
5425 Highway 153; 423-875-6953
Best Japanese
Ichiban Japanese Steak House and Sushi Bar
5035 Hixson Pike; 423-875-0473
Best Bakery
The Bread Basket
5023 Hixson Pike; 423-870-9991
BY THE NUMBERS
WHO WE ARE
Median household income: $59,581
Population: 41,945 *2017 estimates. Since Hixson is unincorporated, figures are for the entire 37343 ZIP code, of which Hixson accounts for a large swath.
Median age: 43
White: 90.1%
African-American: 4%
Hispanic: 1.9%
Asian: 1.9%
American Indian: 0.3%
Two or more races: 1.8%
Source: 2017 American Community Survey
WHERE WE LIVE
Median home price: $205,000 in 2018; $189,900 in 2017
New listings: 878 in 2018; 839 in 2017
Sales closed: 755 in 2018; 733 in 2017
Source: Greater Chattanooga Association of Realtors annual report
» Developers are building literally thousands of multi-family housing units in and around downtown Chattanooga, but there have been fewer new suburban apartment complexes begun in Chattanooga during the past couple of years - until plans were announced for Lullwater at Hixson. A pair of Georgia real estate developers have teamed up to build the 250-unit apartment complex on Hixson Pike across from Valleybrook Road.
OUR SCHOOLS
Big Ridge Elementary (K-5)
Enrollment: 491
Proficiency (TVAAS): 4/5 overall, 4/5 in language arts, 2/5 in math, 5/5 in science
Hixson Elementary (K-5)
Enrollment: 426
Proficiency (TVAAS): 5/5 overall, 3/5 in language arts, 5/5 in math, 5/5 in science
» HES was named a 2018 Reward School, the top distinction a school can earn in Tennessee, for improving overall student academic achievement and student growth for all students and student groups. In 2018, about 20 percent of schools in the state - including McConnell Elementary and Loftis Middle - earned Reward status.
McConnell Elementary (K-5)
Enrollment: 553
Proficiency (TVAAS): 5/5 overall, 5/5 in language arts, 5/5 in math, 5/5 in science
Middle Valley Elementary (K-5)
Enrollment: 804
Proficiency (TVAAS): 1/5 overall, 2/5 in language arts, 1/5 in math, 5/5 in science
» In 2017, the school began offering classroom lessons on mindfulness for both teachers and students. MVES is one of the largest elementary schools in the district, so principal Allyson DeYoung said she knew there were children coming to school who were dealing with past trauma and adverse experiences.
Loftis Middle
Enrollment: 619
Proficiency (TVAAS): 5/5 overall, 5/5 in language arts, 5/5 in math, 5/5 in science
» Loftis Middle is one of only two schools in Tennessee to be named a 2018-2019 National PTA School of Excellence for its leadership and accomplishments in building strong, effective family-school partnerships.
Hixson Middle
Enrollment: 669
Proficiency (TVAAS): 1/5 overall, 5/5 in language arts, 1/5 in math, 1/5 in science
» Hixson Middle and High were among eight local schools chosen in 2018 to receive digital fabrication equipment as part of the Volkswagen eLabs initiative, bringing in automated manufacturing equipment, programmable microcomputers, renewable energy kits, 3-D printers, robotics, laser cutters and other technologies that students can use for learning and problem-solving.
Hixson High
Enrollment: 906
Proficiency (TVAAS): 3/5 overall, 4/5 in language arts, 2/5 in math, 3/5 in science
Average ACT score: 19.4 composite
» In 2018, the school district introduced Future Ready Institutes, partnering with the local business community to offer career-themed education through small, targeted learning communities within each high school. HHS is home to the Institute of Integrative Agricultural Sciences and Natural Resources, the Institute of Health Careers and Medical Advancement and the Institute of Business Leaders and Owners.
Source: 2018 State Report Card
*The Tennessee Value-Added Assessment System scale runs from 1-5, with 1 denoting the least effective schools/districts and least amount of progress toward the Standard for Academic Growth.
___
Berean Academy
Private Christian college prep school for prekindergarten through high school. Berean is accredited by the Southern Association of Colleges and Schools Council and the Tennessee Association of Christian Schools, an agency approved by the Tennessee State Department of Education.
Source: School's website
Bethel Christian Academy
Operated by Bethel Bible Village for middle and high school students, its curriculum aligns with Hamilton County Schools and adds focus on individual needs, life skills and spiritual growth.
Source: School's website
WHAT WE DO FOR FUN
Chester Frost Park
Owned and operated by Hamilton County Parks and Recreation, it offers boat launches, fishing, swimming and camping facilities and a new disc golf course. The Hamilton County Fair is held here the last full weekend of September. 2277 N. Gold Point Circle. Call 423-209-6894.
Creeks Bend Golf Club
Open seven days a week year-round, this private club offers a driving range, putting green and organized games weekly. It has a pro shop and full-service grill. 5900 Hixson Pike. Call 423-842-5911.
DuPont Park
A Hamilton County park that boasts a soccer complex, disc golf course, concessions building, playground, restrooms, picnic pavilions and drinking fountains. 4500 N. Access Road. Call 423-425-6311.
Greenway Farm
A 180-acre former farm that offers acres of hiking and biking trails. The farmhouse is available for rentals, and there are outdoor picnic areas, an archery range, a popular off-leash dog park and access to North Chickamauga Creek for kayaking or canoeing. Outdoor Chattanooga offers regular guided kayak/canoe outings (rentals available) from the park. 5051 Gann Store Road. Call 423-643-6050.
Hixson Community Center
A former middle school repurposed as a gym and fitness center operated by Chattanooga Parks and Recreation. It offers an art studio, game room, multimedia room and senior activities along with sports programs. 5401 School Drive. Call 423-643-6480.
North River Civic Center
Opened by the city of Chattanooga in 2004, the community center offers educational, recreational and fitness programs for all ages and serves as a meeting place for community organizations. Art classes, art exhibitions and concerts by local musicians are held regularly. 1009 Executive Drive, Suite 102. Call 423-870-8924.
Valleybrook Golf and Country Club
Includes a private, 18-hole course that has hosted PGA tour and Nationwide events; pool and tennis courts and full restaurant and bar, plus banquet facilities. 180 Valleybrook Road. Call 423-842-4646.
Vandergriff Park
Has well-equipped playgrounds for toddlers, youngsters and special-needs children, plus a pavilion, restrooms and a walking track. Very popular with local residents. 1414 Gadd Road. Call 423-843-9192.
DETAILS
LOCAL LIBRARY
Chattanooga Public Library, Northgate branch
278 Northgate Mall Drive; 423-643-7785
Monday, Thursday: 9 a.m. to 8 p.m.
Tuesday, Wednesday, Friday, Saturday: 9 a.m. to 6 p.m.
Sunday: 1-5 p.m.
CITY SERVICES
Hixson doesn't have its own municipal government, and is instead governed by the city of Chattanooga and the Hamilton County Commission, depending on where in the area you are.
The Chattanooga City Council meets every Tuesday at 6 p.m. in the Council Building behind city hall, located at 1000 Lindsay St. The meeting is live-streamed, as are the preceding agenda session and department reports, which start at 3 p.m. View meetings at ustream.tv/channel/chattanooga-council-meeting. View agenda sessions at ustream.tv/channel/city-council-committee-meeting.
The County Commission meets the first and third Wednesday of each month at 9:30 a.m. To view agendas and minutes, visit hamiltontn.gov/Commission/meetings.aspx.
GET INVOLVED
The Hixson Council of the Greater Chattanooga Chamber of Commerce meets at 11:45 a.m. the third Wednesday of the month at the North River Civic Center, 1009 Executive Drive.
The Hixson Kiwanis Club helps local children in need through programs and fundraising. The group meets at noon the first, third and fifth Tuesdays of the month at Creeks Bend Golf Course, 9500 Hixson Pike.
The Hixson chapter of Lions Club International, the world's largest service club organization, meets at 6:30 p.m. the second and fourth Mondays at Hixson Community Center, 5400 School Drive.
The Rotary Breakfast Club is part of an international civic organization that works to solve health and social problems. The Hixson chapter meets at 7:30 a.m. each Friday at Rivermont Presbyterian Church, 3319 Hixson Pike.