Photo Gallery
Savage Gulf State Natural Area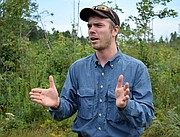 PALMER, Tenn. - A couple thousand acres of forested area have been cleared at Savage Gulf State Natural Area in Grundy County in a sector closed to the public.
A timber company that sold the land to the state in recent years maintained timber rights to clear loblolly pine - the leading commercial timber species in the southern United States - in a profitable deal that also will help conservationists' work to restore the Cumberland Plateau to its natural habitat.
For decades, the land was left to grow on its own and it became overgrown, hurting the health of the ecosystem. Wildfires that burned regularly throughout the country for centuries had largely stopped due to the expansion of the human population and development. Those fires played a crucial role in maintaining a region's natural landscape: they cleared underbrush, renewed soil chemistry and improved the health of the forest.
"Those natural disturbances are no longer here," Roger McCoy, director of the Tennessee Department of Environment and Conservation's Division of Natural Areas, said. "Also, we have a dissected landscape: roads, bridges, that sort of thing. So once fire moves, there's now a public safety aspect, as well."
Now, a trio of groups is getting a chance for a fresh start. They've begun work on the land and will take part in a prescribed fire on 2,000 acres this spring, weather dependent. The total area of Savage Gulf is 15,590 acres.
The work is the largest piece of land in a larger project being overseen by The Forest Stewards Guild to restore woodlands on the Cumberland Plateau. The work at Savage Gulf is one of about a dozen such projects that will encompass nearly 15,000 acres. The guild is partnering with TDEC, which manages the land through the state park service, and the Tennessee Wildlife Federation, which is coordinating partnerships between organizations and landowners.
The groups are working mostly with private landowners but do have a couple of public projects including the one in Savage Gulf and another in Kentucky.
"The biggest issue we've had is there's just a massive shortage of capacity for prescribed burning in Tennessee in general but on the plateau, especially. There's just not a lot of capacity," Tennessee Wildlife Federation Director of Conservation Chris Roberts said. "What little capacity we have through state agencies is often reallocated as soon as there's a wildfire. There's just not enough to go burn on private land. Having the guild's resources here from other parts of the country is huge."
From there, the focus will turn to restoration. That will involve adding species such as shortleaf pine, which are native but have suffered population decline from the overgrowth of other species and disease.
"Shortleaf pine, as a species, has really declined across its entire range," Forest Stewards Guild Southeast Regional Coordinator Nick Biemiller said.
The project will serve as a blank slate for the plateau. It will give conservationists an opportunity to start fresh, open up the land and manage it properly in the future - largely through prescribed burning.
"What we're wanting to see is a mosaic of natural plant communities," McCoy said. "Loblollies did not reflect that. We want maximum diversity."
The projects are being funded through a grant from the National Fish and Wildlife Foundation. The foundation is funding seven projects to restore, enhance and protect shortleaf pine and riparian forests and in-stream habitats in Alabama, Kentucky and Tennessee. Five of those projects will take place, at least partially, in Southeast Tennessee or Northeast Alabama.
The work at Savage Gulf is what the partners are considering the beginning of Phase II of the project. Phase I involved finding landowners to take part in the effort. TDEC, the Tennessee Wildlife Federation and The Forest Stewards Guild held workshops at Sewanee: The University of the South and Berea College in Kentucky. The groups found hopeful participants with a variety of objectives: some wanted to harvest their loblolly pine and saw the project as a way to earn income, others wanted to see their overgrown forests returned to a more natural state and some hoped to increase the health of their property to encourage wildlife to return.
Phase I was also funded through a National Fish and Wildlife Foundation grant.
"We looked, analyzed maps and found hotspots. These aren't just random acts of goodness. We tried to focus on areas of particular need," foundation Director of the Southern Regional Office Jay Jensen said. "The work of The Forest Stewards Guild is a good example."
Contact Mark Pace with questions, comments, concerns or story tips at mpace@timesfreepress.com or 423-757-6659. Follow him on Twitter @themarkpace and on Facebook at ChattanoogaOutdoorsTFP.