Photo Gallery
MotorCar Festival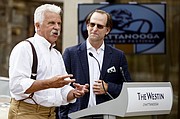 Fancy cars, bikes and boats from all ages and eras will be coming to the city for the inaugural Chattanooga MotorCar Festival this fall.
The race, set for Oct. 11-13 along the 21st Century Waterfront, will feature three main events - Time Trials Between the Bridges, High Jinks Rallye: Experience the Landscape, and Concours d'Elegance: Rendezvous of the Greats.
During a news conference Friday at The Westin downtown that featured about a dozen vintage automobiles on display, civic leaders and racing enthusiasts said the festival was designed to both spotlight the city and be a fun event for racers and fans.
The event was conceived by Byron DeFoor, who worked with city leaders and former racing competitor and longtime friend Jim Pace on creating it. Pace said that often during their travels together to places like Paris and Pebble Beach, California, DeFoor would say, "We can do this in Chattanooga."
"I thought he was either crazy or a visionary. Well, here we are."
The time trial portion of the event will feature vintage and historic cars each racing against the clock on a 1.5-mile circuit. It will be limited to 50 cars divided into 10 classes, including Brass & Tin up to 1920, Sports/GT Racing cars, '50s & '60s Small bore, under 2.0L and Exhibition Class.
"We'll have vintage cars from the '20s with drivers all dressed in clothing from the era," said Corky Coker, of Coker Tire, a supplier of tires for vintage vehicles. "These tickets will sell fast."
The Concours d'Elegance will be Saturday and is a juried event that will feature a display of significant vintage and historic cars after a review, acceptance and confirmation by award-winning journalist and Concours Chairman Ken Gross.
The High Jinks Rallye will take drivers and a navigator on a tour of the area with new challenges and routes each day.
England's Brain Redman, winner of nine sports-car road races in his 60-year career, has been named grand marshal of the festival.
"This is such a great honor for me," Redman said in a news release. "It is a privilege to be part of such an exciting inaugural event which takes place at such a beautiful venue. It'll definitely be a dynamic experience."
Chattanooga Convention and Visitors Bureau President Barry White said the festival joins other national and international outdoor events, like Ironman and the Head of the Hooch boat race, and other world-class events that showcase the city.
"We have a great history of hosting events," he said.
The festival will be a ticketed event set up along the 21st Century Waterfront, much as it is for Riverbend or the Ironman competitions. The competition portions will take place on Friday and Saturday. Sunday is a "wind-down" day but will have events for fans that will be announced later, officials said.
Tickets can be purchased here. They'll cost $55 for a two-day general admission pass or $145 for the full festival experience, which will include interactive events for children, collector vehicle corrals, antique and classic boat presentations and other family friendly activities.
Proceeds will benefit the Erlanger Neuroscience Institute.
Contact Barry Courter at bcourter@timesfreepress.com or 423-757-6354.