Photo Gallery
Asian carp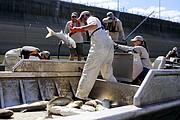 GRAND RIVERS, Ky. - Scores of fish jumped inside Western Kentucky's Barkley Lock near the Tennessee border west of Clarksville.
Over and over, they threw their bodies into the air along the closed channel.
In the background, a crew rushed to complete a sound barrier designed to hold the fish at bay and from moving deeper into the Cumberland River system.
The fish are Asian carp, an invasive species whose growing population has migrated from the Ohio River into the Tennessee River, threatening the region's renowned biodiversity, commercial fishing industry and posing a health risk to recreational boaters.
Day after day as the crew works, the constant sound of construction startles the fish, which spring from the water in response. It's a constant reminder of what some biologists fear may be the greatest threat to the region's freshwater.
The sound barrier here is to be the first of its kind used to combat the spread of Asian carp through U.S. freshwater river channels, and is seen as a crucial step in the nation's fight to keep the invasive species from decimating the freshwater ecosystem.
"This is not going to be a five-year or 10-year fix," said Allan Brown, U.S. Fish and Wildlife Service Assistant Regional Director of Fish and Aquatic Conservation. "It's a long-term project, but I think we have an opportunity to get [the population] to a level where they'll have the least amount of impact."
THE SOUND BARRIER
No one knows how many fish have amassed behind Barkley Lock and Dam.
There are no population estimates in Lake Barkley, Kentucky Lake or anywhere across the U.S. There are some studies underway, but now all biologists know is the carp population has ballooned to unmanageable numbers since the fish escaped from aquaculture ponds in Missouri and Arkansas during flooding in 1993.
Here in Kentucky, sport fishing is gone. The groups that historically flocked to the lakes for vacation have dwindled.
On Aug. 1, the Kentucky Department of Natural Resources, Tennessee Wildlife Resources Agency and Tennessee Valley Authority met at the lock and dam to put on a demonstration to show the vast number of carp congregating. It was the second such demonstration that week.
The groups took electrofishing boats onto the lake to stun the fish. One of the four species of Asian carp, silver carp, leap when frightened. The other three largely stay under the surface.
Wildlife personnel shocked the water and watched as thousands of pounds of fish jumped from the surface. The crew grabbed nets and scooped the fish that remained on the surface. They estimated they collected between 2,000 and 3,000 pounds in little more than an hour. It was a fraction of the carp they believe lie below.
Large groups of the fish have already traveled through the lock and further into the Tennessee and Cumberland River system. The leading edge of silver carp is at Pickwick Dam in Savannah, Tennessee, heading toward Chattanooga. Some have been found at Wilson and Wheeler dams in Alabama deeper into the system before it snakes back up into Tennessee. At least one test came back positive bighead carp, another type of Asian carp, have passed through Chattanooga to Watts Bar north of Dayton, Tennessee.
"If these fish get to Guntersville and Nickajack, they're going to get into Chickamauga. That riverfront in East Tennessee is worth billions and billions of dollars," Tennessee Wildlife Federation CEO Michael Butler said. "The financial risk is huge. TVA says the river is worth $100 million per year. That's a really huge concern. These fish get in, and they not only compete for base food resources but they just by volume replace native species and move them out."
To combat the problem, state and federal agencies have turned their attention to the sound barrier, officially called a bioacoustic fish fence. The barrier transmits a confined wall of sound using bubbles and lights. It's the first barrier of its kind used for this purpose. If it works, the hope is to build more through the river system to limit movement of carp.
The fish species is more sensitive to sound than most game species, so the belief is the sound will limit only carp and a few other species. However, the barrier on Barkley Lake will test its real-life impact on the movement of native populations.
"If it does work, we're going to debate on where we're going to put them next," TVA aquatic zoologist Dennis Baxter said. "Our goal is to stop the upward migration of Asian carp in the Tennessee and Cumberland river systems. We're hoping to get ahead of this problem."
The Barkley barrier is expected to be finished this fall.
The prototype on Barkley Lock and Dam has a price tag of about $7 million, according to Kentucky Department of Fish and Wildlife Resources fisheries biologist Jessica Morris. However, a lot of that cost has been due to digging and rock removal that had to be done on the site, according to Baxter, who is TVA's Asian carp expert. He estimates future barriers will cost about $1 million each, with several hundred thousand dollars annually for operation costs.
The Tennessee Wildlife Federation and other nonprofit organizations are overseeing an effort to educate lawmakers about the problem. Their goal is to get Congress to appropriate funds for the nationwide fight against the invasive species.
There is currently a request to appropriate $25 million of the federal budget toward the effort.
"We need financial resources to do a block and tackle method," Butler said. "Then you have a real chance at getting this to manageable levels."
POPULATION CONTROL
There's a three-fold plan in place to solve the carp problem: block, harvest and document.
Wildlife personnel want to use the sound barriers to keep the fish from migrating through the river system. They'll trap the largest populations in pockets where they can continue to incentivize commercial fishermen to come harvest.
Both Tennessee and Kentucky have implemented Asian carp harvest incentive programs.
The Tennessee Wildlife Resources Agency manages a 10-cent statewide initiative to subsidize Asian carp harvesting. Commercial fishermen receive 7 cents per pound from the state on top of the market value for the fish, which currently averages between 13 and 15 cents per pound, Clark said. The additional 3 cents goes to markets that buy the fish. Both the commercial fishermen and markets are required to fill out paperwork to receive the subsidies. The data provides state agencies with information about Asian carp such as population numbers, fish size and locations.
There's optimism around the plan. Some believe it's already working.
More than 1.5 million pounds of Asian carp has been pulled out of Tennessee waterways this year. A processing plant near the Barkley Lock and Dam, Two Rivers Fisheries, has processed 2.5 million pounds of the fish in 2019 and expects to reach 5 million by the end of the year. The company has 50 teams of commercial fishermen registered to bring carp to the facility, Two Rivers Fisheries president Angie Yu said, compared to a few years ago when there were two.
"I think this is the only way to really [help]," Yu said. "We call it a problem that we can turn into a profit. This problem is an opportunity for the local economy."
Biologists believe they can control the population to manageable levels and keep the fish from migrating further through the river systems, but it's likely passed the point of total eradication, they said. For Yu, that means a steady source of income for the foreseeable future.
CARP CUISINE
Two Rivers Fisheries is running into a problem that has been common in the U.S. market.
"One of the biggest deterrents is their name," Clark said. "Whenever you say 'carp,' you turn most people off because it's a mind-block thing."
There's almost no market in the U.S. to eat the fish. Other species of carp are bottom feeders - typically considered poor eating. Many fishermen have been taught since they were young to throw the fish back and not bother eating them.
However, Asian carp feed largely on phytoplankton and zooplankton.
"It's really clean, white meat," Morris said. "They're filter feeders, so you don't have to worry about a buildup of mercury or other heavy metals like you do in some predatory fish. It doesn't have a strong fishy flavor. It's similar to crappie, even. It's very good to eat."
Yu sends most of the Asian carp from Kentucky, Tennessee and surrounding states overseas where they're more commonly eaten. Her company and others will use the fish meat to make burgers, meatballs, dumplings, sausage-style links, hot dogs and more.
"There are hundreds of ways to serve it in Asia," she said.
Her product is shipped to 11 countries, mostly in Asian and Eastern Europe. In the U.S., she sends the fish heads to New England to be used for lobster traps and the entrails of the fish are used to create fertilizer.
"The fish have been here but we are just starting," Yu said. "We'll cut down the population, but I doubt we can get rid of them I don't think we can get rid of them. The business will stay here."
Area residents will get a chance to taste Asian carp Aug. 14 at the Tennessee Aquarium. The aquarium will host an taste test outside its facility between the River Journey and Ocean Journey buildings on Broad Street. The event is free and open to the public. Attendees will receive small pieces of the fish to try.
Contact Mark Pace at mpace@timesfreepress.com or 423-757-6659. Follow him on Twitter @themarkpace and on Facebook at ChattanoogaOutdoorsTFP.