Photo Gallery
Asian carp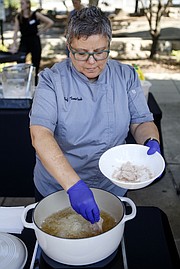 Chef Tamie Cook stood outside the Tennessee Aquarium late Wednesday morning, frying Asian carp in a Dutch oven under a bridge to nowhere between the facility's Ocean Journey and River Journey buildings.
A shipment of the invasive fish came in last week, so Cook - who has long led the aquarium's annual educational Serve and Protect program - experimented with different recipes to introduce the carp to the public: baked, fried and even in a soup. On Wednesday, she set a table, cooked the fish and handed out samples to aquarium guests, employees and passersby.
"I decided to fry them because who doesn't like fried fish, right?" Cook said. "I just think fried fish is one of those things that if you're trying to get people who are afraid of fish to eat fish, it's very approachable."
There's