Photo Gallery
Tyner Academy learning lab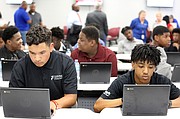 LEARNING LAB RENOVATION SPONSORS
› EPB› Allied Electrical› CDW› Concrete Surfaces LLC› FiCom Group› Hellermann Tyton› Klein Tools› Mayer Electric Supply› Quest Technology International› Resource 1 Tier 3 Data Security› Service Electric› Shields Electronics Supply Inc.› Southeast Ceilings› Southeast Painters› Vanco International Inc.
Students at Tyner Academy are kicking off the school year with a brand-new learning laboratory, made possible through the school's EPB Institute of Technology and Networking and its partnership with EPB and other community partners.
Launched last year, the institute is one of 27 Future Ready Institutes embedded in high schools across Hamilton County Schools. The technology institute gives students the opportunity to learn how to work with and repair computers, design their own websites and solve real-world problems.
In honor of its second year of the partnership, EPB and 14 other community partners refurbished the institute's old classroom into a high-tech learning laboratory equipped with flexible seating, computer servers, multiple televisions and work spaces.
"This is an exciting day for the partnership," said Tyner Principal Gerald Harris at a ribbon-cutting ceremony on Tuesday. "We've come a long way from a year ago. Little did I know that this partnership was going to change the culture of the school."
Harris said the partnership has allowed school faculty and district officials to work with community partners to improve the experience of children in the classrooms.
FUTURE READY INSTITUTES
Brainerd High› Institute of Aviation› Institute of Entrepreneurship› Institute of Law, First Responders and Forensic ScienceCentral High› Institute of Advanced Manufacturing and Mechatronics› Institute of Architecture and Engineering DesignEast Hamilton Middle/High› Bryan College Institute of Leadership, Business, and Marketing› Institute of Innovate EngineeringEast Ridge High› Institute of Engineering and Design› Institute of Building Construction› Institute of LeadershipHixson High› Institute of Integrative Agricultural Sciences and Natural Resources› Institute of Health Careers and Medical Advancement› Institute of Business Leaders and OwnersThe Howard School› Erlanger Institute of Healthcare and Innovation› See Rock City Inc. Institute of Hospitality and Tourism Management› Institute of Robotics and Welding› Institute of Architecture and ConstructionLookout Valley Middle/High› Institute of Technology and Multimedia› Institute of Automotive Maintenance and ManufacturingOoltewah High› Institute of Architecture and Engineering Design› Institute of Advanced Manufacturing and Mechatronics› Institute of International Baccalaureate StudiesRed Bank High› BlueCross Technology AcademySequoyah High› Institute of Industrial ManufacturingSignal Mountain Middle/High› Institute of International Baccalaureate StudiesSoddy-Daisy High› Institute of Media and EntrepreneurshipTyner Academy› EPB Institute of Technology and Networking› UTC Institute of Teaching and Learning› Institute of Health Sciences
Though each Future Ready Institute across the district is unique because of its specific career or industry focus, the launch of the initiative in March 2018 was one of Superintendent Bryan Johnson's first steps to increasing access to post-secondary opportunities for Hamilton County students.
At most institutes, students are connected with a local business or organization where they might get an internship or take part in field trips or job-shadowing opportunities. Students also take dual enrollment or career and technical education courses in their junior and senior years in order to earn certificates or industry credentials.
This summer, nine Tyner students had the opportunity to intern at EPB.
Christopher Hampton, a Tyner student, was one of those interns. He said in addition to learning about computers and information technology, he learned how to behave in a professional setting, how to be more confident, even how to look someone in the eye.
"I can proudly say that I'm way more ready for my post-secondary experiences than I ever could have been [otherwise]," Hampton said. "Being a part of the Future Ready Institute and working with EPB has me thinking about going to college and working in the IT field."
David Wade, president and CEO of EPB, said EPB's team has also had a great experience through its partnership with Tyner.
"When Dr. Johnson first came to EPB and asked about partnering with the schools on Future Ready, it was pretty easy to see real quickly that it made a lot of sense. There was a lot of value in business and education partnering together," Wade said. "When I think of career success, I don't think of positions or titles, I really think of finding something that you love to do and being good at it."
Wade said he hopes this partnership helps Tyner students find that thing that they love and helps prepare them for their futures.
"This partnership creates a window of visibility into possibilities that you may or may not have known what they are like, then you get a chance with Future Ready Institutes to align what you see that you love with your education so that you're well prepared to be great at whatever you choose to be," he added.
EPB employees have worked with students over the past year both at school and in EPB facilities. They helped teachers create projects based on real-world scenarios and had students come and engage with staff. Some students even had to present the institute's end-of-the-year report to its board of directors.
Hodgen Mainda, vice president of community development for EPB, added that not only is EPB able to give back to the community and help improve workforce development in Chattanooga with this partnership, but it builds a recruitment pipeline for the organization itself.
"We foresee that some of these students will be EPB employees," he said. "I believe we are changing lives and they are going to change their family dynamics."
Daniel Johnson, a junior at Tyner, said he wasn't sure if he wanted to go into the IT field but he felt like he gained a lot as an intern at EPB this summer and looks forward to the coming school year.
"I learned how to carry myself as a young man; I learned that I could be anything I want to be," Johnson said. "This program came in and it gave me confidence in myself."
Contact Meghan Mangrum at mmangrum@timesfreepress.com or 423-757-6592. Follow her on Twitter @memangrum.