Who knew the pogo-stick mile was a thing?
Well, University of Tennessee at Chattanooga sophomore Zachary Cross knew, and back in 2017, he set out to smash the pogo-mile world record, which stood then at 9 minutes, 56 seconds.
So, how many hops in a pogo mile? Around 500, give or take. That's a lot of pounding.
"Riding a pogo stick can kind of beat you up a little bit," Cross said.
Cross, a St. Elmo resident and former homeschool student, had dabbled in pogoing since he was a kid, working his way up from a toy pogo stick to a $400 professional model that works with compressed air instead of springs.
With each landing, his pogo stick makes a mournful sound like a hound barking under a blanket. He said students on the UTC campus are accustomed to seeing him bounce by, and he is nearly universally known there as the "pogo guy."
An online posting of Cross pogoing across the Market Street Bridge has logged more than 173,000 views - perhaps because it appears that at any second he might topple into the Tennessee River.
Cross said it took him a while to be comfortable in public spaces, but now he enjoys taking his pogo stick into Chattanooga's tourist areas.
"I still get butterflies like I'm going on stage," he said. "You realize people are looking at you because it makes a lot of noise."
In 2017, Cross decided to actually train for endurance on the pogo stick. He had competed in regular triathlons previously, so he was used to distance running and cycling.
"After a few months practice, I could do a mile [on the pogo stick]," he said. "For fun, I started pushing toward the world record."
Photo Gallery
Pogo record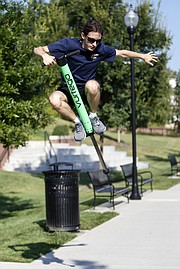 At 5 feet, 9 inches tall and 130 pounds, he has a distance-runner's physique. His first timed mile on the pogo stick took about 15 minutes, he said, but he soon shaved more than five minutes off his personal best.
On April 10, 2017, Cross gathered some friends at Chattanooga Christian School to document his attempt to beat the world pogo-mile record. With cameras rolling, he completed the mile in 9 minutes, 35 seconds, shaving more than 20 seconds off the existing world mark.
His record was confirmed by Xpogo, a group dedicated to pogo-stick enthusiasts, and later embraced by the Guinness Book of World Records. Xpogo keeps tabs on several pogo world records such as "most back flips in a row" (18), "highest jump" (11 feet, one-half inch), and "most consecutive cars jumped" (3).
Cross' pogo-mile record was short-lived, though - someone broke it a week later. Now, more than two years after his record-setting run, the world mark is 7 minutes, 40 seconds, set by Drew McQuisten of Pittsburgh, Pennsylvania, on June 24, 2017.
Cross said he thinks he has a chance of owning the record again. His personal best time is now 8 minutes, 12 seconds.
Just last month, Cross attended Pogopolooza, a pogo enthusiast event in Pittsburgh, where he joined an exhibition with some of the world's best pogo milers. He finished second in the race, he said.
While Cross is considered a "serious" pogo enthusiast, he acknowledges there is something undeniably quirky about traveling around Chattanooga on a pogo stick.
"One of its strengths is that it's a fun, goofy activity," he said.
Contact Mark Kennedy at mkennedy@timesfreepress.com or 423-757-6645.