Photo Gallery
Tyner vs. Central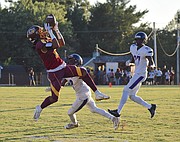 As Tyner junior running back Jeremiah Sawyer exploded on a jet sweep and weaved his way through three defenders for a 72-yard score, all he could see and think about was one thing.
With a great purpose and a heavy heart, Sawyer rumbled for 170 yards and three touchdowns on just seven carries to highlight the Rams' season-opening 67-10 pummeling of Central at home Friday night. Class 2A's fourth-ranked Rams totaled 616 yards of offense.
"I saw my brother every time I touched the ball," Sawyer said. "I lost my big brother (Malik Brewer) a couple of months ago. It's been a really emotional time. My dedication is to him. That's what wakes me up in the morning and makes me work harder."
Led