COOKEVILLE, Tenn. - The only thing that sputtered was a team bus on the way to the game.
Otherwise McCallie's defense dominated throughout and its offense wore down Montgomery Bell Academy in the second half on the way to Thursday night's 28-7 victory that delivered the Division II-AAA BlueCross Bowl state championship trophy back to Chattanooga.
One of the Blue Tornado buses broke down on Cagle Mountain along Highway 111, about an hour outside of Cookeville on its way to Tennessee Tech University. Most of the coaching staff and the starters were boarded onto the one working bus while the rest of the team waited about 20 minutes for a backup charter to arrive.
It is McCallie's second state title in program history - the other came in 2001 - and this is the first time since 2009 a team not from Nashville won the championship in the state's largest private school classification.
Photo Gallery
Division II-AAA state championship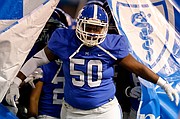 "I'm more aware than the players are of what they accomplished, because I've done this for so long," said McCallie coach Ralph Potter, whose team snapped a 14-game losing streak to MBA that had spanned 13 seasons and included two playoff losses. "You like to tell them you're the same people whether you win or lose, but the fact is when you win it you have a greater legacy and it stays with you.
"I'm just really happy for our kids and our coaches. They deserve it."
In a first half mostly dominated by the two defenses, it was McCallie's that provided the game's first points when senior cornerback Thompson Byrd stepped in front of a Marcel Reed pass near the visitors' sideline and took the interception back 32 yards for a touchdown late in the first quarter.
That play would set the tone for a record-breaking night by the Blue Tornado defense, which set a championship game mark with nine sacks and allowed just 42 yards on 30 rushing attempts by MBA.
After the Big Red rallied to tie the game on an 81-yard scoring pass from Reed to Jack McKennon with 3:32 to go before halftime, McCallie (11-2) responded with a quick score of its own when Eric Rivers took an option pitch to the right, split two defenders and outran the rest of the pursuit for a 44-yard touchdown run two minutes later.
"We prepared for this all week," said McCallie defensive lineman Jay Hardy, who had two sacks and 2.5 tackles for loss. "We knew they would have to pass the ball because we believe we've got the best run defense in the state, and we were able to really put pressure on them just like we had planned."
The Blue Tornado, who were in a title game for the first time since 2006 - which coincidentally was also the last time McCallie beat the Big Red - began pulling away with an impressive 12-play, 80-yard scoring drive. They converted a fourth-and-2 and three third downs, including a 3-yard scoring run by quarterback DeAngelo Hardy for a 14-point lead with less than two minutes remaining in the third quarter.
On their next possession, the Blue Tornado put the game away with a 49-yard scoring drive, highlighted by a 33-yard run by quarterback Hardy, who also capped the possession with a 1-yard touchdown. He was named the game's MVP after rushing for 103 yards on 17 carries and completing five of seven passes for 59 yards.
"The defense stepped up big for us," he said. "I give credit for this award to my whole offense, especially our offensive line. That last drive right before the half really got our offense going, and it got me going personally. That settled us down, and once we got going it was over."
McCallie outgained seven-time state champion MBA (8-5), which was looking for its first title in five years, 332-240 in yards of total offense, rushing for 273 of that total.
Contact Stephen Hargis at shargis@timesfreepress.com or 423-757-6293. Follow him on Twitter @StephenHargis.
A Twitter List by TimesFreePress