As Hamilton County school officials weigh the future of the district's facilities - including rezoning and closing schools - several organizations are looking to launch new charter schools.
Earlier this week, Chattanooga Girls Leadership Academy announced it's exploring opening a new elementary school in Highland Park. And two other organizations that sponsor Ivy Academy and Chattanooga Charter School of Excellence also intend to apply to open new schools.
CGLA plans to open a Pre-K though 5 Montessori elementary school near CGLA's campus in Highland Park on the same site as the old Highland Park Grammar School.
Ivy hopes to open two small elementary school locations, as well, and Chattanooga Charter intends to add a high school to its existing elementary and middle schools, according to district records.
Photo Gallery
New charter schools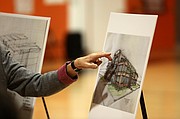 This week, CGLA Executive Director Elaine Swafford hosted two meetings to get feedback from the community.
About a dozen people attended the Tuesday morning meeting where she fielded questions about what the Montessori program will offer and how students would be chosen.
Luke Banner, a local pastor and resident of Highland Park, said he was excited to hear about the possibility of a new school in the neighborhood. He was curious if neighborhood children - even if they don't qualify as low-income - would be able to attend the school. He said he'd be interested in sending his children to a school like CGLA when they are older.
He said he's passionate about creating diverse communities and is establishing a church with a congregation that is diverse ethnically and economically. He hopes a neighborhood school would reflect that.
Swafford told attendees that in its 10 years, CGLA has proven itself by boosting academic achievement and producing real results of students succeeding.
The school was named Tennessee's Charter School of the Year by the Tennessee Charter School Center just last month, and on Friday, it announced the first graduate in the school's history to be accepted to an Ivy League university.
" I think that for students to have this Pre-K through fifth grade option for a public Montessori school, especially for kids who wouldn't otherwise have access to an advantaged education, that gives them another choice," Swafford said.
Angie Markum, director of development for facilities, ed programming and resources for Ivy Academy, also said there's an appetite right now for different schooling options.
CHARTER SCHOOLS IN HAMILTON COUNTY
— Chattanooga Girls Leadership Academy, opened in 2009, grades 6-12— Chattanooga Charter of Excellence Upper and Lower schools, opened in 2011, grades K-5 and 6-8— Ivy Academy, opened in 2009, grades 6-12— Chattanooga Preparatory School, opened in 2018, grades 6-12 (currently serving grades 6 and 7)
Ivy - the county's environmentally themed, outdoor school in Soddy-Daisy - is attractive for parents, she said, especially those who have students who enjoy the outdoors or don't feel at home in a traditional classroom setting.
Charter schools were first established in Tennessee in 2002. Originally, they were authorized to cater to student and their families looking for options outside of low-performing, priority schools. But in 2011, the state opened up charter schoolsto all students.
CGLA was the first charter school in Hamilton County, and about 80% of its student body today are still students who come from low-income households.
The majority of Chattanooga Charter's student body is also economically disadvantaged, and about 40% of Ivy is considered low-income, according to district records.
Markum said Ivy wants to increase the school's diversity and plans to target recruitment in neighborhoods zoned for the district's priority schools. The school also plans to open one of its two elementary locations closer to the city center and says it will continue providing transportation to all students to any of the school's campuses.
"It's exciting to think about this new opportunity for students," she said.
HAVING CHOICES
District leaders and charter school operators both agree parents deserve options and have the right to choose where to educate their children.
Only about 1,500 students in Hamilton County currently attend one of the district's four charter schools, compared to about 5,500 in private or parochial schools and 45,3000 who attend traditional public schools.
Unlike places like Memphis and Nashville, Hamilton County has not seen significant push for charter schools or a strong move toward the schools. Markum said she thinks the school board is amiable toward the idea and other charter officials say they don't encounter extreme pushback from the school district.
But some school board members say it's too early to know what the board will ultimately decide.
Applications aren't due until Feb. 1 and the Hamilton County school board will have 60 days after that to review before making a final decision. If approved, all three applications call to open the schools in 2021.
Board member Karitsa Mosley Jones, of District 5, said she hopes students in her district stay at their zoned schools.
"First and foremost, I am an advocate for public education, that's my job as a school board member," Mosley Jones said. "For me, I hope my elementary students and families remain where they are."
She noted one of the biggest arguments against charter schools - which are publicly funded schools managed independently from local school districts - is that they take away funding from local public schools because they draw students out of seats.
But Mosley Jones said it's a tough balance. She also believes parents should have the choice of where and how to educate their children.
"I just wish that HCDE was their first choice," she said.
Jill Levine, chief of the Office of Innovation and Choice, echoed Mosley Jones and said parents should have options.
For decades, parents in Hamilton County have turned to private schools as one option, but not all families have the means to pay thousands of dollars for their children's education.
"Regardless of where you live and your ZIP code and your community, parents should have a choice of where their children go to school," Levine said. "I think charter schools play a strong role in providing choice options to children in their community."
She noted that schools that offer specialized programming, such as CGLA's single-gender school or Ivy Academy's outdoor opportunities can be a big draw.
While Levine wouldn't say how many charter schools might be considered "too much" in Hamilton County, she did say her office is focused on ensuring that any option is a high-quality one.
"In the district and in the Office of Innovation and Choice, our goal is to increase the amount of high quality seats, so that parents do have great choices for their kids," she said.
Republican Gov. Bill Lee and his administration have been favorable toward school choice and charter schools since he took office this year. This spring, legislation was passed that allowed Lee to establish the Tennessee Public Charter School Commission, a nine-member board that changes how the state oversees authorizing new charter schools.
Superintendent Bryan Johnson also is a big proponent of choice. In April, he established the Office of Innovation and Choice and the district has moved toward opening enrollment at schools across the county and promoting specialty programs like magnet schools or its 28 Future Ready Institutes.
Contact Meghan Mangrum at mmangrum@timesfreepress.com or 423-757-6592. Follow her on Twitter @memangrum.